Unknown Mortal Orchestra Has Mastered the Use of Space and Sound on Album Number V.
The double-album is half composed of groovy, funk instrumentals and half of sun-kissed melodies.
Photo by Juan Ortiz Arenas
Music
Reviews
Unknown Mortal Orchestra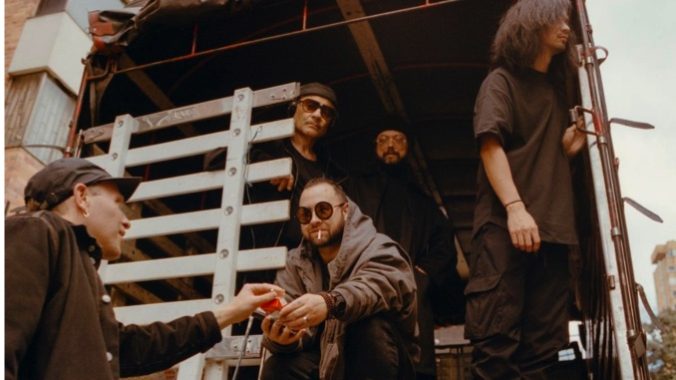 Portland-based psych-rock band Unknown Mortal Orchestra has mastered the use of space and sound in their lofi genre. Their mix of wah-wah pedals, reverb, groovy syncopation and stripped-down production led to the commercial and critical success of Unknown Mortal Orchestra and II. Hawaiian-New Zealander Ruban Neilson released his first track, "Ffunny friends," on an anonymous Bandcamp profile in 2010. In lieu of being slightly scared of potential pushback from The Mint Chicks fans, Neilson remained anonymous until the single demanded the name of the author who created such a tune. Unknown Mortal Orchestra was no longer unknown.
UMO's V was made by a well-established group of artists looking to embark on a journey to test their own creative liberties. The double-album is half composed of groovy, funk instrumentals and half of sun-kissed melodies. It's a bit of a contrast to the band's last record Sex & Food. The 2019 record displayed characteristics of frantic psych-rock, remnants of folk, R&B influence, as well as a dizzying cluster of bleak introspection. Although the band will never loosen its grip on psychedelia, the reliance on pedals is dialed down.
V was recorded in both Palm Springs and Hawai'i with his brother Kody Neilson and longtime band member Jacob Portrait. The records also features Neilson's father playing saxophone and flute. It's obvious how much influence both locations have over the Hapa-haole ("half-white") record, quite literally representing Neilson's ethnic background as half Hawai'ian and half Kiwi. The tracks were also heavily influenced by '70s AM radio rock with "Messugah" and '80s pop with "Weekend Run."
While the instrumentals can sometimes feel lackluster, it's hard to imagine them not on the album. "The Widow" is a mix of a classic and modern takes on bossa nova, introducing synths and pads but sticking to the swaying, off-kilter syncopations of traditional samba. The classic acoustic guitar is missing, but an intoxicating saxophone melody adds to the jazz feel three-quarters in. "Keaukhaka," which translates to "passing current," sticks to the psych-rock we all know and love, transporting the listener just off the beach, floating on the waves as the sun burns into your skin, making all your problems feel a little bit smaller when you realize the world is so big.
The record opens strong with "The Garden," kicking off array of slowed-down tracks with catchy hooks and gritty guitar tones. Lofi "Guilty Pleasures" and "In The Rear View" serve as unremarkable if relaxing ambience. But the best of V's balminess is exemplified with sungaze-y beach-rock tracks "That Life" and "Layla," alongside the optimistic themes and bouncy, poppy rhythms of "The Beach" and "Naja.".
The lead single, "I Killed Captain Cook," epitomizes the record perfectly—written in the perspective of a Hawi'ian native in the midst of British colonizer James Cook's demise. Cook took tremendous amounts of territory in Polynesia and Australia, which holds a large part in the history of Neilson's ethnic background. The stripped back, acoustic track is presented in a traditional Hawi'ian manner, but sung in English. He begins to find introspection at the very beginning of who he is—in a different timeline to his own and placing his singular puzzle piece in a 100,000-piece puzzle.
V is a fun, water-glistening record that waves hi to the palm trees and lies down to take a sun-nap with the sleepy sand dunes. Neilson's reclamation of his identity in the context of space, sound and story is executed beautifully and is heard with authenticity and keenness. Unknown Mortal Orchestra continues to expel their creative boundaries in their timeless, vintage nature.