Exclusive: Upstate Debut Harmonious Reinvention in "Going Gone"
Photo by Patrick Capriglione
Music
News
Upstate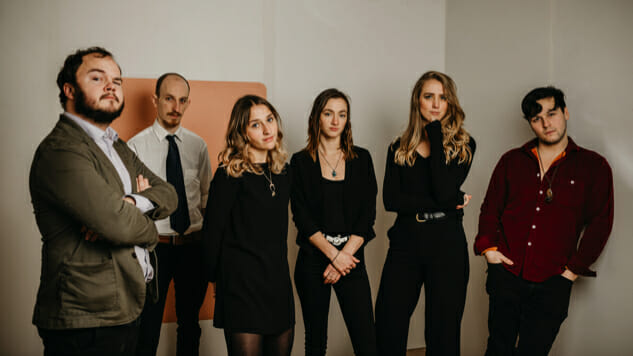 In an exclusive premiere at Paste, New York's Upstate have debuted "Going Gone," the latest single from their forthcoming album Healing, due Feb. 8 from Royal Potato Family.
Marking the end of an intensely transformative period, Healing is an ode to Upstate's total reinvention. Previously known as Upstate Rubdown, the band have committed to finding their truest selves with a new sound and a new lineup. "Going Gone" is a testament to the band's preservation through all of that upheaval.
Vocalist Allison Olender, who is making her debut with the band on their forthcoming album, tells Paste of the new single:
"Going Gone" is a song about growth, moving on, moving forward. It combats the notion that leaving an old life behind is "running away"—that it can instead be a courageous act of self care. We're so often led to believe that if we pack up our things and flee a city, we're letting those who hurt us win. "Going Gone" is a song that encourages that voice (three voices, in this case) to be heard, and loudly. Going can be just as brave as staying.
Produced by Wood Brothers percussionist Jano Rix, the band's forthcoming album is an exploration of three-part harmonies and experimental arrangements, fully utilizing the sextet's substantial lineup.
Listen to "Going Gone" below, and see Upstate's 2019 Paste Studio session and tour dates further down.
Upstate Tour Dates:
January
24 – Kennett Square, Pa. @ Kennett Flash
25 – Washington, D.C. @ Union Stage
February
07 – Saratoga Springs, N.Y. @ Caffe Lena
08 – South Burlington, Vt. @ Higher Ground
09 – Hamden, Conn. @ Space Ballroom
10 – Boston, Mass. @ City Winery
11 – New York, N.Y. @ City Winery
13 – Buffalo, N.Y. @ Thin Man Brewery
14 – Ithaca, N.Y. @ The Haunt
15 – Woodstock, N.Y. @ The Colony
16 – Rochester, N.Y. @ Flower City Station
21 – Denver, Colo. @ Cervantes Masterpiece
23 – Steamboat Springs, Colo. @ WinterWonderGrass
27 – Peoria, Ill. @ WTVP
28 – Chicago, Ill. @ Martyrs'
March
01 – Columbus, Ohio @ The Refactory Restaurant and Bistro
02 – Wakeman, Ohio @ Riverdog Retreat
29 – Olympic Valley, Calif. @ WinterWonderGrass
April
06 – Boulder, Colo. @ Chautauqua Community House