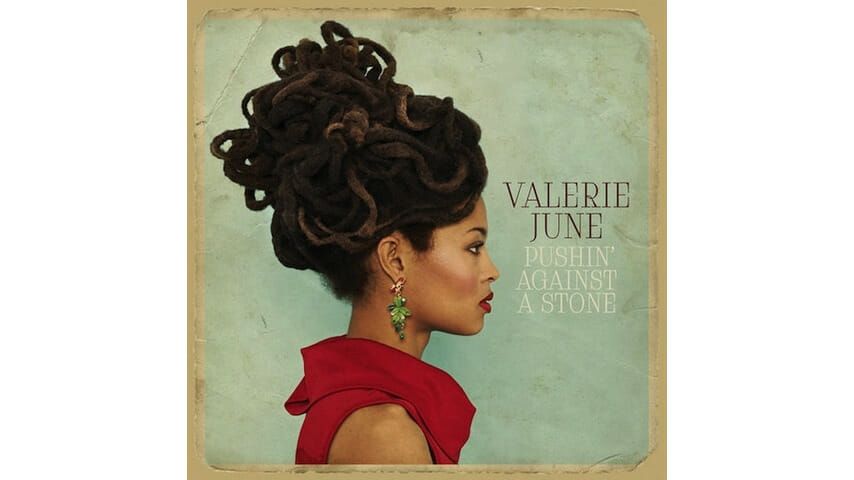 The singer and multi-instrumentalist Valerie June "was raised one hour from Memphis and two hours from Nashville," a place in art where, according to June, "the color lines of the South seem to blend." This combination is reflected in her musical choices: she has worked with musicians who seemingly have little in common, ranging from Old Crow Medicine Show to Me'Shell Ndegeocello. On June's third full-length, Pushin' Against A Stone, it doesn't quite matter just how June gets where she is going, as long as she gets there: the musical ends justify the blend of genres that makes up her means. She joins a number of other artists who don't bother to distinguish between country, folk, soul and blues, including Michael Kiwanuka, Hiss Golden Messenger, Alice Smith and The Black Keys.
June has an airy, delicate voice, with bits of Dolly Parton and Norah Jones peeking through. Sometimes she sounds like an old blues singer, harrowing and weird because the blues can be both of those things; other times, she lands squarely in folk, like a nice duet partner for Sam Amidon or Jessica Pratt. As the album progresses, she softens her vocals and harmonizes more (with herself), so she sounds increasingly mellifluous, if less unique.
For the most part, the stones that listeners encounter on the album are of the organic-and-vulnerable kind: "My heart is like a stone," sings June in "The Hour." Affairs of the heart frequently appear as roadblocks June is battling through. She wants to be on someone's mind all the time; she even goes so far as to grab a shotgun to shoot a lover whom she loves too much to let go. There are also dashes of longer-lasting struggles. "Spent my whole life with a tear in my eye," she sings in the album's final tune, "On My Way." "Working Woman's Blues" may partially account for the origins of the tear—it's a song about a system that slots people into restrictive boxes, even if June's "been working like a man…working all my life."
Most of the album was recorded at The Black Keys' studio in Nashville and favors bluesy twangs, folksy fiddles and country slide guitars. Some of the songs stomp forward acoustically, other times they drift lazily through the air or gel around punctual Memphis soul rhythms. (She apparently spent some time busking in various locations on the West Coast, which may also have contributed to her flexibility and versatility.) But not everything is campfires and sing-alongs; a few songs, most notably the title track, feature a scuzzed-out, heavy guitar, mean, irreverent of the beat and persistent, not the kind of thing to cozy up to.
There is also group of horns that appear periodically on the album, playing by the book in "The Hour," but running ragged around the driving thud of "Working Woman's Blues," bopping and herky-jerking across the beat. June and her horn section may still be stuck somewhere between the stone and another hard place, but who cares about the end? It turns out the means can justify the means.