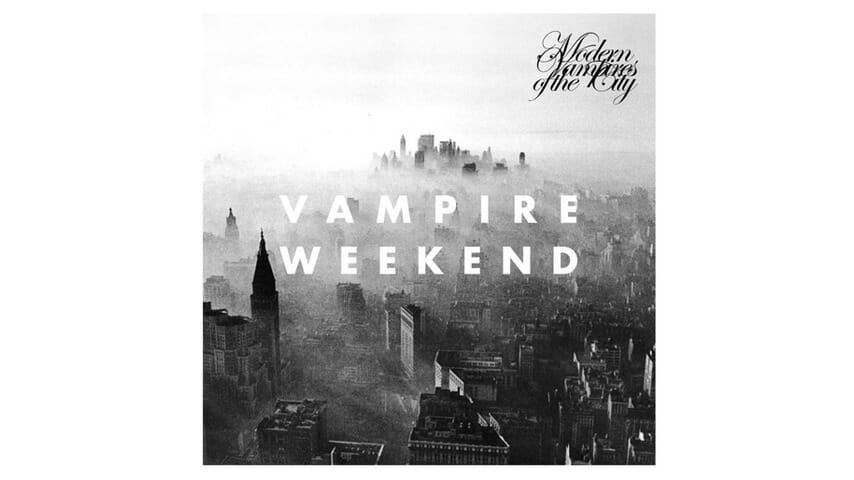 It's been five years, three albums, an SNL appearance, countless festival performances and one lawsuit from an unwitting album-cover model since Vampire Weekend dropped its self-titled debut, and still the class thing remains the predominant talking point about the band. Riding hard for the Upper West Side, the group turned its liberal arts degrees into American pop music that appropriated Afropop and songs that sent listeners to look up what the hell a mansard roof or an Oxford comma is. Of course, timing is everything, and if Vampire Weekend's rise hadn't coincided with the country's severe financial faceplant, maybe their boat shoes and Columbia enrollment might not have been so big a deal. But when pensions and retirement plans were disappearing at a tragic rate, these four New Yorkers fronted like the very sons of the upper-class patriarchs who had so recently screwed the country over.
The weird thing: Vampire Weekend was a pretty damn good album, and the band's understanding of American pop melodies and world music rhythms tethered them to the real world—or at least a world beyond Manhattan—and somehow humanized them. This wasn't the gauche aspirational/rationalizing of reality TV housewives or Jersey Shore meatheads. Bucking several generations' worth of received indie-rock wisdom, frontman Ezra Koenig had the temerity to borrow from Paul Simon circa Graceland instead of David Byrne circa Fear of Music, and the band soundtracked his songs with arrangements that were simultaneously inventive and fussy. Instead of grit, Vampire Weekend emphasized opulence, which turned out to be subversive: In a musical realm that equated authenticity with slumming, this quartet stood in direct opposition to all those skuzzy Outer Boroughs acts still nursing the sting of injustice that they would puke in CBGBs' bathroom. So Vampire Weekend were crucified.
And by crucified, I mean they sold a shit-ton of albums. Their sophomore long player, Contra, debuted at No. 1, and it's likely their follow-up, Modern Vampires of the City, will vault them even deeper into the mainstream. As well it should: It may not meet the high standards of Contra, but these new songs come pretty close, which is no small feat. And they may even convert a few non-believers along the way. Given lyrics like "You've got the luck of a Kennedy," they probably won't. And that's OK. Vampire Weekend work best when they're not quite acceptable, when they still retain a trace of subversion, which uproots their music from the rock-historical continuum.
Let me put it another way: That harpsichord on "Step" doesn't signify psych-rock or chamber pop. It signifies harpsichord. That weird orchestral aside on "Hudson" isn't a nod to Beck's use of "Unfinished Symphony" on Odelay or any kind of prog inclination from the band. Instead, it signifies an orchestra. Or, at most, a half-remembered night at Lincoln Center. Rather than excavate old rock history, Vampire Weekend find ways to make these instruments sound new, which gives the music a lightness—as though unburdened by the music of the past and the expectations of the present.
Still enamored with One-Trick Pony, Koenig not only appreciates Paul Simon's naturalistic melodies, but understands that concrete details make the song. "Obvious Bicycle" and "Hannah Hunt" enlarge Koenig's world, even if your girlfriend lying about you to the New York Times is a First World Problem. He half-raps "Worship You," debuts his best Elvis impersonation on "Diane Young" and presents "Step" like he's making fun of all those dumb indie bands covering Outkast. The chorus is vaguely ridiculous ("every time I see you in the world, you always step to my girl"), and Koenig gets chopped and screwed on the outro. But the band takes such obvious and unbridled joy in colliding those sounds and styles.
Vampire Weekend would sound like just another dumb indie band covering Outkast without the muscular backbone of bassist Chris Baio and drummer Chris Tomson—a surprisingly formidable rhythm section that makes these songs accessible even as they complicate their rhythmic thrust. But Modern Vampires is Rostam Batmanglij's album. Like a character actor stealing the movie from the lead, he pretty much owns these songs, filling them with eccentric flourishes of sound that are both jarring and perfect: the baby-voice chorus on "Ya Hey," the distressed pipe organ on "Everlasting Arms," the rambunctious piano on "Diane Young." He gives these songs their buoyancy and identity, making Vampire Weekend the weirdest and certainly the most idiosyncratic band to top the Billboard charts. Theirs may be a riches-to-riches story, but the band still strive to overcome the childhoods on the right side of the tracks. They're pulling themselves up by their Prada bootstraps.