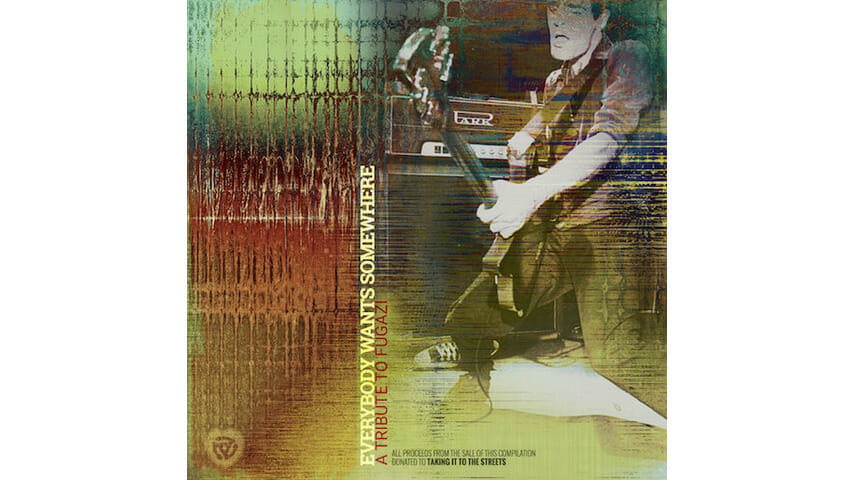 The mark of any good tribute record is in the collection's ability to pay homage to the source material, while providing new perspectives for the listener. Bay Area indie label Sell the Heart Records, ever aware of this approach, has assembled a diverse salute to Fugazi featuring a lineup of yesteryear punks and underground up-and-comers, all in an effort to raise funds for Taking It to the Streets, a non-profit organization based in San Francisco that has been working to serve the city's homeless community since 2014.
With the fractured political and social climate as a fitting backdrop, Everybody Wants Somewhere (the iconic line taken from Instrument's "Cashout") opens with a bang on a dutiful rendition of "Runaway Return" (1991's Steady Diet of Nothing) from San Francisco punks Great Apes. This more-or-less faithful offering belies the record's consistent stream of divergent covers, beginning with the album's second track, an ambient-rock take by San Diego's Warsaw on the Repeater standout "Merchandise," with the slowed warble of "We owe you nothing/You have no control" resonating in new ways for Trump's America.
Throughout the compilation, you're treated to the kaleidoscopic avenues that time and inspiration can take Fugazi's important contributions to America's punk rock underbelly. As evidence, an electro take of the Instrument stunner "I'm So Tired" from Gnarboots gives an even more nuanced departure from the post-hardcore peace-out of the original, which found Ian MacKaye plunking piano instead of discordant single notes. The final minute of the song is cloaked in a tasteful dubstep-meets-chiptunes veil, in about as far a departure one might conjure Fugazi traveling, despite their noted tastes for the experimental.
San Diego's No Knife resurfaces here on "Bed for the Scraping," as does legendary Bay Area punks Screw 32 for a rollicking "Public Witness Program." Both tracks stick relatively close to the source material, though No Knife is able to flesh out their propulsive, Police-inspired patina thanks to the calculated vocal melodies of Ryan Ferguson. Jonah Matranga (Far, Onelinedrawing) contributes perhaps the spaciest study on Everybody Wants Somewhere, with a super minimalist Casio-beat meditation on the typically enraged battle cry "Suggestion" from Fugazi's self-titled 1988 debut. Other highlights come from the Start with a mostly loyal cover of End Hits scorcher "Place Position," as well as The Down House's take on "Give Me the Cure," and SF crew Vast Wild's Gary Numan-inspired execution of the classic "Waiting Room."
These alternate interpretations make sense. After all, it is in the perceived malleability and open spaces of Fugazi's manic freak-punk that allows for them to begin with. Remember your first time hearing the intro to "Runaway Return" and thinking, "Wait, did they just screw up?" The blueprints of Fugazi's anything-goes art-punk imprint made it okay for grander experimentation. It's the reason why such a disparate cross-section of artists come close to idol worship when referencing the DC band, and why so many dissimilar bands came out of the woodwork for this intriguing—and philanthropic—grassroots project.