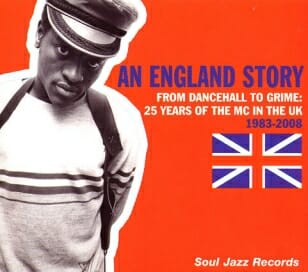 An essential slab of hip-hop history
Yes, it's too long—and it's not exactly packed with artists you know, even if you get down with Dizzee Rascal. But this two-disc compilation nonetheless serves a valuable purpose, reinforcing connections between British hip-hop and the Caribbean diaspora.
The result is a post-colonial music-history lesson, a 21-track document of cultural cross-pollination. Copious liner notes itemize the musical links, drawing a sharp line between American hip-hop and its British brother. The artists here have enough to worry about with their empire/colony relationship; they don't need the States complicating matters. With U.S. hip-hop pushed to the background, the England Story artists are free to drop their beats in stutters and burps, and to unleash their lyrics in a distinctive rat-a-tat. At times, you might not be able to tell whether you're listening to rap or reggae—and you probably won't mind the confusion.