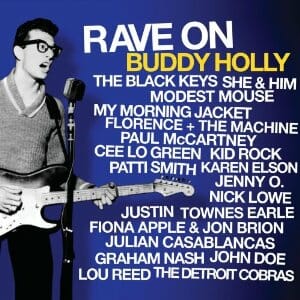 I'll assume I'm not alone in having my first conscious memory of Buddy Holly be from the song of the same name by Weezer on their seminal debut. For a few months you couldn't listen to alt rock radio or tune in to an afternoon of MTV without being bombarded with the implication that Buddy Holly, whoever he may be, was not the coolest dresser in town. What I didn't realize at the time was that I knew Buddy Holly; I knew him without knowing I knew him. I'd heard him in movies and even shaking off the dusty speakers of my grandmother's big fat wooly monster of a kitchen radio. I'd been exposed both directly, and indirectly by his undeniable influence on all things rock 'n' roll. So it goes without saying that when the opportunity came to review Rave On Buddy Holly, a tribute commemorating what would have been his 75th birthday had he not died at 22 in a plane crash in the nowhere of northern Iowa, I was all over it.
Tribute albums are a little trickier to review—you aren't assessing the arrangements, the lyrics, the music itself. You aren't tasked with considering the source material, and you're not necessarily tasked with analyzing its interpretation, although that can add a nice context to things. In my mind, you shouldn't pay too much attention to the flow of the thing, its balance, its completeness, its statement as a singular work any more than you would a mix, where the trick is to mask the movement from track to track and emotion to emotion, to make it come across as seamless as possible. The real job of the reviewer when handed a tribute album is a deconstruction of the album review itself, from the artist's intent or the album's success at reaching that intent, to the individual merits of each song, and then to the unrelated sum of those parts. Really, in short, are the songs good more than they are not and do they add up to a fun listen? Maybe even one you'll want to repeat before you return to the source for an obvious refresher?
To that end, regardless of the source, which in this case is brilliant, the artists that compile a tribute album decide if I'll buy it. The list of artists on Rave On Buddy Holly is the musical equivalent of this season's finale on The Office, a full-on braingasm of guest stars. When I first read the press release my jaw dropped like a lascivious Bugs Bunny ogling his female foil in one of those episodes of Looney Tunes chock full of creepy sexual subtext. I'd list a few just to give you a taste, but it would be a disservice to those I didn't include. There are no slouches on this album. Rave On Buddy Holly is an indie-rock wet dream that adds in some old school rockers that could carry a tribute on their own (oh, and Kid Rock).
I will, however, include some personal favorites. The album opens with The Black Keys performing an emotionally taught and beautifully minimalist rendition of "Dearest" that sets the bar at an unreasonable level, one that's somehow met time and again. Julian Casablancas offers a rich and rocky version of the title track that I'd love to hear live. Karen Elson's twangy take on "Crying, Waiting, Hoping" (with help from ex-husband Jack White) captures the feelings I'd guess plenty of guys have experienced because of Karen Elson. Justin Townes Earle covers "Maybe Baby" in a way that makes you think he's pretty much perfectly suited to cover Buddy Holly and could probably pull off a whole cover album. My Morning Jacket offers a beautifully crafted croon of "True Love Ways" and Modest Mouse comes out with a ballsily original cut of "That'll be the Day." I am going to stop it here, but I could go on for at least a few more.
I imagine our ratings at Paste as indicative of their associated letter grades; it's why almost everything I review ends up in the B's, that's where most albums worth reviewing are. I think hitting the 9's is rare. I think, as far as I'm concerned, it's usually reserved for albums that could easily be dubbed an instant classic. Rave On Buddy Holly takes classic tracks and, for the most part, offers instantly memorable covers of them. It's not quite an A, but it's as close as anything I've reviewed in a while.