Watch Weezer's Rivers Cuomo Cover R.E.M., Oasis, Pixies and Smashing Pumpkins
Photo by Christopher Polk/Getty
Music
News
Weezer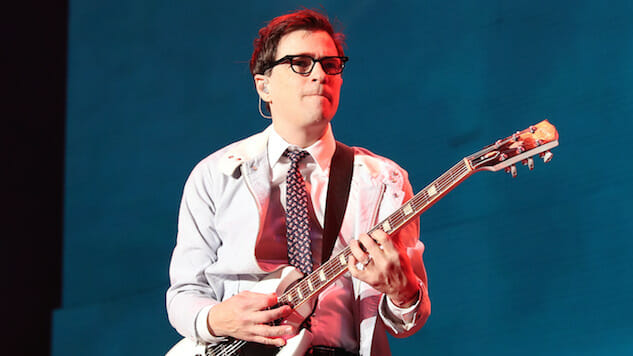 Weezer's Rivers Cuomo performed several covers of '90s classics at his solo show in L.A. this past weekend, as first pointed out by Stereogum.
Cuomo's near-two-hour set included performances of R.E.M.'s "Losing My Religion," Oasis' "Champagne Supernova," Pixies' "Where Is My Mind?" and Smashing Pumpkins' "Today." The rest of the set featured songs spanning Weezer's 25-year discography, including hits like "Buddy Holly," "Say It Ain't So" and "Beverly Hills." YouTube user Rey Philip de Joya filmed Cuomo's entire show and kindly listed the full setlist.
After the release of Weezer's most recent album Pacific Daydream, Cuomo said that he planned to follow up the band's 2016, self-titled album (aka "The White Album") with another self-titled record (aka "The Black Album"). According to Consequence of Sound, the album is set for release on May 25.
Watch the Cuomo's full set below, with each of Cuomo's individual '90s covers included further down.
Full set:
R.E.M. cover:
Oasis cover:
Pixies cover:
Smashing Pumpkins cover: