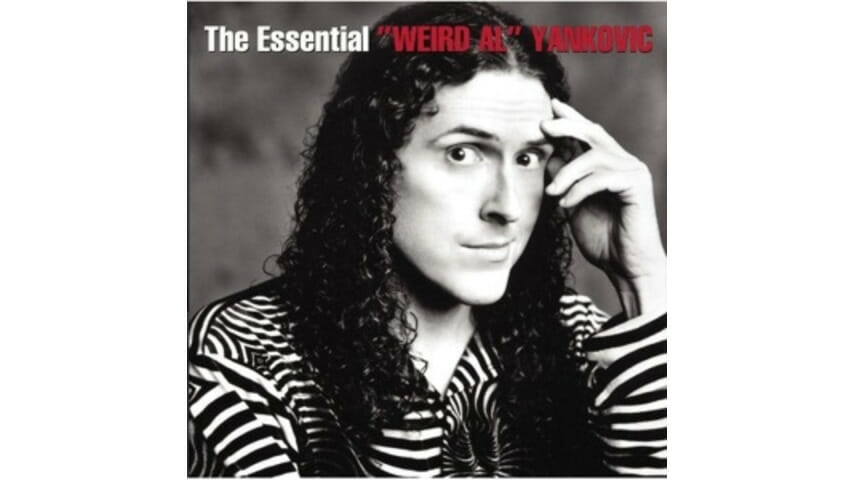 King of Pop Parody's new greatest-hits comp heavy on the weird, and the great
Would it be apropos to write a parody review of "Weird Al" Yankovic's new greatest-hits compilation? No, it would be pure gimmick, and while Yankovic's career has contained many an artifice, pure gimmick he ain't. As evidenced by new two-disc set The Essential "Weird Al," Yankovic's appeal spans from outsider comedy legend Dr. Demento to modern nerdcore artists such as MC Frontalot. What's really remarkable about Yankovic—besides his lustrous mane—is that he's managed to ape other artists for over 30 years without ever losing his own gleeful, nerdy, slightly nasal voice.
Yankovic has been a comedy institution since his self-titled 1983 debut. He doesn't skewer as much as gently rib, which is an important (meaty!) distinction. He's not a mean-spirited prankster; Kurt Cobain was famously honored when "Smells Like Nirvana"—Yankovic's parody of "Smells Like Teen Spirit"—came out in 1992. (Of course, there's the famous exception of Coolio.)
The two-disc Essential "Weird Al" kicks off with "Another One Rides The Bus," Yankovic's parody of Queen's "Another One Bites the Dust." The song was recorded live on the Dr. Demento show in 1980, and it's funny, raw and lo-fi—like a Mountain Goats song minus the wrist-slitting. The curation of this best-of collection is top notch, with a nice blend of parodies and Yankovic originals, the latter often forgotten by those less intimately familiar with the funnyman's canon. He doesn't always spoof specific songs; in "Dare to Be Stupid," he apes Devo's musical style itself, and the David Byrne impression on Talking Heads homage "Dog Eat Dog" is pitch perfect.
The newest material on this album—from 2006's Straight Outta Lynwood—is just as strong as Yankovic's earlier work. "Don't Download This Song" is an ingenious pastiche of anti-RIAA satire and grandiose celebrity charity anthem. And the geeky take on Chamillionaire's "Ridin'"—"White and Nerdy" ("Only question I ever thought was hard / Was do I like Kirk, or do I like Picard?")—is further evidence "Weird Al" hasn't lost a step.
Of course, any career spanning a quarter century is bound to boast some passé goods: "Gump"—a parody of the Presidents of the United States of America's "Lump—screams mid-'90s; and "eBay," a parody of Backstreet Boys' "I Want It That Way," is a fascinating intersection of dated pop-cultural material. But _The Essential "Weird Al" _is mostly packed with songs that have retained their charm. It probably helps that targets like Madonna and Michael Jackson continue to be celebrity-gossip engines, and that many of his songs are in praise of universally awesome things like lasagna, huge TVs and that noble organ, the pancreas.
Aside from Yankovic's talent as a lyricist and producer, perhaps one of the most gratifying elements of his work is the enthusiasm it engenders. On "Bedrock Anthem," it's easy to analyze the musical blend of the Red Hot Chili Peppers' "Under the Bridge" and "Give It Away," but it's perhaps more satisfying to bask in the glow of how awesome The Flintstones was. "The Saga Begins," a musical parody of Don McLean's "American Pie" that lyrically tackles Star Wars: Episode 1 – The Phantom Menace, reminds us of an age when we didn't know the Star Wars prequels were going to suck royal dick. It's a pretty sweet world, where we can all dare to be stupid and get it all on UHF. Thanks to Yankovic, it's one that's continually worth exploring.