Where Is All the Protest Music of the Trump Era?
It's there to be heard, like it's always been. You just have to find it in new places.
Music
Features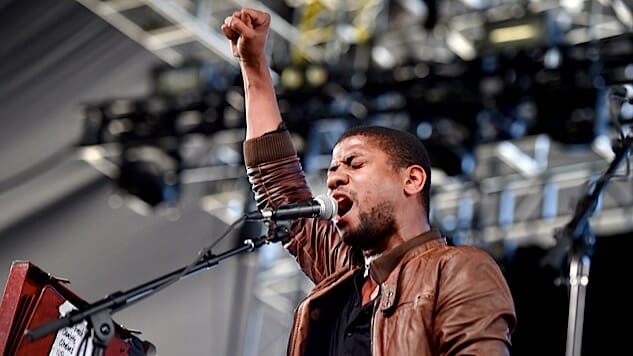 Through a haze of disbelief in the aftermath of last November's presidential election, more than a few people consoled themselves with a common refrain: The election of Donald Trump would mean a new golden age for protest music.
Singer Amanda Palmer, for one, said Trump would "make punk rock great again," while earnest think pieces about the importance of musical protest popped up around the Internet like mushrooms after a rainstorm. So where do things stand, six months after Trump's inauguration? Has the new golden age of protest songs begun?
Not really.
"The problematic thing about that is you're presenting it like it's a done deal: Don't worry, punk rock is going to take care of you," says Ryan Walsh, leader of Boston band Hallelujah the Hills. He offered a sardonic rejoinder to that mindset in January with the song "Punk Rock's Gonna Be Great Now That Trump's in Charge."
"It's not going to be folk music, it's not going to be punk music. This isn't a science. It's not going to happen the same way, and no one knows how it's going to work yet."
"The old way never works," says Walsh, who is also the author of the forthcoming book Astral Weeks: The Secret History of 1968. "It's not going to be folk music, it's not going to be punk music. This isn't a science. It's not going to happen the same way, and no one knows how it's going to work yet."
This isn't to say that 2017 has been devoid of resistance music. Billy Bragg just released a new protest song, "The Sleep of Reason," taking aim at the hateful know-nothingness of the alt-right. Roger Waters's first new rock album in 25 years, Is This the Life We Really Want?, savages the Trump regime. Todd Rundgren's song "Tin Foil Hat" mocks Trump for "tweeting like a teenage girl," among other things. Rap-rock supergroup Prophets of Rage, which includes Chuck D and members of Rage Against the Machine, have an album due in September. The indie band Entrance treats the president like Voldemort on the single "Not Gonna Say Your Name." Even Katy Perry is making "purposeful pop," whatever that means. Nevertheless, music seems unlikely to reprise the vanguard role it played in fomenting social change in the 1960s and '70s.
"For it to be a golden age for protest music, you'd need it to be a universal social medium for young people, which it no longer is," says Bragg, the British protest veteran who built his career on singing pointed screeds when Margaret Thatcher was prime minister in the 1980s.
Clearly, music plays a different role in culture now than it did 50, or even 25, years ago. Listening habits have fragmented; songs everyone knew because they were on the radio have becone individually tailored playlists, and the folk and rock 'n' roll that played so prominent a role in the Civil Rights movement and protests against the Vietnam War have long since ceased to dominate the popular consciousness. Back then, "There wasn't the opportunity to blog, or be on Facebook, or make a film on your phone, even," Bragg says. "Since people have learned to use other mediums to express their anger with the world, there's been a considerable decline of protest music, at least made by white boys with guitars."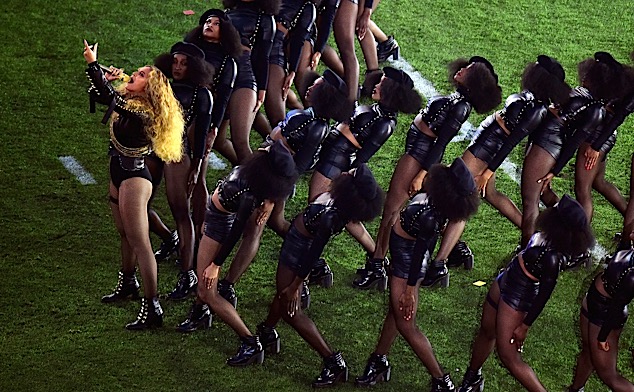 Beyonce's performance of "Formation" at the 2016 Super Bowl was labeled by some as "anti-cop."
That's a key distinction. Expecting Trump to usher in a fertile new era of protest anthems implies that social and political commentary have been absent from recent music. But some of the biggest names in hip-hop and R&B—including Kendrick Lamar and Beyoncé—have been addressing high-profile incidents of racism and police brutality in their songs for years. In an era when mass culture platforms are scarce, Beyoncé took advantage of the most prominent by far, performing her black-empowerment tune "Formation"—denounced by some on the right as "anti-cop"—at the 2016 Super Bowl for a television audience of 115 million.
"To take a political statement into that format is incredible," says Drive-By Truckers singer Patterson Hood. Last year, his group made a political statement of its own with American Band, which excoriated an NRA leader once convicted of murder and offered a sorrowful meditation on the shooting deaths of Trayvon Martin in Florida and Michael Brown in Ferguson, Missouri. The Truckers didn't really have Trump in mind while making American Band.
"I think no one took seriously the threat of what was going on," Hood says. "It was easy to get disappointed by Bernie Sanders not getting the nomination and think, 'I'm going to sit this one out, fuck it,' and then realize 'Oh, shit.'"
Although American Band is easily the Drive-By Truckers' most overtly political album, they have never shied away from social commentary. Other groups with similar instincts are bemused by the sudden focus on songs of resistance. "The impulse to release protest albums has been there since before this president was elected," says Victoria Ruiz, singer for the political punk band Downtown Boys. The Rhode Island group fights back against racism, homophobia and classism on Cost of Living, a lacerating and riotous new album due in August.
"I think no one took seriously the threat of what was going on," said Drive-By Truckers frontman Patterson Hood. "It was easy to get disappointed by Bernie Sanders not getting the nomination and think, 'I'm going to sit this one out, fuck it,' and then realize 'Oh, shit.'"
The tradition of using music to protest injustice, of course, goes back centuries. The Diggers in 17th-century England wrote ballads as part of their efforts at land reform. Abolitionists in 19th-century America sang in favor of ending slavery, while slaves found in music some solace and also a way to communicate in code. The labor movement in the 20th century made such potent use of music that you can still buy reprints of the Little Red Songbook, first published by the Industrial Workers of the World in 1909. Woody Guthrie codified folk as protest music in the 1930s and '40s, and Bob Dylan did much the same in the '60s. Marvin Gaye, among others, gave protest music a soulful tint in the '70s. By the 1980s, punk rockers from Dead Kennedys to Suicidal Tendencies were raging against Reagan, and socially conscious hip-hop served as a woke counterpoint to the violence and hedonism of gangsta rap in the '90s.
"Political music has always been there," says Ryan Mahan, bassist for Algiers. (Lead singer Franklin James Fisher is pictured top.) Steeped in a distinctive mix of post-punk and gospel, the Atlanta band released a ferocious second album, The Underside of Power, in June. The new LP has attracted a different kind of attention than Algiers' self-titled debut in 2015, which Mahan attributes in part to context. "People are interpreting this record as something that is more relevant because of the very specific societal circumstances in which it was born. We think of it as a continuation" of the themes on the first album, which address the history of racism and civil rights in America.
For most of the long history of protest music, topical songs have served to rally the faithful, rather than to convert unbelievers. "I don't think you write a song and instantly change people's minds. That's a very movie version of life," Hood says. "At the same time, I know that growing up, listening to the music I did certainly was a part of making me the person I became." He cites songs like "Dogs" and "Pigs (Three Different Ones)" by Pink Floyd, and "What's Going On" by Marvin Gaye. "As a suburban white kid in north Alabama, I first heard of Sandinistas through a Clash record."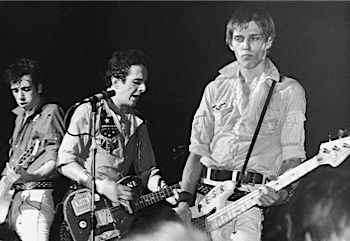 These days, The Clash (pictured left) might have accompanied their 1980 triple-album, Sandinista!, with a conceptual film, the way Beyoncé made videos for every track on Lemonade. Artists' ability to filter their message through visual narratives and social media magnifies the ways that music can be influential.
"There's no quick gauge on how somebody is absorbing a song," says Chuck D, who galvanized the hip-hop protest movement in the 1980s with Public Enemy. "When a person comes away from a song, with all these things that are working, they can be influenced by all the elements a song has exuded."
Even then, music is just a starting point. "Woody's guitar didn't actually kill fascists," Bragg says, referring to the slogan Woody Guthrie famously scrawled on his instrument. "It inspired people to kill fascists. That's what music does."
While protest songs can serve to inspire and exhort, they don't change anything by themselves. What makes for a golden age of protest music surely depends on how listeners channel the inspiration they glean from the songs. "We're not asking music to do social work for us," Ruiz says. "Instead, we're realizing that it's sort of like a library, and we need to do the work and go get the book off the shelf. That can be really exciting."