New Whitney Houston Documentary Reveals She Was Sexually Abused by Cousin
Images via Roadside Attractions/YouTube
Music
News
Whitney Houston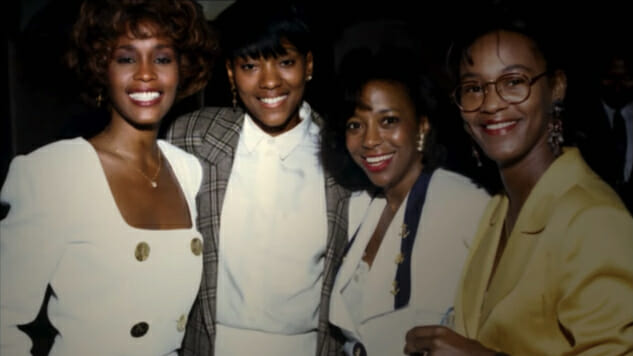 Oscar-winning filmmaker Kevin Macdonald's Whitney, a new documentary about Whitney Houston, premiered on Wednesday at the Cannes film festival, and it features a striking, unknown-until-now revelation in regards to Houston's adolescence, as Vanity Fair reports. As a child, Houston and her half-brother, Gary, were sexually abused by their older cousin Dee-Dee Warwick (the sister of singer Dionne Warwick), and Macdonald didn't get on-record confirmation of this painful revelation until he was two weeks away from wrapping up editing on the film.
Macdonald went into making this documentary with the initial hopes of cleaning the tarnished, addiction-riddled image of Houston that plagued her later years until her sad and untimely death. Yet, when he was made aware of this revelation about Houston's troubled youth, Macdonald re-edited the entire film to build to that sad and deeply, deeply haunting reality of the sexual abuse to which Houston fell victim as a child.
Though Houston never spoke publicly about the abuse she experienced, she hinted to it in both her actions and some of the interviews in which she took part. For one, she would always bring her daughter, Bobbi Kristina, on tour with her because Houston was usually abused by Dee-Dee Warwick, who died in 2008, when Houston's mother, singer Cissy Houston, was on tour. She also responded in an interview, when asked about what makes her angry, with a deeply personal and pointed rage in proclaiming, "it bothers me that children, who are helpless, who depend on adults for security and love, it just bothers me. It makes me angry."
Whitney never told her mother about the trauma she faced because, like so many victims of abuse, she felt a sense of guilt and culpability about what happened to her. Whitney's family life was constantly tense, from the fraught relationship with her mother to her toxically manipulative relationship with her father, John Houston, but she managed to channel both beauty and optimism through the sheer omnipresent force of her musical artistry. This documentary aims to honor the art of a deeply troubled artist as much as it aims to understand what troubled her so, and to hopefully lighten the stigma of substance abuse and addictive reliance that sadly troubled the great Whitney Houston.
Check out the documentary's beautiful, heart-wrenching trailer below and revisit a previous teaser for Whitney here.