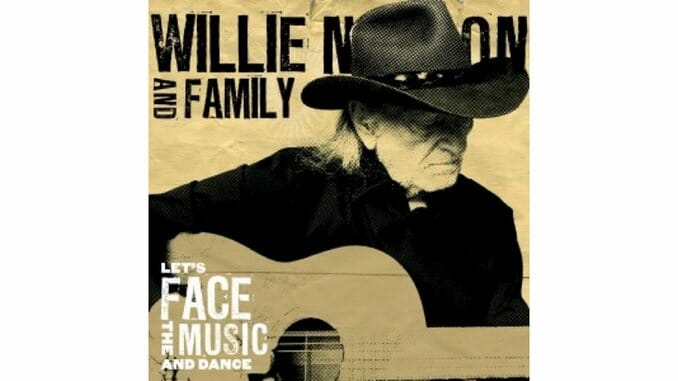 Family has been backing Willie Nelson for longer than you've been alive. The group first showed up on 1971's Willie Nelson & Family and have toured with him off and on for four decades, enabling his intuitive jumps between country and jazz, pop standards and Western Swing jams. In addition to longtime harmonica player Mickey Raphael and drummer Paul English, Family includes actual family: Willie's sister Bobbie proves just as nimble on the keys as her brother is with a guitar.
Emphasizing the tight dynamic between that foursome, Let's Face the Music gathers 14 covers from the 1930s through the 1980s, comprising something like a stroll through the 20th century. Willie's tastes remain adventurous and his knowledge deep: He performs Carl Perkins' rockabilly classic "Matchbox" with the same care and casual aplomb he brings to Django Reinhardt's "Nuages" and Irving Berlin's "Let's face the Music and Dance," as though all of these tunes flow from the same source. Rather than blur the lines between styles, he simply ignores them as he always has, taking no small delight in the breadth of American songcraft.
Especially with his infamously improvisatory vocal approach, supporting Willie can be treacherous. Family comes across not so much as an ace backing band but as a single organism, with eight arms and impeccable timing. Raphael, perhaps the most distinctive and agile harmonica player of the rock era, toggles effortlessly between playing rhythm and lead parts, while Bobbie Nelson adds graceful flourishes of piano that don't distinguish between the barroom and the church sanctuary. At times the extended Family—which includes Willie's son Micah and Paul's kid Billy—threatens to crowd these songs, but Willie presides above it all with his signature stoner charm.
He turns 80 this year, but we should all age so well. As a singer and as a guitar player, he remains as spry as ever. On recent albums, like Songbird and Heroes, his voice sounded weathered with age and not quite as commanding, yet perhaps due to his comfort with these old tunes, Let's Face the Music features some of his strongest and most engaged performances in a decade. If you didn't know better, you'd swear his tracks on "Shame on You" and "Matchbox" were recorded by a much younger man. His voice dances around the meter gracefully and perhaps even mischievously, making deeply familiar songs sound utterly new again.