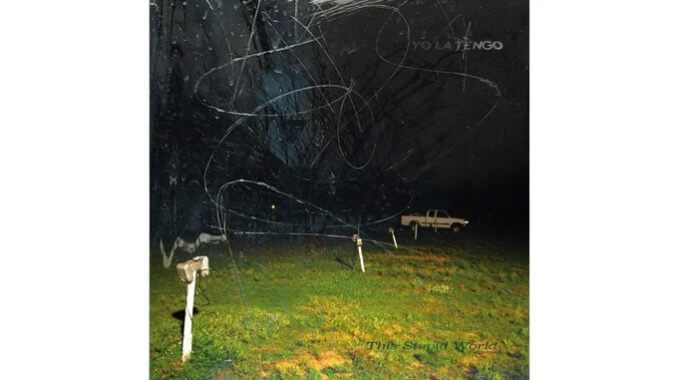 Forty years of Yo La Tengo. Think about that: If a band had been around that long by 1983, the year Georgia Hubley and Ira Kaplan first performed together as Georgia and Those Guys, it would have formed during World War II.
If critics seem to harp on about Yo La Tengo's longevity, it's because it signifies a kind of genetic mutation; bands of this age are not supposed to be still making albums this good. And This Stupid World, the Hoboken trio's first proper full-length in five years (not counting the ambient lockdown quickie We Have Amnesia Sometimes), is very good indeed, a dreamy and reflective song cycle that welcomes us into Yo La Tengo's private world while leaving ample mysteries unexplained and secrets untold.
Like 2018's expansive There's a Riot Going On, This Stupid World bristles with a sense of uneasy quiet as the world outside rages and burns. At times, the noise explodes into the open, as in the seven-minute, motorik groove "Sinatra Drive Breakdown," which recalls Ira Kaplan's gnarled guitar workouts of the past, particularly 1995's "Flying Lesson (Hot Chicken #1)." Yet much of this album is muted, condensing the restless, ambient-pop sprawl of Riot into compact packages like "Apology Letter," a wry, self-deprecating tune about marital squabbles. Humor and sadness swirl together, as they often do in the Yo La Tengo extended universe.
When a veteran band wishes to stay relevant, they'll often hire a name producer, or rope in some trendy guest stars. But YLT has no interest in parading around Phoebe Bridgers for Gen-Z tokens. They have done much the opposite. They recorded, produced, and mixed This Stupid World entirely themselves, as bassist James McNew told Pitchfork, "Until the mastering date, there was nobody else involved."
In this hermetic bubble, the musicians trade instruments and vocals with ease. The record ripples with a sense of self-discovery. All three band members sing lead within the first four songs. "Fallout," sung by Kaplan, is a classic YLT noise-pop stunner in the spirit of "Sugarcube" or "Double Dare." Its central refrain—"I want to fall out of time"—reflects the band's sense of trend-defying timelessness.
"Tonight's Episode," sung by McNew, is an odder creature than the bassist's previous turns behind the mic ("Stockholm Syndrome," "I'm On My Way"). Over a burbling cauldron of guitar feedback and krautrock drums, McNew talk-sings his way through a list of yo-yo tricks. And "Aselestine," sung by Georgia Hubley, is downright gorgeous, a dreamy ballad that summons the ache of anticipatory grief: "The clock won't tick/I can't predict." The song opens with a momentary flash of laughter, unexplained: again, sadness and humor, mingled together.
Yo La Tengo has always been an introverted band, both musically and in the fans they attract, but This Stupid World is a particularly introverted record, even by their standards. In the tradition of 2009's Popular Songs, the record saves the expansive drones for last. "Miles Away" is an ethereal and impressionistic glacier of sound; Hubley's lovely vocals ripple over a dubby drum pattern that grows more and more remote. The title track (the band's first ever) is a monochrome drone rocker, plodding along like some damaged White Light/White Heat B-side.
As the song sputters to an end, the trio repeats the titular refrain like a mantra: "This stupid world/It's killing me/This stupid world/Is all we have." Maybe that's what passes for optimism these days. Maybe, as Yo La Tengo has found, perseverance in a stupid world is its own kind of hope.
---
Zach Schonfeld is a freelance writer and journalist based in New York. He contributes regularly to Paste, Pitchfork, Vulture and other publications. Previously, he was a senior writer for Newsweek. His first book was published in November 2020.
Listen to Yo La Tengo's Daytrotter session from May 19, 1995, below: