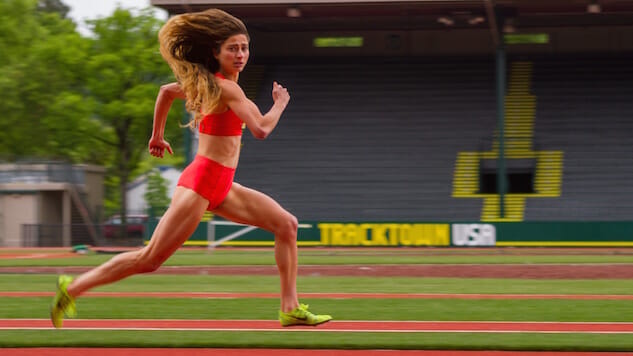 Oregon runner and future Greek Olympian Alexi Pappas, 26, has garnered quite a large fan following over the years, especially for an obscure distance runner. High school and college athletes, often female, gather at races for her autograph. They're attracted in droves to her quirky style — she recently posted a photo of an outfit she had made from past race bib numbers and referred to herself as a "potato" in a New York Times article. (The metaphor makes sense, sort of; you need to read it to understand.)
Pappas has long tried to balance her love of writing, poetry, and acting, with the demands of being an elite runner. Those two interests came together for the premiere of her film, Tracktown, at the Los Angeles Film Festival last month. She stars in the movie, which she talks about in our interview. She also shares with us her favorite poem she's written—which is actually a bit of a life motto and one that has been used by more than a few high school seniors as their yearbook quote.
Although Pappas grew up in the U.S. and went to Dartmouth before transferring to the University of Oregon, she decided earlier this year to run for Greece. While the decision to run for Greece was certainly in part practical—Pappas has already locked down qualification for the Greek team in the 10,000m, instead of having to battle it out at the U.S. Trials in early July—it was also an emotional decision, she's said in the past. When she shattered the Greek national record in the 10,000m in May, achieving the Olympic standard by a sizable margin in the process, she also helped lift her ailing Greek grandmother's spirits.
You're competing for Greece this summer. Are you spending time there to prepare?
I'm in Greece right now! I'm training with other Greeks in a mountain town called Karpenissi, where I have basically no internet and where there are more yiayias (grandmothers) and chickens than there are computers and televisions. It's absolutely amazing and inspiring. I feel like I am running for a greater purpose now that I have gotten to know my Greek teammates and immersed myself in the language and the land — and the feta cheese!
In addition to running, you also write, and recently premiered the movie you and your boyfriend, Jeremy Teicher directed, Tracktown. How much time did making the movie take? How much of your time is spent training, and how much is spent writing?
The movie took about three years, from idea to premiere. My days are packed full of training, sleeping, eating, and working on the film! Priority goes to training, but once I'm back home from practice, I'll often taken my post-workout fuel by the computer where I will edit film, write, etc with my co-creator Jeremy. I balance running 90-100 miles per week with my film work, which takes discipline, but I love it. It helps to have a teammate like Jeremy to make everything possible.
Was the movie semi-autobiographical?
The movie is based on my experiences and observations as an elite runner chasing the Olympic dream. So it is not based on my life, exactly, but rather a patchwork quilt of people and experiences.
You've become a bit of a cult figure in track circles. There are even memes devoted to your bun. Why are people obsessed with your hair? Does it ever feel weird for you?
I think people are drawn to the bun because it is something most everyone can do — it's a connection between me and runners everywhere! I remember when I was little, I wanted to be like my role models, but it was hard to connect with them as I hoped, because, for example, I couldn't run for 10 miles at a time like they could. With the bun, it doesn't matter how fast your mile personal best is, we can be connected through a simple fun hairstyle.
Also, the bun-trend found me! I have always worn my hair in a bun, but one day, I found a tweet from a team of girls who all wore the bun and tweeted the picture at me. I retweeted and the trend took off from there. I am honored to be whatever I am to these bun-wearers and I feel that at its best, the bun is a sign of camaraderie and bravery.
What are your favorite lines of poetry you've written?
run like a bravey,
sleep like a baby, 
dream like a crazy,
replace cant with maybe, lady