A Trump-Owned Casino Was Fined For Agreeing to Keep Black Employees Away from a Racist High Roller
Photo via Getty Images, Ralph Freso
Politics
News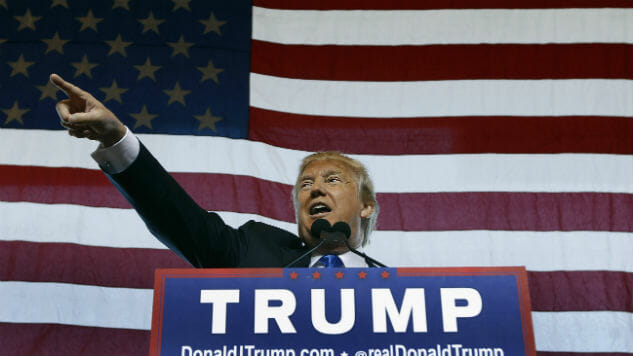 Trump has a long, well-documented history of discrimination in his business life, not to mention a history speckled with links to the mob. The latest story in what one might call the presidential candidate's trail of transgressions involves the Trump Plaza casino and hotel in Atlantic City.
According to documents obtained under the New Jersey Open Public Records Act by Michael Isikoff, an investigative reporter for Yahoo News, the casino received a $200,000 fine after purposely impeding black employees from working around one of the casino's high rollers, the mob-linked Robert LiButti. Investigators involved with the case, which took place in back in 1991, found that in order to avoid losing LiButti's business, the casino kept the employees away from the gambler's betting tables while he was on the premises.
LiButti was known for racist tirades and had on more than one occasion publicly berated blacks and women with "the vilest language," according to a state official cited in the court documents. That included racist language and obscene references to women from a man who had, at the time, been banned from several New Jersey casinos as a result of his connections to Mob boss John Gotti.
When the Philadelphia Inquirer asked about Trump's connections to LiButti back in 1991, the Republican front-runner told the publication, "I have heard he is a high roller, but if he was standing in front of me, I wouldn't know what he looked like."
He again denied any connection to LiButti in a recent statement given to Yahoo through a spokeswoman.
"During the years I very successfully ran the casino business, I knew many high rollers," Trump said. "I assume Mr. LiButti was one of them, but I don't recognize the name."
However, LiButti's daughter Edith Creamer has accused Trump of lying about the extent of his relationship with her late father. It was a relationship that, according to Creamer, involved LiButti gambling millions of dollars at one of Trump's privately owned casinos, as well as using his helicopter to fly to Atlantic City and his private yacht to party. The helicopter claims are easily corroborated by a police recording from 1990 during which LiButti describes a conversation with Trump on a helicopter.
In 1994, LiButti was sentenced to five years in prison for collecting $3.4 million in improperly authorized bank loans over a two-year period, as well as $3 million tax evasion offense. Libutti died in 2014.