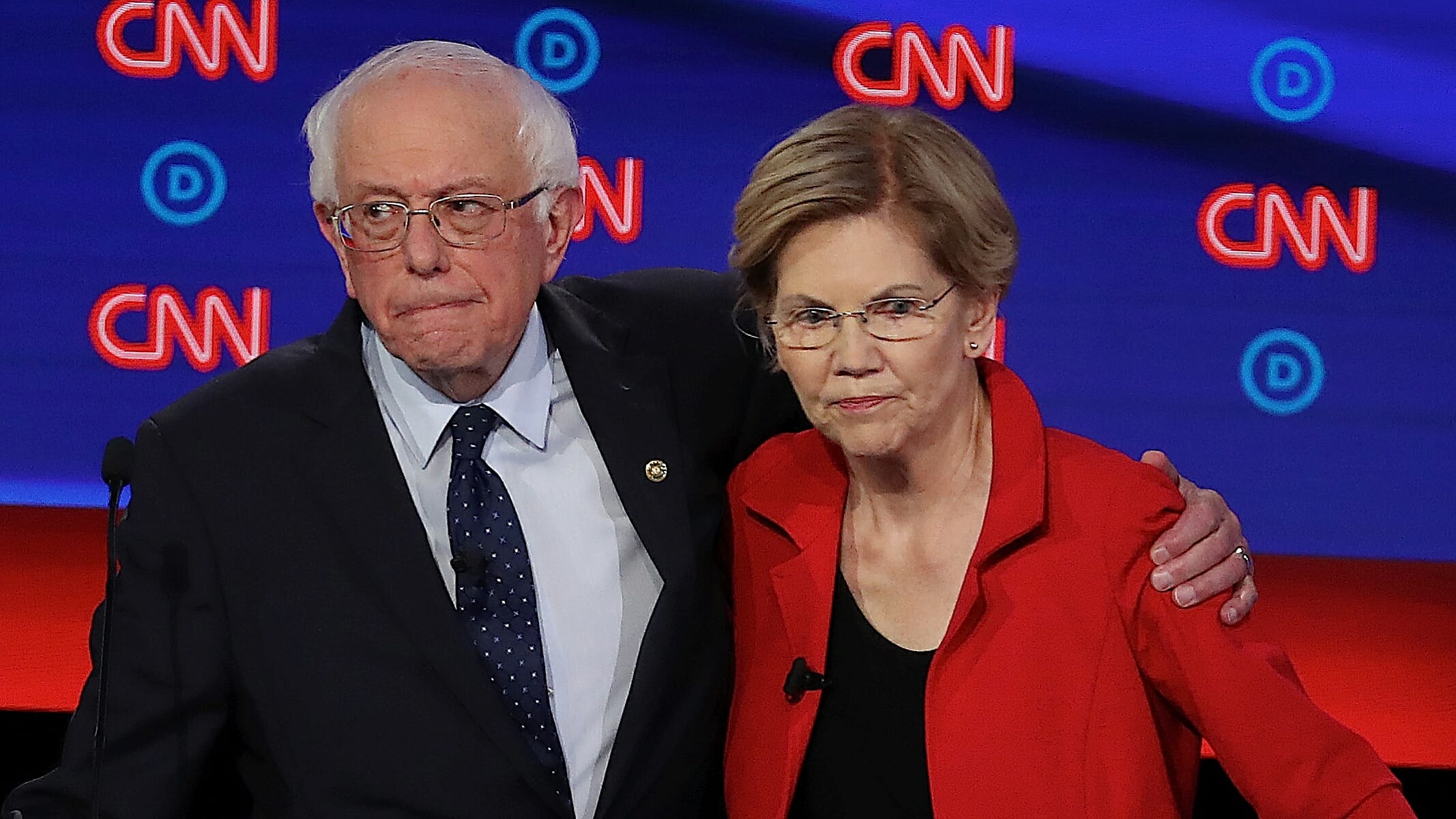 In what might be the most interesting result of any Democratic presidential primary poll to date, a new survey from UC Berkeley found that 24% of likely primary voters support Bernie Sanders, which gives him a slight lead over Elizabeth Warren, who clocked in at 22%. Most shocking of all, Joe Biden's support sits at an anemic 12%, his worst result by far since his campaign began.
New poll in California from @BerkeleyIGS and @latimespolitics@BernieSanders 24%@ewarren 22%@JoeBiden 14%@PeteButtigieg 12%https://t.co/xQLnwRaFlwpic.twitter.com/FUiOMrgEiI

— Alexander Tin (@ThisAlexTin) December 5, 2019
That represents a 6% drop for Biden and—neatly—a 6% gain for Pete Buttigieg, now polling at 12%.
The poll was taken before Sen. Kamala Harris called it quits, but even with her votes re-allocated to second-choice candidates, Biden would only rise to 17% and Sanders and Warren would remain in the top spots. There's also bad news for Michael Bloomberg:
Bloomberg appears ill-equipped to break into the mix. The poll, which was taken Nov. 21-27, just as Bloomberg started advertising in California and elsewhere on Nov. 25, found that he began his campaign with one of the most negative images of any candidate in the field. About 40% of the likely Democratic primary voters surveyed viewed him negatively, and just 15% had a positive impression.
As the L.A. Times notes, Bloomberg's strategy of skipping the first four primaries means that the Super Tuesday states are incredibly important for him, and California is the biggest prize in that batch. The fact that only 8% are even considering voting for him in the state is almost enough to spell doom for his campaign.
It's also a fascinating look at what Buttigieg can expect as his campaign goes along. He holds slim leads in Iowa and New Hampshire, states where he's campaigned heavily in a gamble that he can take momentum from victories there and carry it onward, but thus far he hasn't translated that lead to states with larger delegate counts. His name recognition is growing, but thus far it hasn't grown proportionally with his Iowa and New Hampshire surges, which likely means he'll need to win outright to give himself the necessary boost not to get drowned on Super Tuesday.
Finally, it appears Kamala Harris made the right call to drop out. At seven percent support in her home state, there was nothing but humiliation on the horizon.