More Than 1,000 Law Professors Sign Letter Saying Kavanaugh Should Not Be Confirmed
That includes 18 professors at Kavanaugh's own alma mater, Yale
Photo by Chip Somodevilla/Getty
Politics
News
Brett Kavanaugh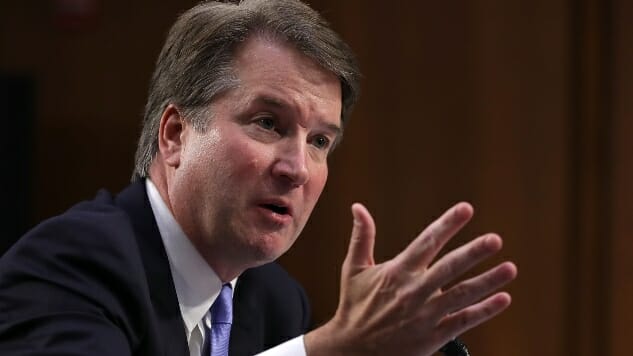 More than 1,000 law professors—including 18 from Brett Kavanaugh's own alma mater, Yale Law School—have signed a letter requesting that the Senate not confirm the Supreme Court nominee, according to a New York Times report. They plan on presenting the letter to the Senate today, Oct. 4, the same day that the Senate reviews the FBI's investigation into sexual misconduct claims against Kavanaugh.
The letter argues that Kavanaugh lacks the "judicial temperament" to serve on the Supreme Court. This is in reference to Kavanaugh's testimony on Sept. 27, during which he responded aggressively to questioning and referred to the hearings as "revenge on behalf of the Clintons and millions of dollars in money from outside left-wing opposition groups." Kavanaugh served on the legal team of Kenneth Starr, the conservative prosecutor who investigated Bill Clinton during the impeachment proceedings of 1998-99.
The letter condemns Kavanaugh's remarks during his testimony. "Instead of trying to sort out with reason and care the allegations that were raised, Judge Kavanaugh responded in an intemperate, inflammatory and partial manner, as he interrupted and, at times, was discourteous to senators," the letter reads. It calls on Kavanaugh to disqualify himself from the position under two statutes governing bias and recusal that are "part of a myriad of legal commitments to the impartiality of the judiciary, which is the cornerstone of the courts." Basically: Kavanaugh showed that he had a partisan streak in him, and that he was unfit for the pressures of the Supreme Court seat.
The letter finishes by saying that the professors "have differing views about the other qualifications of Judge Kavanaugh," but they agree that he lacks the two most important features of a Supreme Court Justice: temperament and impartiality.
Read the full letter here.