The NFL's Naked Hypocrisy Proves There's No Good Football Reason Why Colin Kaepernick Is Still Unemployed
Photo by Thearon W. Henderson/Getty
Politics
Features
Colin Kaepernick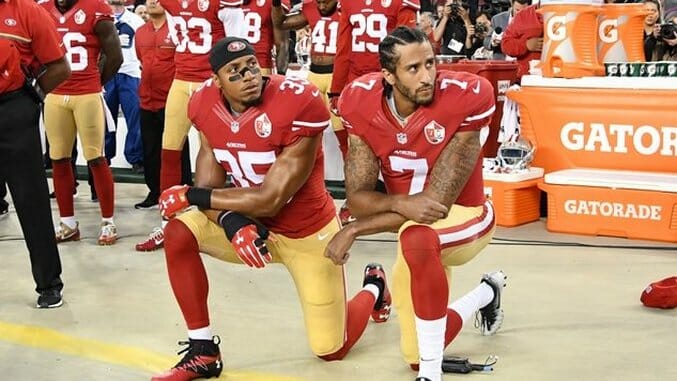 I've been a diehard football fan my entire life, and am downright giddy for the start of the NFL season this weekend. Growing up in Denver, you don't really have a choice in the matter. Colorado is completely obsessed with the Broncos, and come every fall, there is no more important topic in the Mile High City than our beloved boys in orange and blue. I wrote about the Broncos at Predominantly Orange last year—a sports blog network owned by Sports Illustrated. I spent much of the season watching film and breaking down the underwhelming young quarterback competition between a surprise seventh round pick who worked his way up to mediocrity (Trevor Siemian), and a raw but talented first rounder who is still clearly learning how to play the most complex position in sports (Paxton Lynch).
It was such a maddening fan experience that at various points last year, I wrote arguments for why both should start. The Broncos have a truly historic defense two years removed from a Super Bowl victory, but no quarterback, and the frustration is beginning to boil over amongst Denver fans like myself—and is likely spreading to fans of other teams who feel that their squads are a real quarterback away from doing something special.
The truth of the matter is that there are dozens of Trevor Siemians that pass through the NFL every decade, but those guys will only get you to the mountaintop with historic help—like when the Broncos defense dragged Peyton Manning's corpse to a title two years ago. But there are very few quarterbacks alive who can do what Colin Kaepernick can do on his best day. Beginning with Brady and Manning, the NFL massaged the rulebook to enable a pass-friendly game, and now it is more difficult than ever to win a Super Bowl without a top ten quarterback—so the juxtaposition of a clearly underwhelming QB with the potential of what we have seen from Kaepernick becomes difficult to ignore.
Football is a game that is difficult to properly convey through numbers, mainly because the 16-game season creates an inherently small sample. Additionally, it is such a specialized sport that one player can be bad in one scheme, but play at an all-pro level in another. However, there are some stats that we have come to rely on to evaluate quarterbacks—and no matter what you use, all numbers from last year's performance point to the same picture: that Colin Kaepernick is a lower-tier starting quarterback in the NFL, and a decent backup at the absolute worst.
QBR
Kaepernick ranked 23rd, ahead of former MVP Cam Newton (25th), and in front of 2017 starting quarterbacks Carson Wentz (26th), Blake Bortles (30th), Sam Bradford (29th) and Eli Manning (27th). Ryan Tannehill (24th) is out for the year after getting injured in the preseason, and the Dolphins needed a quarterback that was good enough to help them return to the playoffs. So instead of calling Kapernick's agent, they signed the just-retired Jay Cutler, who would have ranked second to last in QBR last season had he played enough to qualify.
DVOA
Kaepernick ranked 30th here, which is bad. I want to stress this point. Colin Kaepernick was not a good quarterback last year, but very few of those exist. This is the central issue, but 30th still means that he's a starter, given that there are 32 teams.
Completion Percentage
Kaepernick was 26th, one spot ahead of Brock Osweiler—who two years ago was the backup on the Super Bowl Champion Denver Broncos and the heir apparent to Peyton Manning. After playing OK football coupled with two high-profile comebacks while Manning was hurt, Osweiler balked at the Broncos' lowball offer and signed a huge deal to go to Houston, but he was such a disaster last season that he was traded to the Browns with a 2nd round pick for free…but Osweiler then was cut by the Browns last week, finally landing back on the Broncos this weekend, who needed a backup in light of Paxton Lynch's shoulder injury. *looks directly at camera*
Touchdown to Interception Ratio
Here is where the argument against Kaepernick's football skills completely falls apart. Every football fan can agree that touchdowns are the best outcome and interceptions the worst for a quarterback, so this ratio is very important to winning football games. Tom Brady—ever the cyborg—threw 28 touchdowns against two (!!!!!!) interceptions last year, so his league-leading ratio was 14. The ratio that mortals shoot for is two to one—because that is league average, and anything above that figure is gravy.
For one of the worst teams in football last year—with literally zero weapons in the passing game (Kaepernick's top receiver was Jeremy Kerley, who was 64th in the NFL in receiving yards, and his second-best receiver was something called a Quinton Patton, ranked 118th)—Colin Kaepernick still managed to throw sixteen touchdowns against only four interceptions—good for the 7th best ratio in the NFL. He was tied for the second least interceptions in the entire league last year. Granted, Kaepernick fumbled seven times, so he is not a guy that you can depend on to protect the ball with his life, but yet again, we find another statistic where his floor is somewhere around the bottom third tier of quarterbacks at worst.
Playoff Wins
"Just win, baby!" Al Davis—who I was raised to believe was the Football Devil—coined that famous phrase during his tenure as owner of the Raiders. For many, this is the only statistic that matters, so let's go to the leaderboard amongst active quarterbacks.
1. Tom Brady — 25
2. Ben Roethlisberger — 13
3. Joe Flacco — 10
4. Aaron Rodgers — 9
5. Russell Wilson & Eli Manning — 8
6. Drew Brees — 6
7. Phillip Rivers, Mark Sanchez & Colin Kaepernick — 4
Kaepernick is tied with one borderline Hall of Famer, and is trailing five locks for the Hall of Fame (Brady, Big Ben, Rodgers, Eli, Brees) and one who looks to be on his way (Wilson). Other than those studs and the elite? enigma that is Joe Flacco, no one alive outside of Buttfumble has as many wins in the playoffs as Colin Kaepernick. Now, Kaep is much closer to the ignominious Mark Sanchez than the greats around him, but there hasn't been a starting quarterback with this much postseason success on the market since Peyton Manning.

There is no reason for the Jacksonville Jaguars to start Blake Bortles—whose own wide receivers seem to be sick of his awfulness—when they have a playoff-ready defense, playmakers on offense and a gaping hole at quarterback. You could say the same thing about the Denver Broncos and Houston Texans, except with championship-caliber defenses. Or the Ravens if Joe Flacco still isn't 100% healthy. Or the Dolphins after Tannehill's injury. If Kaepernick had never knelt for the national anthem, all the aforementioned quarterback-needy decent teams—along with plenty of others—would have seriously considered signing him simply because he was a competent quarterback in an offense bereft of any help last season.
Five years ago, Colin Kaepernick was one of the most devastating weapons in the NFL. He delivered the greatest rushing performance I've ever seen from a pro quarterback. There is absolutely no doubt in my mind that Kaepernick would at the very least, have a job as a backup had he shut his mouth and did what he was told. But don't take it from me, take it from one of the best quarterbacks in the NFL, Cam Newton:
"Do I think Kaepernick is better than some of these starting quarterbacks in this league? Absolutely. Should he be on a roster? In my opinion, absolutely. There's no question about it. Is he good enough to be on a roster? Is he good enough to be a starting quarterback? Absolutely."
Or Super Bowl 50 MVP Von Miller:
"I think [Kaepernick] definitely should be in the National Football League. There aren't 64 quarterbacks in the NFL that's better than him…That's just cut and dry. You know, that's just plain and simple, he should be in the National Football League."
When asked whether he thinks Kaepernick isn't on a roster because of his protest, Miller stammered and replied "I mean, that's a question that all the players in the National Football League have been trying to answer. I don't know. I feel like he should definitely be in the National Football League though."
If you were wondering what kind of room the NFL gives its players to operate outside of being football androids and modeling for NFL charities: the best quarterback in the NFL, Aaron Rodgers (*stares directly at Pats fans* YEAH I SAID IT!), tiptoed past the line that one of the best defensive players in the league hinted at, telling Mina Kimes of ESPN:
"I think [Kaepernick] should be on a roster right now. I think because of his protests, he's not."
People who assert that Kaepernick doesn't belong in the NFL from a pure talent standpoint are either willfully ignorant or clearly don't watch much football. To those of you who do make this argument, did you watch the playoffs last year? Ryan Tannehill was hurt, and Matt Moore—who we all knew was bad way back when George W. Bush was president—Matt Moore, who didn't start a single game between 2011 and 2016—Matt Freaking Moore, started a Wild Card game against the Steelers in the year 2017. But that's not all!
MVP candidate Derek Carr got hurt, and some guy named Matt McGloin had to step in for the Raiders. But he got hurt too (notice a theme here?), and so Connor Cook, last seen not being voted captain while also being the senior starting quarterback at Michigan State, went 18-45 for 161 yards and one touchdown versus three picks in a home playoff game against the aforementioned Osweiler—whose sputtering performance against one of the league's worst defenses was just not-terrible enough to push the Texans through to the next round, where they were decimated by the inevitability that is the New England Patriots.
Ratings are down in sports for a lot of reasons, most of which have to do with the overall chord-cutting trend away from cable and media oversaturation, but football is either in crisis or transition depending on who you talk to (I vote crisis). However, the one thing that everyone can agree on is that the NFL has a bad quarterback problem. Matt Stafford—who is roughly the tenth best quarterback in the NFL—is now the highest paid player in the league. This diehard football fan has stopped watching most Thursday night games simply because the short week means more injured players not suiting up, and a more boring and predictable gameplan run by the league's array of bad QB's. Thursday games consistently suck because they're designed to suck.
Contrasting how the NFL has dealt with Colin Kaepernick versus its litany of domestic abusers reveals the naked hypocrisy at the center of all this. For their behavior to be justified, what Kaepernick did has to be worse than what Tyreek Hill did (choked his pregnant girlfriend), or Ray Rice or…well…for those of you who don't know of Greg Hardy or need a refresher course, watch this. If this mother fucker gets multiple chances, why can't Kaepernick?
If you simply compare how the NFL has treated perpetrators of domestic violence versus how they have come down like a ton of bricks on Kaepernick, I don't know how you can possibly conclude that the NFL actually cares about stopping their players from abusing women. The NFL's front offices still meet with the Greg Hardy's of the world, but Kaepernick can't even get a phone call.
Again: No team has talked money with Kaepernick, so we do not know what he is "asking." Please stop spreading this misinformation. https://t.co/ngUCqWVjlT

— Michael Silver (@MikeSilver) September 1, 2017
And that's just the tip of the iceberg. Leonard Little, a former Pro Bowl defensive end for the Rams, plead guilty to involuntary manslaughter after driving drunk in 1998. The NFL suspended him for eight games, which means that if Kaepernick isn't signed by midseason, he will officially have received a harsher punishment from the NFL than a guy who admitted to recklessly killing someone. In 2004, Little was caught driving drunk again, but he still played five more seasons after that conviction—the same amount of time that Kaepernick has spent in the NFL.
The issue that all of us football fans are coming to grips with is that between the violence and the painkillers and the psychological aspect of the truly Roman presence of this sport, this game physically fucks you up—and if you're really unlucky, that physical alteration will result in a psychological transformation. Redskins (yet another issue the NFL has botched) all-pro left tackle Trent Williams' response to his second-year teammate, Su'a Cravens announcing his retirement over health concerns is instructive.
Was gonna write a column about Su'a Cravens but I think Trent Williams just said what I was gonna say better than I could say it. pic.twitter.com/po0yoBXv3n

— Dan Steinberg (@dcsportsbog) September 5, 2017
Former Bears great Dave Duerson shot himself in the chest and asked that his brain be studied in his suicide note. Knowing what we know now, some NFL players' run-ins with the cops can likely be tied directly to the sport itself. Hell, former MVP Brett Favre admitted to being addicted to painkillers during his prime.
How much of the damage done by the players is the fault of the league, we'll never know. But the NFL has basically been loading up the world's greatest athletes with testosterone, painkillers, God knows how many supplements, more testosterone, and more painkillers just in time for the playoff push, then unleashing them on society for several months out of the year without much to do outside football (to be fair, the painkiller abuse issue has gotten remarkably better over the last few years). Meanwhile, The Shield has avoided any responsibility whatsoever—even when a player commits suicide in the team parking lot after murdering the mother of his child—all while doing little to address the central underlying issue in this sport.
To top it off, these same owners who are ignoring the structural issues in the sport are bilking taxpayers across the country for more money to fund new stadiums they don't need—and in St. Louis' instance, bolting to a different city despite still being under a taxpayer-funded lease. Don't let the fireworks, flyovers, Salutes to the Troops or their phony stance on Kaepernick fool you: the NFL doesn't give a shit about respecting law and order. They just pretend they do in the hopes that you'll buy that $159.99 [Insert Favorite Player] Salute to Service Limited Jersey.
There's still time to reverse this ugly trend, but giving 14th chances to cretins like Greg Hardy, Pacman Jones and Richie Incognito, all while saying that Kaepernick crossed some sort of unimpeachable line, highlights the true hypocrisy of The Shield. They have married their brand to America's military industrial complex, and the NFL will ruthlessly attack anyone who threatens their faux patriotism, even when it exposes them to blatant hypocrisy.
Lest we think The Shield put their issues handling domestic abuse behind them, news dropped last night that star running back Ezekiel Elliot was suspended for six games over an incident, but now the suspension is from weeks 2 to 7, and doesn't count this week's hugely promoted and important Sunday Night Football game between Elliot's Cowboys and the New York Giants…and he may be eligible to play all year. The NFL has decided that those who buy the $159.99 Salute to Service jerseys have more value to them than the Sarah Tiana's of the world, who just love sports like anyone else.
Josh Brown wrote a letter to the @NFL admitting he beat his wife for years. They did nothing. And they will do nothing again with Zeke.

— Sarah Tiana (@sarahtiana) September 6, 2017
Women hold a lot of power over the @NFL. It's now time to show them our power. Take note of all advertisers during games. Don't buy jerseys.

— Sarah Tiana (@sarahtiana) September 6, 2017
The NFL is an entertainment product. More than anything. The move to Thursday night proved as much, as they literally sacrificed their product for ratings. Sure, football is a meritocracy—where guys like Aaron Rodgers can ride the pine for three years before becoming possibly the most dangerous quarterback of all time—but it is not a pure meritocracy. Above all else, the NFL values players who fall in line. That's why Rodgers said he had to choose his words carefully, and that he was envious of the freedom NBA players possess to speak their mind.
If you're making life difficult for those near the top of the NFL chain of command, you get blackballed. It doesn't matter who you are. Look at the golden boy, Tim Tebow. He was convinced that he would only play quarterback in the NFL, and all the naysayers were there to motivate him. You couldn't really blame him, since he had heard that trope since high school, and he went on to become possibly the greatest college football player of all time, then won an NFL playoff game in his second season (he was terrible and he should have switched positions, but still, I admire his stubbornness). But because ESPN and the like brought so much noise wherever Tebow went, unless he was starting, it made little sense for the NFL to keep him around, because "distractions" are the biggest fear of NFL front office gurus.
Kaepernick's situation is no different than Tebow, except for the fact that he has consistently demonstrated the ability to play competently at quarterback, and may have been the most coveted asset in the NFL when he fell one play short of a championship five years ago. Now, he's not the same guy that stared down the Ravens in the Super Bowl, so unless you're bringing Kaepernick in to start, the maelstrom of bullshit that you will bring to your doorstep isn't worth it just to have him hold a clipboard. But still, he's good enough to start.
This whole ordeal is crazy, unless you look at it through the hypocritical lens of The Shield, then Kaepernick's blackballing makes perfect sense. NFL Legend Vince Lombardi once said that "winning isn't everything, it's the only thing," but this Kaepernick saga has proved that maxim false during our modern times. In the NFL, "winning" has taken on a subjective term that is more emblematic of Donald Trump's amorphous policy goals than the black and white truth of the box score. The Shield's Phillip Morris-esque response of "what concussion problem?" has exacerbated all the issues surrounding the sport, and the exile of Kaepernick is but a symptom of the major problem resting at the league's core.
I love football more than I hate the NFL, which means that even after everything I've written, I'll still be watching this year. As to whether I will continue to watch in the future? I'll leave you with what Charlie Ebersol (son of NBC Sports legend/XFL co-founder Dick Ebersol) told me in Paste when I asked him whether he could envision another competitor to the NFL.
I think you're going to see another one soon. Every 15 years, somebody seems to come along with enough money—the USFL in the early 80s, the XFL in the early 2000s—I think we're probably due in the next couple of years. I know Tom Brady's agent right now is trying to launch his own version of a league. At the end of the day, the NFL is so big that it becomes difficult to really create a product that all of its fans want. And also, it's so mainstream that somebody who comes along with an appropriate counter-cultural movement I think will have a lot of success.
Jacob Weindling is a staff writer for Paste politics. Follow him on Twitter at @Jakeweindling.