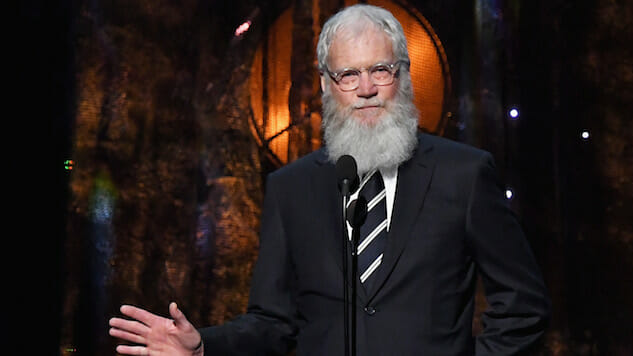 David Letterman has been in the news recently for his forthcoming Netflix show, My Next Guest Needs No Introduction with David Letterman, which will premiere on Jan. 12 and feature former president Barack Obama.
However, in light of the #MeToo movement that became Time's 2017 Person of the Year and was highlighted in last night's Golden Globes, why does David Letterman get a pass for repeated allegations of sexual misconduct?
In 2009, Letterman revealed during a live broadcast of his late-night talk show that he had engaged in sexual relationships with several female employees of his show, all while being married to his current wife Regina Lasko, also a former staffer.
In that same broadcast, it was revealed that Letterman had been blackmailed into giving someone a fake $2 million check because they threatened to produce a movie and write a book about his past sexual misconduct. It came out that former CBS producer, Joe Halderman, was the extortionist and he was convicted of attempted extortion in 2010.
At the time, Letterman himself noted that he could easily have been fired:
Looking at it now, yes, I think they would have had good reason to fire me. But at the time, I was largely ignorant as to what, really, I had done. It just seemed like, O.K., well, here's somebody who had an intimate relationship with somebody he shouldn't have had an intimate relationship with. And I always said, "Well, who hasn't?" to myself. But then, when I was able to see from the epicenter, the ripples, I thought, yeah, they could have fired me. But they didn't. So I owe them that.
Some of these women came forward, including Letterman's personal assistant Stephanie Birkitt, and three days after Letterman's on-air announcement, she was placed on a "paid leave of absence."
Nell Scovell, writing in Vanity Fair in 2009, described the situation at Late Night thusly:
Without naming names or digging up decades-old dirt, let's address the pertinent questions. Did Dave hit on me? No. Did he pay me enough extra attention that it was noted by another writer? Yes. Was I aware of rumors that Dave was having sexual relationships with female staffers? Yes. Was I aware that other high-level male employees were having sexual relationships with female staffers? Yes. Did these female staffers have access to information and wield power disproportionate to their job titles? Yes. Did that create a hostile work environment? Yes. Did I believe these female staffers were benefiting professionally from their personal relationships? Yes. Did that make me feel demeaned? Completely. Did I say anything at the time? Sadly, no.
Another woman, Holly Hester, also revealed her affair with Letterman, which took place in the early '90s while she interned for Letterman and was a student at NYU.
At the time of these revelations, several prominent women, including NBC's Kathie Lee Gifford and Ann Curry, questioned whether Letterman was perpetuating an unfair, sexist working environment. News outlets discussed whether the show would lose a large chunk of its female audience. However, Letterman remained on the show until he announced his retirement in 2015.
It's also worth noting that by 2009 or even the '90s, Letterman was no stranger to having relationships with female co-workers. He had a long-term relationship with the former producer and head writer of Late Night, Merrill Markoe, from 1978-1988 and he began dating his now-wife and former staffer, Regina Lasko, while he was still living with Markoe.
So, at a momentous time of reckoning for sexual harassment and assault, where does that leave the misconduct of David Letterman, who is due to star in a big Netflix series this month?