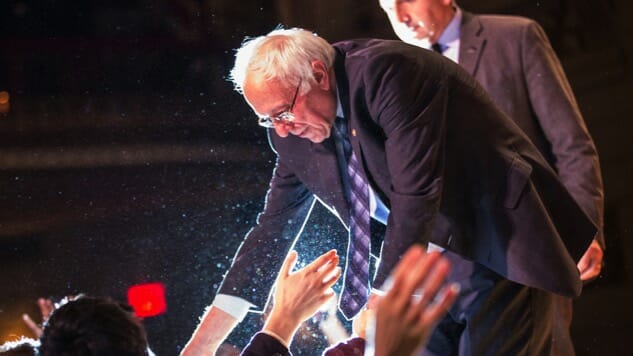 Harvard's Institute of Politics conducted a poll of 934 likely Democratic primary voters under the age of 30, and the findings won't come as a shock: Bernie Sanders led by double digits over Joe Biden, Beto O'Rourke, and the rest of his primary challengers.
The poll, taken between March 8 and 20, shows that Sanders nabs 33 percent of the male vote and 29 percent of the female vote, for 31 percent overall. Biden comes in next at 20 percent—interestingly, his percentage of the female vote was much higher than the male vote, from 24 percent to 16 percent, though that might fall with recent negative press surrounding his treatment of women—and Beto O'Rourke was the only other candidate in double digits at 10 percent. Twenty percent of voters remain undecided. From the IOP:
"Proving that young voters see more than age, it's notable that the candidates with the most experience in government service are leading a diverse field at this early stage in the process," said John Della Volpe, Director of Polling for the Institute of Politics. "Compared to this point in the last presidential cycle, young Democratic voters are more engaged and likely to have an even greater impact in choosing their party's nominee."
The one bit of good news for Biden is that he led Sanders by a point among African-American voters, and is in a statistical tie with Sanders among college students. Those without a degree overwhelmingly support Sanders with 41 percent support.
You can view the full results below: