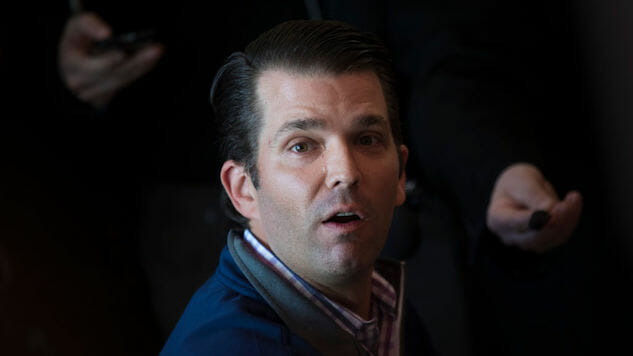 Matt Bevin is the governor of Kentucky, and though he's a Republican in a Republican state, he was just recently ranked the least popular governor in America, with a very dismal 32% approval rating. He's got a serious challenger in Andy Beshear waiting for him in this year's November election, so in a last-ditch attempt to generate some buzz, he called on the big guns: Donald Trump Jr.
Thursday night, that rally happened, and though one outlet reported that "locals expect a memorable turnout," HuffPo documented the sad reality:
Like his father, Trump Jr. often brags about the crowd at events, especially presidential rallies. Earlier this year, the president's son mocked Democratic presidential hopeful Beto O'Rourke for "drawing a few hundred people" to a rally.
Yet, according to Louisville radio station WFPL, only about 200 people turned out for the Bevin event at the Appalachian Wireless Arena. The venue has a capacity of 7,000 ? or roughly the actual size of O'Rourke's crowd in Texas, despite Trump Jr.'s claims to the contrary.
Lucky for all of us, but not for Trump Jr., there were pictures and video footage. Enjoy:
Organizers have asked the audience to move out of the seats and closer to the stage ahead of Trump Jr/ Gov. Bevin event in Pikeville.
I think it's fair to say this is sparsely attended. pic.twitter.com/JghTohDROS

— Ryland Barton (@RylandKY) August 29, 2019
Almost 15,000 views so far of @American_Bridge's video from the Crooked @MattBevin & @DonaldJTrumpJr rally that no one went to. In a county Trump won by 80% in 2016…Either Don Jr. isn't a draw, or people really hate America's most unpopular Gov. #kygovpic.twitter.com/oIFM81lbr4

— Zach Hudson (@zach_hudson) August 30, 2019
Trump Jr mostly praising his father, criticizing detractors and Democratic presidential candidates at Bevin campaign event in Pikeville pic.twitter.com/u8jjLWWbFV

— Ryland Barton (@RylandKY) August 29, 2019