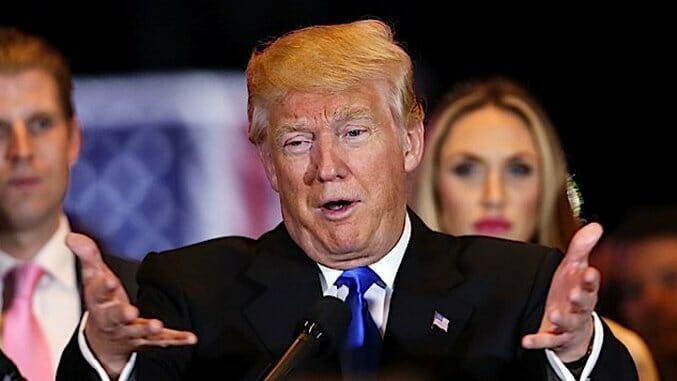 This June, FIFA will award hosting rights for the 2026 World Cup, and until recently a joint bid by Mexico, the U.S., and Canada was the overwhelming favorite. Really, the only competition was from Morocco, and the fact that every soccer-playing continent besides Australia has hosted a World Cup since the last North American version in 1994 seemed to practically guarantee the bid's success—not to mention superior infrastructure, which will be critical when the field expands to 48 teams that year.
But ESPN now reports that the bid is suddenly "in jeopardy."
Support for the United States-led bid to host the 2026 World Cup is more divided than most predicted, with some estimates of voting totals having Morocco not just threatening the North American bid but actually beating it, multiple high-ranking football executives within FIFA and the continental confederations told ESPN this week.
So what gives? It seems like a mysterious turn of events at first, but when you scroll down and get into what the FIFA sources told ESPN, it becomes clear:
The trickier question for the North American bid is actually something remarkably basic: At this particular moment in time, does the world want to give something nice to the United States?
…the North American bid has had to counter an anti-American sentiment that stems largely from actions taken by President Donald Trump's administration, multiple sources said. Those actions include a travel ban affecting mostly Arab countries, public comments that perpetuate stereotypes and the reported use of profanity in describing poorer countries.
If you think that's shameful, wait until you hear what FIFA officials are asking representatives from America when they meet. Hint: It's not about infrastructure:
When North American bid officials visit with federation officials in a foreign country, they rarely get questions about stadiums or hotels, according to sources; rather, they have been quizzed about whether the United States can be considered a friendly place for foreigners.
Hilariously, the U.S. is responding by trying to emphasize the fact that Canada and Mexico are involved, too. "Hey guys, it's not just the xenophobic racist country! There are some good countries too!"
Some of ESPN's sources still expected the joint North American bid to win, but all of them think it's going to be way closer than previously imagined. The outcome hangs in the balance, and come June, we may have to thank our president for Making Morocco Great Again.