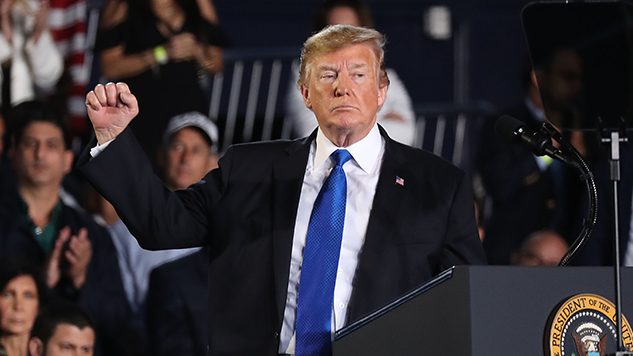 Fox News has always been a right-wing news source, and throughout Trump's presidency they've been willing to support, spin or altogether ignore many of his actions. Yet the phone call Trump made to Ukraine concerning Joe and Hunter Biden seems to have woken up those backing Trump at Fox.
On Monday, Fox News host Shep Smith reacted to a video of Trump defending his phone call that has now led to an impeachment inquiry. Per usual, Trump had a lot of meaningless adjectives to boost himself up and zero evidence to back the blame he was placing on Joe Biden, the former vice president and current presidential candidate Trump advised Ukraine to investigate (per TPM).
"The one who's got the problem is Biden. If you look at what Biden did, Biden did what they [Democrats] would like to have me do," Trump sputtered in the clip.
It's unclear what Trump is saying Biden did, exactly, because as Smith says, "There is no known evidence that Biden did anything wrong … The real issue here is the phone call. The claim that the president pressured a foreign leader to investigate a political rival and the failure to pass a whistleblower complaint to Congress."
The great irony of this is that Smith only had to list out Trump's actions to make it clear how wrong his actions were, which is one way to be "fair and balanced," as the network claims to be.
"We had a perfect phone call with the president of Ukraine," Trump said. "Everybody knows it."
Not sure who Trump means when he says "everybody," but if his circle doesn't even include a Fox News host, Trump's definition of "everybody" is getting pretty small.
Watch the full clip below.
Fox News host Shep Smith: "The real issue here" is Trump's phone call to Ukraine, not false claims about Biden pic.twitter.com/orwpfQN5Io

— TPM Livewire (@TPMLiveWire) September 23, 2019