Trump's Tariff Feud Causes Harley-Davidson to Move Production Facilities to Europe
Photo by Scott Olson/Getty
Politics
News
Donald Trump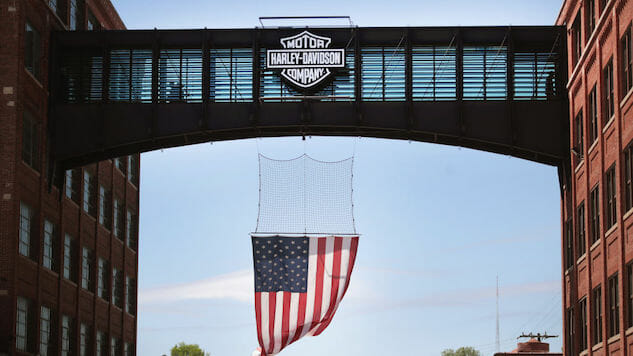 Harley-Davidson, the iconic American motorcycle company, is moving some of its production facilities overseas to avoid European tariffs put in place as a response to Trump's recent tariffs, reports the New York Times. This relocation illustrates how Trump's trade decisions can backfire, negatively impacting American jobs and economic growth.
Harley-Davidson made the official announcement on Monday in a public filing, which read:
The European Union has enacted tariffs on various U.S.-manufactured products, including Harley-Davidson motorcycles. These tariffs, which became effective June 22, 2018, were imposed in response to the tariffs the U.S. imposed on steel and aluminum exported from the EU to the U.S. Consequently, EU tariffs on Harley-Davidson motorcycles exported from the U.S. have increased from 6% to 31%. Harley-Davidson expects these tariffs will result in an incremental cost of approximately $2,200 per average motorcycle exported from the U.S. to the EU.
Europe is Harley-Davidson's second-largest market after the United States. The statement also notes, "Europe is a critical market for Harley-Davidson. In 2017, nearly 40,000 riders bought new Harley-Davidson motorcycles in Europe, and the revenue generated from the EU countries is second only to the U.S." According to Bloomberg, Harley-Davidson is one of the first American companies Trump pledged to help when he took office. He even hosted the company's executives at the White House in February of 2017. The Times notes that he called the company a "true American icon" before thanking the executives "for building things in America." Trump has also praised the company for creating American jobs.
However, the company will now be moving some of those jobs to Europe, thanks to Trump's tariff feud, which began on March 1 when he announced a 10-percent tax on all aluminum imports and a 25-percent tariff on steel. The tariff faced backlash from allied countries and Trump received calls from multiple leaders criticizing the tariffs. On Friday, The European Union retaliated against Trump's tariffs by implementing their own tariffs on $3.2 billion worth of American products. The list includes products such as rice, beans, bourbon and … wait for it … Harley-Davidsons. Shares of Harley-Davidson had already fallen six percent by Monday afternoon.
Speaker of the House Paul Ryan pointed to the Harley-Davidson incident as evidence that Trump's tariffs were a bad move. He said, "This is further proof of the harm from unilateral tariffs. The best way to help American workers, consumers, and manufacturers is to open new markets for them, not to raise barriers to our own market."
A senior fellow at the Peterson Institute for International Economics, Chad Brown, told The Times he expects more American companies to follow Harley-Davidson's lead and move a portion of production oversees. Brown said:
This is incredibly self-defeating. There may be some increased domestic production of aluminum and steel because of the tariffs, but now there is going to be less motorcycle production in the United States for exports. I think we can expect to see this same kind of activity every time that President Trump tries to impose new tariffs.
Trump had early success when he took office in 2016 and kept Carrier air conditioning in the U.S., despite its previous plans to move production to Mexico.
Keeping jobs in America was one of Trump's main promises in his "America First Platform" but that promise begins to break today, starting with Harley-Davidson. Naturally, Trump is not backing down, at least not yet.
The United States is insisting that all countries that have placed artificial Trade Barriers and Tariffs on goods going into their country, remove those Barriers & Tariffs or be met with more than Reciprocity by the U.S.A. Trade must be fair and no longer a one way street!

— Donald J. Trump (@realDonaldTrump) June 24, 2018