In Trump's New Trade War, Life Is Going to Get More Expensive…Especially for Trump Voters
Photo by Jeff Swensen/Getty
Politics
Features
Donald Trump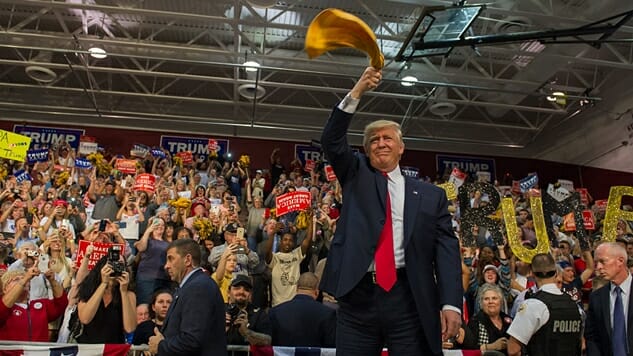 Before we dive into how bad this trade war is going to be, I want to make sure that we're all on the same page as far as the terminology being used, and what actually happens in a trade war. The term at the center of all this is: tariff. You can use that word interchangeably with the word "tax."
A tariff is just an additional charge the government tacks on to any product that crosses its borders. So when Donald Trump announced that he is going to slap a 25% tariff on steel and 10% on aluminum imports, that means that if Canada, Mexico or the European Union want to send $100,000 worth of steel to a company in the United States, it would cost them an additional $25,000 to get it across the border. The tax would be $10,000 on the same amount of aluminum.
Our allies imposing 25% and 10% tariffs on our exports is the same thing, but in reverse. Because capitalism, costs usually get passed down to the consumer, so a tax on Canadian steel and aluminum imports is actually a tax on the American businesses importing them. The net result is that life gets more expensive for companies who do business with these countries. Here's why Trump says he is doing this.
When you're almost 800 Billion Dollars a year down on Trade, you can't lose a Trade War! The U.S. has been ripped off by other countries for years on Trade, time to get smart!

— Donald J. Trump (@realDonaldTrump) June 2, 2018
Trump and his protectionist allies argue that tariffs are necessary to protect American businesses. Countries like China undercut our workers with cheaper labor, which allows them to sell their products at a lower price. There is a significant problem there, as the decline of American manufacturing demonstrates. However, this is simply the wrong way to address it. We're launching a trade war on our four largest trading partners (China is a separate column for now), while trying to convince them to reduce their trade deficits with the United States. I'll let Republican Congressman Justin Amash sarcastically explain why trade deficits aren't anything to worry about.
I'm way down on trade with restaurants, grocery stores, malls, and movie theaters. I keep buying from them, but they never buy from me. I must be getting ripped off, right? https://t.co/FCIQpgzlQ7

— Justin Amash (@justinamash) June 3, 2018
Canada, Mexico and the European Union account for 49% of American exports. Canada, Mexico and the European Union account for 39% of American imports. If you're wondering how much of our economy is potentially at risk here, those numbers give you a ballpark estimate.
Life for American businesses who do business with our allies is about to get more expensive, as Trump plans to deviate dramatically from the last 70 years of American trade policy.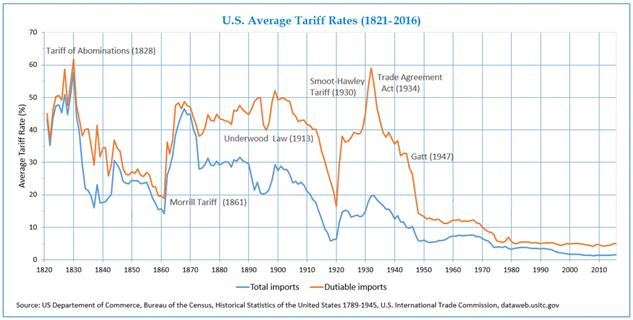 This is a big, big deal that is going to cost some people their jobs, and will surely affect each and every one of us by the time we reach the end of this moronic and unnecessary trade war. Here's why.
Imports
Canada supplies nearly half of all our imported aluminum. As an entire bloc, the European Union is our largest trading partner, with imports totaling $592 billion in 2016. Mexico accounts for 13% of all U.S. imports, as we import roughly $74 billion of vehicles, $63 billion of electrical machinery, $49 billion of machinery, $21 billion in agricultural products, $14 billion in mineral fuels like oil, and $12 billion in optical and medical instruments from our southern neighbor.
So why are we taxing Americans who want to do business with our friends?
Fears over national security.
…from the EU, Canada and Mexico.
Yes.
Really.
That's the official explanation, as the White House cited Section 232 of the Trade Expansion Act of 1962 for launching this trade war against our allies, but Trump's Commerce Secretary, Wilbur Ross, revealed the true rationale behind this self-inflicted wound. Speaking to reporters about talks surrounding the North American Free Trade Agreement, Ross said "those talks are taking longer than we had hoped. There is no longer a very precise date when they may be concluded, and therefore they were added into the list of those who will bear tariffs."
This is so astoundingly stupid. We are jacking up prices on products which are intrinsic to the American economy—that we import from our closest freaking allies—all in order to settle some amorphous grievance about NAFTA that POTUShitforbrains doesn't even have the mental capacity to articulate. Although, in a way, it is the perfect example of how destructive Republican politics has become: we're basically punching ourselves and our allies in the groin, all in a glorified dick-measuring contest.
If you like buying things that require steel or aluminum at some point along the supply chain to exist (so, pretty much everything), you should be extremely upset at a move that is practically guaranteed to make those products more expensive. But don't take it from me, take it from those liberal resistance warriors…
*checks notes*
The Koch Brothers, in an exclusive statement rushed to CNBC's doorstep the moment Trump announced his new tariffs:
Trade barriers make Americas as a whole poorer and they especially harm those already disadvantaged. Trade wars hurt everyone. They trigger retaliatory tariffs from our trade partners and that raises prices on American families who need affordable access to household goods. We urge the Trump administration to abandon these tariffs.
Koch network principles on trade: Modernize NAFTA, conclude an agreement with UK, return to the table on TPP, natsec should only be used as an issue in trade policy when there's a natsec interest as stake, not as a work around to impose tariffs.

— Tim Mak (@timkmak) June 4, 2018
Canada comprises 17% of our total steel imports—a larger share than any other country. Sure, companies are going to find other sources not sanctioned by the American government, but you can't just upend the entire steel economy in the world's largest steel importer overnight. Republican Senator from Nebraska, Ben Sasse, called the tariffs "dumb." The Aluminum Association, the "industry's leading voice in Washington D.C.", released this handy chart to help visualize the stupidity of this move.
We need permanent, quota-free tariff exemptions for market economies to help meet record demand for #aluminum products. Learn more: https://t.co/OilyRvPkYzpic.twitter.com/SIYJxFcbsS

— Aluminum Association (@AluminumNews) May 30, 2018
You can largely separate American imports into four categories: agricultural products (6.8% of all imports), fuels and mining products (10.7%), manufactures (78.4%) and "other" (4.2%). A tax on steel and aluminum hits all of those. This was communicated to Trump early on, which is why he created exemptions which still exist for major steel exporters to the U.S.—like South Korea and Brazil—but apparently renegotiating NAFTA is such an important task (which apparently is being put off until 2019), that we must make life more expensive for Americans in the short-term. This is already happening, folks. And it's only going to get worse. Per the Wall Street Journal:
New tariffs intended to bolster the American steel and aluminum industries are starting to have the opposite effect in a key part of the U.S. supply chain.
U.S. steel producers are benefiting from tariffs that make it more expensive for companies to buy the metals overseas. But some U.S. firms that use the metals to make everything from refrigeration parts to wheels say the tariffs have led to higher materials prices that are forcing them to charge more for their products. These firms say that in some cases, customers are turning to foreign suppliers that use cheaper, tariff-free metals to make the same products they can then export to the U.S. without bumping up against the new trade barriers.
The fallout, while so far limited, illustrates how efforts to protect some U.S. companies can cause unintended pain for others.
Real time update: Since Trump imposed tariffs on Canadian lumber, prices are up 32% — a brutal cost for American homebuilders & homebuyers Cc @Morning_Joepic.twitter.com/ZMaTqE83bD

— Steven Rattner (@SteveRattner) June 4, 2018
Aneesa Muthana, owner of Pioneer Service Inc., told the WSJ that her company has already lost two orders worth $60,000. These new tariffs on imports took effect three days ago—and that's just one side of this self-destructive coin.
Exports
Pretend for a moment that you run a company whose primary revenue strain comes from exporting flat steel. You are one of the 29,989 businesses with 20 to 49 employees who rely on exporting your product, as identified by the census bureau. Thanks to the retaliatory tariffs placed on the United States in response to Trump trying to "protect" your business, it just became 25% more expensive to send your product to your usual customers in Canada, Mexico and the European Union. Where are you going to make up those additional costs?
You have four options:
— Increase revenues to non-taxed partners to make up that 25%.
— Find a new strain of revenue that covers that 25% (or increase prices to cover the 25%).
— Cut costs by 25%.
— Increase revenues and cut costs by a net of 25%.
The problem with growing yourself out of the problem is that requires additional costs like labor and materials, so increasing your output will cost your business even more money up front. Besides, finding new sources of revenue is something that businesses are always on the lookout for, so that's far easier said than done. Plus, that also requires new investments in labor and materials. That's why you typically see companies cut costs when they're in a bind. This usually means slashing jobs, which can reduce revenues in the long run, since that's less investment in your main source of output.
This is why tariffs only work in theory. They always invite retaliatory measures which box businesses into increasingly tighter corners as countries escalate this inherent tit for tat battle. This lunacy is definitely going to cost a lot of people their jobs, and the taxes imposed by Canada, Mexico and the European Union are targeted at a specific kind of worker: one who lives in an area that voted for Trump.
Canada
"That Canada could be seen as a national security threat to the United States, is inconceivable." – Canadian Prime Minister Trudeau
The only country in the world with NHL teams and a fully functional head of state announced that on July 1st, new tariffs will hit the United States, and will remain in effect until we lift our Canadian steel and aluminum taxes. Chrystia Freeland, Canada's Minister of Foreign Affairs said that it was the "strongest trade action Canada has taken in the post-war era."
Scotiabank deputy chief economist Brett House told The Star, "In the broad, it should not be terribly damaging to Canada. Because the United States does rely on Canada for substantial steel and aluminum imports, and that can't be replaced quickly, if at all. But for specific firms and for specific steel and aluminum products, the immediate impact could be significant."
Wayne Easter, chair of the Canadian Commons finance committee and co-chair of the Canada-U.S. Interparliamentary Group, said that Canada could target "endless products because there's endless trade. One of the areas the U.S. is certainly most vulnerable is their farm sector. And you know who won all those states in the last election?"
Trudeau said that he reminded Mike Pence that there is Canadian aluminum "in American jets" and Canadian steel "in American armored vehicles," and he argued that tariffs would hurt "American workers, American jobs and American consumers who would pay more for, for various products."
The list of American exports now being taxed by Canada is much more extensive than just steel products (they overlap with Mexico and the EU in many areas), but they released two tables of tariffs, and one was entirely devoted to steel products. If we have not lifted our tariffs by the beginning of next month, look for a shock to hit the steel markets (and/or markets that rely on steel products) as soon as Canada's tariffs begin to take root in this new, stupid economy.
Mexico
In response to the American government's intransigence, the Mexican government released the following statement, declaring their intent to meet Trump tit for tat in his tirade over trade:
Mexico reiterates its position against protectionist measures that affect and distort international commerce in goods. In response to the tariffs imposed by the United States, Mexico will impose equivalent measures to various products like flat steels (hot and cold foil, including coated and various tubes), lamps, legs and shoulders of pork, sausages and food preparations, apples, grapes, blueberries, various cheeses, among others, up to an amount comparable to the level of affectation.
Mexican Economy Minister Ildefonso Guajardo said that American tariffs would affect about $4 billion in trade (for now). Here is but one example of how Mexican tariffs will hurt a major American industry.
The United States is the largest pork exporter in the world. One out of every 3.4 pounds of pork traded on Earth originates in America. Mexico is the world's third-largest pork importer, bringing in 8% of the global market. They accounted for one third of our total pork exports last year—valued at $1.37 billion. Iowa is by far America's largest producer of pork, comprising 36% of our total production. Minnesota—the only Midwest swing state to not turn red in 2016—is next at 12%, and North Carolina is neck and neck with them around that mark too. Trump won 52% of the vote amongst those three states which comprise over half of American pork production. Our president is playing checkers while our allies are playing chess.
European Union
Earlier this year, when the initial tariffs were announced, our friends across the Atlantic responded to our seemingly haphazard and self-destructive move with highly targeted taxes aimed at our most powerful leaders. Per Bloomberg:
Harley-Davidson Inc. and bourbon are both on the bloc's list of goods that could be hit, pressuring Republican speaker of the House of Representatives Paul Ryan, who hails from the Wisconsin home of the motorcycle maker, and Senate Majority Leader Mitch McConnell, from Kentucky, where the whiskey is made.
Both motorcycles and whiskey are on the EU's new list of tariffs they plan to impose. They're also hitting a lot of agricultural products, which will only hurt the slowing American agricultural export market (mainly thanks to exports to China falling). The EU is the fourth largest importer of American agriculture, and these tariffs are sure to threaten business relationships which have long been established with our friends in Europe. With Canada and Mexico imposing tariffs on American agricultural exports as well, that leaves Japan as the only top five importer of American agriculture who isn't wrapped up in our needless trade war.
Where Is This All Going?
On the whole, these tariffs are pretty small compared to the total economy, as Andrew Kenningham, chief global economist at Capital Economics told CNN:
"The direct impact on the global economy of the tariffs President Trump announced yesterday would be minimal. But the fact that they are being justified under a flimsy pretext of national security increases the risks of retaliation."
The problem isn't solely the tariffs I laid out above, but what other measures are coming in the future. All this madness just has a way of adding up. History teaches us that trade wars always escalate, and they have not been kind to the United States. One such example from the Great Depression is particularly instructive.
After World War I, farmers across the country fell into deep debt, as the loans they took out to expand their acreage could not be covered by their decreasing output. In 1919, gross farm income was $17.7 billion. By 1921, it fell to $10.5 billion, as exports to Europe plummeted. In 1922, Congress fired the first shot in a trade war with the Fordney-McCumber Tariff. It was a tax on imported goods that was purported to protect factories and farms, but by the end of the decade, Republican Representative W. R. Green, the chairman of the House Ways and Means Committee, admitted that per the statistics of the Bureau of Research of the American Farm Bureau, farmers lost more than $300 million (net) per year thanks to retaliatory tariffs from our allies in Europe.
Not being one to learn from its mistake, the United States escalated this trade war with its allies in 1930, raising tariffs on more than 20,000 goods. After Canada and others struck back with their own taxes, American exports fell by 60 percent. Most economists agree that these new tariffs did not significantly worsen the depression—as the actual tax itself was very small when compared to the larger economy (just like these new tariffs are)—but what made their effects so harmful was the subsequent retaliation. Per Wikipedia's summation of the Census Bureau's Historical Statistics series and the State Department's summary of the Smoot-Hawley Act:
US imports decreased 66% from $4.4 billion (1929) to $1.5 billion (1933), and exports decreased 61% from $5.4 billion to $2.1 billion. GNP fell from $103.1 billion in 1929 to $75.8 billion in 1931 and bottomed out at $55.6 billion in 1933. Imports from Europe decreased from a 1929 high of $1.3 billion to just $390 million during 1932, while US exports to Europe decreased from $2.3 billion in 1929 to $784 million in 1932. Overall, world trade decreased by some 66% between 1929 and 1934.
These declines are due more to the larger mess that was the global economy during the Great Depression—as just five percent of 1929 US Gross National Product were imports—but the impact of the Smoot-Hawley Act is still clear: it made trading between traditional trading partners more expensive during a time of economic instability, and it certainly exacerbated the underlying issues in the import-export market. American tariffs hurt American businesses more than they hurt foreign companies. That's just a fact supported by history and the realities imposed by our global economy.
The Census Bureau tracks the origin of U.S. exports by state, and breaks them down into manufactured commodities and non-manufactured commodities. We can do a back-of-the-envelope calculation of where these steel and aluminum tariffs will generally hit, as most of them fall into manufactured commodities (but not all manufactured commodities necessarily use steel and aluminum—just those who need things like buildings, mechanical equipment, etc…).
Sixty-one percent of manufactured commodities in the first three months of 2018 came from states that voted for Trump. If we go by the metric of "GOP strongholds"—meaning states which have voted Republican this entire century—they comprise 41% of total U.S. manufactured commodities exports.
Now, because it's Trump, this could all change in the span of a single cable news segment, and there is evidence the market isn't fully convinced this will happen. Nucor is America's largest steel producer, and their stock price has largely remained flat since Trump announced these tariffs on Friday. That either means that the trade war is already priced in, traders believe that companies like Nucor can talk this administration off the ledge, or the market only expects tariffs to hurt companies like Pioneer Service Inc. that use steel—not make it, like Nucor.
There is some good that could come from this, the problem is that it would just require people who are already struggling to endure more hardship. People tend to vote with their wallet, and we're due for a recession. They occur every ten years or so, and the last one that hit us came in 2007-2008. This is the exact kind of action that could push a struggling economy back into the ditch, and if the pain hits in time for the midterm elections, then there's a great chance that Democrats can take back both the Senate and the House.
The only thing that fixes this madness is defeating Republicans at the ballot box. Robert Mueller will not save us. Europe, Canada and Mexico will not save us. Only we can pull our country back from the brink of the protectionism and authoritarianism wholly endorsed by the Republican Party. Unless we remove a party who clearly does not believe in democracy and has near-complete control over our government, the future will only get bleaker and more needlessly expensive for everyone—especially those who live in areas that traditionally vote Republican.
Jacob Weindling is a staff writer for Paste politics. Follow him on Twitter at @Jakeweindling.