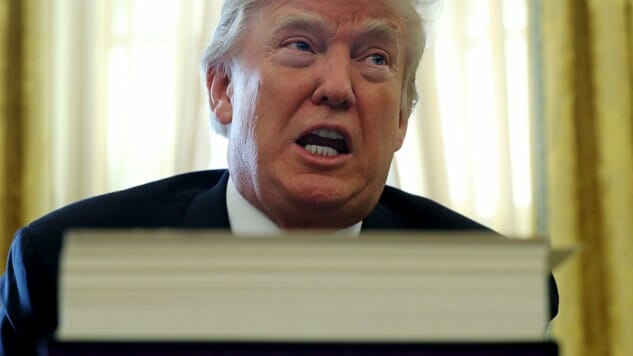 You will never believe what we're about to tell you, but here it goes: Donald Trump bragged about his accomplishments on Wednesday, and the stuff he said? It wasn't even true.
You know what that means:
While speaking to first responders at a West Palm Beach, Fla. firehouse, the president said, "You know, one of the things that people don't understand—we have signed more legislation than anybody. We broke the record of Harry Truman." It's a claim Trump has made many times over.
.@POTUS: "We've signed more bills… than any president ever." pic.twitter.com/XTKyGP33vB

— Fox News (@FoxNews) July 17, 2017
Per Politico, Trump's Truman record claim is, in fact, false. While Trump did sign more bills than any U.S. president since Truman over the course of his first 100 days—though even that accomplishment was specious, as Trump's signed laws were "historically short"—Trump is far beyond his first 100 days, as we're now closing in on the upsetting anniversary of his Jan. 20 inauguration. In fact, according to GovTrack, Trump has now signed the fewest bills into law of any first-year president, dating as far back as President Dwight D. Eisenhower (1953-1961), the first POTUS for whom this data is even available.
GovTrack's report was published last Thursday, Dec. 21, shortly before Trump signed his first and only major piece of legislation—the GOP tax bill, which he called "the legislation of all legislation" and "the biggest there is"—and then headed to Mar-a-Lago for the holidays.
"I believe we have—and you'll have to ask [the media], but I think they know the real answer," Trump said in West Palm Beach. "We have more legislation passed, including—the record was Harry Truman. That's a long time ago. And we broke that record. So we have a lot done."