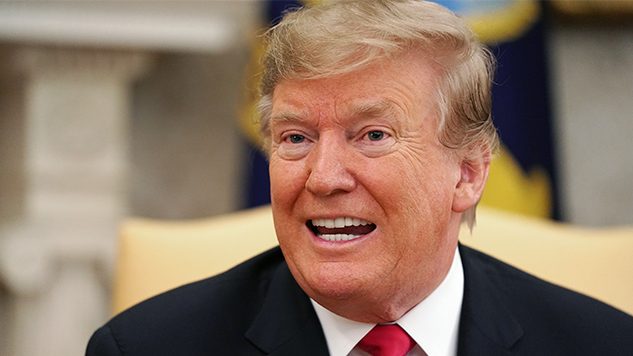 It is true that different cultures find different jokes funny. What cracks people up across the pond may not work as well for laughs in the U.S., for instance, and vice versa, unless, of course, it's Fleabag, which no one is allowed to disagree on. But today on Russian State TV, the commentators had a little joke about Donald Trump that is no laughing matter for Americans (per The Daily Beast).
Last week, Russian Foreign Minister Sergey Lavrov returned home from his visit to the Oval Office with Donald Trump and Russian state media had a field day. The meeting was especially satisfying for Russians as Ukranian President Volodymyr Zelensky has not gotten his "quid pro quo" meeting with Trump as he has failed to announce the smear investigation Trump wants on Democratic presidential candidate Joe Biden. Trump is currently going through impeachment due to that promise, but that's another, and another and another story.
After Lavrov's meeting, TV Channel Rossiya 1 aired a segment not so subtly titled "Puppet Master and 'Agent''—How to Understand Lavrov's Meeting With Trump." You probably don't need an explainer to guess who's the master and who's the agent in this analogy. Additionally, Vesti Nedeli, a Sunday news show on the same network, pointed out that Trump personally asked Lavrov to pose standing next to Trump while Trump sat at his desk. If you're getting Game of Thrones vibes, we are, too, and if there's any notes to take from that show, it's sometimes the Hand of the King (and not the one on the Throne) holds more of the power.
Russian state television doesn't seem concerned about losing their perceived pawn: They seem to view impeachment as a minor obstacle that won't get Trump removed. Besides, heightened division in the U.S. works in Russia's favor, especially since it hurts relations between the U.S. and Ukraine.
Russia news networks are making fun of Trump while he's in office, and also predicting a downturn for him once he's out. On Sunday Evening with Vladimir Soloview, Mikhail Gusman, the first deputy director general of ITAR-TASS, Russia's oldest and largest news agency, stated, "Sooner or later, the Democrats will come back into power. The next term or the term after that, it doesn't matter … I have an even more unpleasant forecast for Trump. After the White House, he will face a very unhappy period."
Host Vladimir Soloviev responded, "Should we get another apartment in Rostov ready?" The comment was an allusion to Viktor Yanukovych, former president of Ukraine, who had to flee for Russia in 2014 after corruption and treason. The comparison between Yanukovych and Trump is made more frightening as Russian experts and politicians consider both of them to be openly pro-Kremlin. As much as we'd love for Trump to be out of office, having him completely in Russia's pocket is definitely not a solution.