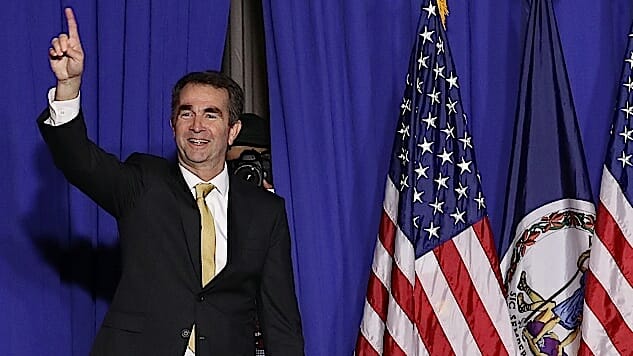 Well, that was unexpected! After the panic-inducing events of one year ago, Democrats could be forgiven for coming into yesterday's elections with a degree of cynicism—at this point, hope is not the strong suit of the American left. We expected the worst.
Instead, it was an absurdly good night for Democrats, who are likely covered in bruises from pinching themselves as they watched the returns come in. In almost every race that mattered, blue candidates succeeded beyond all expectations, and the blue wave that broke over the country was a clear referendum on Trump's first year in office.
The only problem for Democrats? It was hard to keep track of all the amazing victorie as they happened. So let us help—whether you want to re-live the triumph, or you missed the action in real time, here are the ten greatest victories for Democrats from their best night in years.
1. Danica Roem, trans woman, makes history while beating GOP bigot in VA House race
Let's start with some poetic justice straight out of a liberal fantasy. It would be remarkable enough if Danica Roem had merely become the first openly transgender person to win a state legislature seat ever. I mean, that's a gigantic accomplishment, and is sufficient by itself to guarantee her place in American history. (Note: Althea Garrison was the first transgender person to serve on a state legislature, but was not out at the time of her election.)
But that's not all she did—Roem took down a man named Bob Marshall, a 26-year incumbent who referred to himself as the state's "chief homophobe" this year. As we wrote last night, he also wrote a so-called "bathroom bill" seeking to discriminate against transgender people (he became furious when it died in committee), refused to call Roem a woman, sent out flyers reminding voters she had been born a man, and accused her of lewd behavior in an attack ad.
I ask you: Is there a more amazing and perfect way for this cretin's political career to end?
Unlike me, Roem took the high road. Here's how she ended her interview on MSNBC after the victory:
"To everyone out there, be yourself better than anyone else ever can."
2. Chris Hurst, boyfriend of news anchor murdered on television in 2015, wins VA House race against opponent with "A" rating from NRA
More poetic justice? It's an embarrassment of riches in Virginia.
The headline basically says it all here—even with the recent rash of gun violence, it's hard to forget the death of Alison Parker, a news anchor who was executed on camera by a gunman in 2015. Chris Hurst, her co-worker and boyfriend, quit his job as a journalist to run for office in February, and last night, in Virginia's 12th District, he beat incumbent Republican Joseph Yost by almost ten points. Hurst ran on stricter gun control, but he also ran on increased Medicaid and educational funding, and came out against a proposed natural gas pipeline. His opponent had an A-rating from the NRA, and, shocker, that organization backed the Republican. Even in the largely rural district, though, Hurst overcame that opposition to win handily.
3. Larry Krasner, anti-death penalty attorney vigorously opposed by police unions, wins Philadelphia District Attorney race
Granted, Krasner's tightest race came in the Democratic primary back in May, but the fact that a candidate who even called himself "completely unelectable" won in a major city is cause for progressive celebration. The head of the police union once called his candidacy "hilarious," and indeed, the idea of a civil rights/defense attorney becoming the city's DA seems too far-fetched to imagine. His agenda is extremely progressive—Krasner aims to "overhaul cash bail, abolish the death penalty, and crack down on police corruption." He has sued the police time and again in his capacity as an attorney, he vocally supports keeping people out of prison while advocating for drug addicts and the mentally ill, and he even did pro bono work for Occupy and Black Lives Matter activists. With that record, it's no surprise that he was vigorously opposed by the police union. The Atlantic called him "the most progressive" of all district and state's attorneys in the entire country, which is a big deal at a time when Jeff Sessions is dragging the federal Justice Department to the right.
Typically, a DA's job is seen as pursuing guilty verdicts coupled with the harshest possible sentence, and working hand-in-fist with police. For a man like Krasner—once described as a "Bernie Sanders remix of The Wire and The New Jim Crow"—to win in Philadelphia? That's a major coup for criminal justice reform advocates, a blueprint for the future, and a beacon of hope in the midst of the dystopia that is the American carceral state.
Here's a solid tweet summing up the first three items:
A trans woman beat the guy who introduced the bathroom bill. A gun victim's boyfriend beat a delegate with an "A" grade from the NRA. A civil rights lawyer who sued the police department just became the top prosecutor in Philadelphia.

Something's happening here, folks.

— Charlotte Alter (@CharlotteAlter) November 8, 2017
4. Maine Votes to Expand Medicaid in Historic Referendum
This is not being talked about nearly enough, and may be the most important result last night. Maine's governor, avowed racist Paul LePage, has routinely insulted the medicaid expansion available to U.S. states via the ACA by calling it "pure welfare." He has vetoed the expansion five times after the state legislature voted to accept it, and thus denied health insurance to roughly 70,000 Mainers—most of them poor and in dire need of healthcare. The issue of Medicaid, in fact, is a big reason why Senator Susan Collins helped scuttle the various ACA repeal plans this past summer.
Facing a brick wall in their governor, the people of Maine got creative and managed to get the issue on a referendum. By an almost 60% majority, they approved the measure last night, which means that if the state legislature can pass it again—as they've done five times in the past—LePage can no longer exercise his veto.
That's not just good just for the people of Maine; if the other 18 states who have had governors or legislatures reject the expansion follow suit, it could result in more than two million people receiving desperately needed health insurance. It has, in fact, already inspired Idaho activists to begin the referendum process. In short, what Maine managed to accomplish last night could have an enormous impact on healthcare in this country. More than any other item on this list, it will provide an immediate, tangible benefit to thousands of Americans.
5. Lee Carter, DSA member abandoned by state Democratic party, upsets GOP majority whip (!) in VA House race
How does a DSA member and former Marine with virtually no support from the state party take down the second-biggest fish in the House of Delegates? For 30-year-old Lee Carter, there was no clear answer. He broke with the state party in his opposition to a natural gas pipeline (Dominion Energy, who would have built the pipeline, is a top donor to Virginia Democrats), they had a disagreement stemming from security lapses on the state's end, and that was that—Carter was on his own, campaigning for workers and unions and for the abolition of corporate campaign contributions. When reached for comment in late October, party officials didn't even want to talk about him.
But he won anyway, by about ten points—a living embodiment that a progressive agenda can be a winner, even in the absence of help from the center. After the win, he and his supporters sang "Solidarity Forever," a union song that was no less beautiful for being horrendously off-key:
????When a marine veteran socialist beats the GOP majority whip in Virginia ???? pic.twitter.com/QxUCCY9TRG

— Metro DC DSA (@dc_dsa) November 8, 2017
6. Virginia House of Delegates has likely flipped to Democrats in an outrageous upset and likely bellwether for the 2018 midterms
As you might have guessed from the stories above, it was a superlatively good night for Virginia Democrats. With all 100 seats in the House of Delegates being contested, the party suspected they'd improve on their paltry 34 seats, but it was unclear how many they'd gain. As David Wasserman noted on NBC News beforehand, these House elections always come a year ahead of national midterm elections, and they've proven to be a very strong predictor of what will happen in the national House. Here's what he thought the various results in Virginia might mean for 2018:
This year, if Democrats pick up fewer than five GOP-held seats, Republicans would probably take it as a relief. If Democrats pick up between five and 10 seats, it would confirm the House is in play. If Democrats surprise and gain 10 or more seats, it would be a sign they are probably on track to take back the House next year.
Now? There are a few races that are too close to call, but at press time, Democrats have won 49 seats to the GOP's 47. That's a gain of 15 seats, above and beyond all expectations. It is, no joke, the largest pickup in that body since 1899. In the four outstanding races, Democrats lead one, and another is essentially a toss-up. That means, at minimum, Democrats are likely to force a 50-50 tie in the state house.
It's hard to convey how unlikely this looked at the beginning of the night, when the most cynical Democrats (and opportunistic Republicans) expected a feeble gain, and the most optimistic capped their hopes at a +10 pickup. To actually win back the House of Delegates would be a feat that goes miles beyond remarkable, and it looks like it's about to happen. (For my fellow nerds out there, here's a primer on the complicated mess that would ensue in the case of a 50-50 tie.)
7. Ralph Northam wins VA governor race despite nightmarish trends and racist attacks from his opponent
Ed Gillespie, after nearly being upset by a Trump-esque populist in the Republican primary, sold his soul at the end of his race against Ralph Northam and went full Trump himself. He released racist ads, scapegoated Hispanic immigrants, and generally fought the dirtiest fight possible in an effort to steal the election. Those of us on the left afflicted with post-2016 PTSD, who saw these tactics work to perfection for Trump, felt certain that it would work again. Tightening polls in the final month, including a couple that gave Gillespie a slight lead, didn't help our outlook. It felt like the same nightmare was playing out all over again.
Wrong! Northam won going away, by a higher margin (almost double digits) than anyone expected. Call this a salutary sign that there's a limit to the power of overt racism in American politics, and proof that Trump's ugly strain of populism is not unbeatable. Northam wasn't a particularly inspiring figure, but anti-Trump sentiment was still strong enough in this purple state to overcome the crudeness of his opponent's tactics. This is extremely good news that transcends Virginia.
8. Voters in Virginia who cared about guns the MOST split evenly between Northam and Gillespie
Speaking of extremely good news:
Buried in exit poll: Northam, F-rated by the NRA, TIED with voters whose #1 issue was guns. pic.twitter.com/0hIxGwctr0

— Dave Weigel (@daveweigel) November 8, 2017
Obviously, those numbers reflect the fact that a slew of liberals must have told pollsters that guns were their top issue, and that is undoubtedly influenced by the recent shootings in Sunderland Springs. Still, that kind of fresh outrage is exactly what the country needs if we can ever loosen the NRA's stranglehold on domestic politics and enact real gun reform. To see the right's passion for guns matched equally by disgust on the left, even in this limited sample, is a very good sign.
9. Chris Christie hamstrings his successor so bad that New Jersey governorship falls to Democrats
The world's biggest albatross gave Lt. Gov. Kim Guadagno absolutely no chance to hold onto a Republican governor's seat. Apparently that's what happens when your successor is an incompetent bully whose approval rating sits at 15 percent. Phil Murphy's win flips the executive branch, and gives Democrats total control in New Jersey.
10. Manka Dhingra, daughter of immigrants, wins special election for Washington Senate, wipes GOP off of west coast
In an almost unbelievably dramatic scenario, the death of a Republican state senator in Washington triggered a special election that would decide the composition of the chamber itself. Andy Hill's death in 2016 reduced the Republican majority in the Senate to just one, and with the Democratic lieutenant governor in place as the tiebreaker, losing that final seat would essentially mean losing the whole thing.
The special election, in the wealthy suburbs of Seattle, pitted two female children of immigrants against one another. Dhingra, who works as a prosecutor specializing in criminal justice reform and runs a nonprofit for the mentally ill, carried the hopes of Democrats in her entire state, not just her district. And while the full results may not be out for a few days due to Washington's unique vote-by-mail system, the initial ballot count from late last night—as well as every poll—indicates that she'll win going away.
But her win goes beyond Washington. Before last night, Democrats held every single state legislative chamber and every governor's seat on the west coast, with the lone exception of the Washington Senate. Dhingra's win means that Democrats now hold total control along the Pacific Ocean—a region that just became an even stronger bastion of the anti-Trump resistance.
It was quite the nightcap—a party that would have settled for any win, in the wake of last year's disaster, instead managed to live out a dream. Onward to 2018.