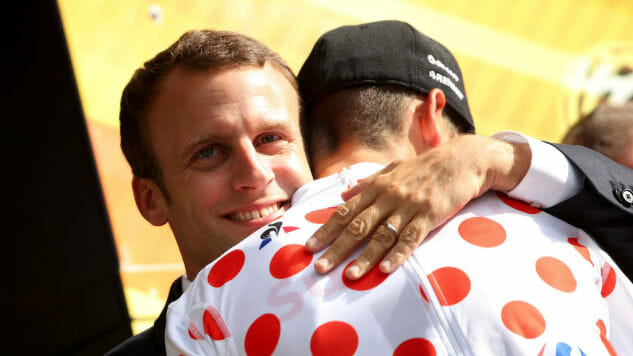 What's in the makeup of a man? In one case, we know.
Emmanuel Macron, the much-ballyhooed leader of the French Republic—famous for his neoliberalism and youth and other qualities beloved by the press—has spent significant amounts of precious Gallic boodle on his own beauty.
Per the Post:
The French magazine Le Point revealed Thursday that France's 39-year-old new president has spent 26,000 euros ($30,000) on makeup services in his first three months in office — that's $10,000 a month, or about $330 a day. All at taxpayers' expense. In the rest of the French press, the revelations only added to a growing sentiment that Macron — who currently enjoys an approval rating of just 36 percent — has gone too far in cultivating what some see as a kinglike persona.
Adding beer cans to the bonfire, it turns out that Macron has not employed a makeup artist for regular, dutiful, small jobs. Rather, this was done twice. You know how it is; there are so many proms in politics.
According to Le Point, the Élysée Palace paid a makeup artist, identified only as Natacha M., on two occasions: once for 10,000 euros, and then again for 16,000 euros. The fees were apparently for doing up the president in advance of news conferences, public appearances and various travels. A spokesman for the Élysée, which faced sharp and swift criticism, announced on French television shortly after the news broke that the budget "will be reduced significantly."
The Marie Antoinette-style reveal complicates matters for the unpopular President, who has come under fire for his carnivorous biting into the budget. According to the Guardian:
A row erupted on Monday after the government announced it was going to cut a particular type of housing benefit by five euros a month in a move affecting millions of French people – including many living below the poverty line. Louis Gallois, head of a federation of organisations working on poverty, slammed the measure for "hitting the poorest people foremost". More than 800,000 of those affected were students, causing students' unions to demand the government "instantly withdraw" the plans. Disgruntlement among students is a thorny issue because the government is seeking to avoid students joining potential protests against Macron's proposed changes to labour laws this autumn.
Macron, the banker-saint of austerity, was elected to deny the fascist Le Pen her chance at power. That done, Macron decided to do as centrists before him had done, and punch left. Forget the Trumpian indulgences, and focus on policy. The Macron Administration did not read the last election as a repudiation of Nineties-style governance, but a call for more of the same. Macron's policies are roughly twenty years out of date, but his face-painting tendencies date at least back to the age of the Bourbons.
As the English Telegraph notes, back when he was a frontrunner in the Presidential campaign, Macron said he would sink unions, slash public funds, cut taxes to invite the British in:
Emmanuel Macron, the French presidential frontrunner, has unveiled proposals for tax and spending cuts, public sector job losses and investment just days after pledging to woo British businesses to France. "These conditions will help to attract talented professionals and jobs to France," Mr Macron's economics advisor, Jean Pisani-Ferry, said. … By comparison, Mr Macron promised to reduce public spending by €60bn and cut 120,000 public sector jobs.
Macron, who has favored a monarchial style of personal rule, said he would crack down on unemployment benefits and work to bust unions. "Mr Macron also wants greater flexibility on the retirement age, currently 60, and the statutory 35-hour working week, allowing employers and staff more latitude to negotiate." Macron wants to strip workers of what little power they enjoy. If he believes so religiously in driving down working peoples' wages, why doesn't he start with the mysterious Natacha? Surely, this being France, the land of art and necessary drinking, there are citizens who can do the job for a five francs a pop. Hell, there are college-age Americans who would murder their way out of Skokie for a chance to nap in the French President's house and touch his face. We all know this, and none of us are ashamed by it; quirky Parisian adventures are what Amelie promised us.
With France narrowly avoiding a Le Pen victory, with the Gallic Republic desperately hungry for an escape from globalist plunder, Macron is making one wise choice after another. This expensive regimen of self-care is exactly what the people elected him for. There is absolutely no chance this series of bank-friendly decisions will backfire on Monsieur Le Face. We await the ten-hour kingly oration defending his style choices, and are confident it will arrive any moment now.