Critics, Activists Push to Call Immigrant Children "Detention Centers" What They Really Are: Concentration Camps
Photo by John Moore/Getty
Politics
News
Immigration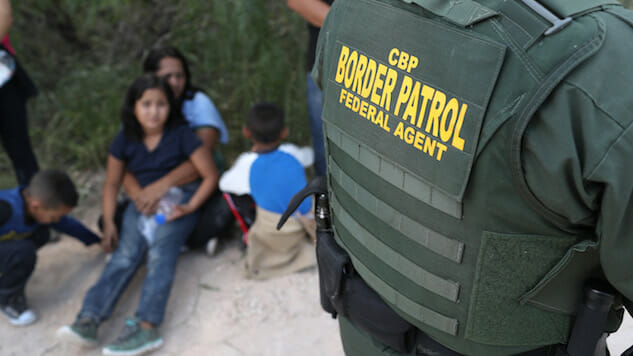 Critics and activists are urging the media to call Trump's "detention centers" what they really are: concentration camps, as the San Antonio Express reports. This shift in conversation comes after a report Tuesday by McClatchy that Trump is looking to build "tent cities" around Texas to house the growing number of migrant children who have been separated from their families.
The news faced immediate backlash from critics and activists, including civil rights activist Qasim Rashid, who tweeted:
Correction: America is planning on bringing back Concentration Camps for people of color.

This is 2018. #ThisIsAmericahttps://t.co/5tUxKtPVat

— Qasim Rashid, Esq. (@MuslimIQ) June 12, 2018
Critics also took to Twitter and began speaking out:
How long before the Germans invade us and liberate our concentration camps?

— Palmer Report (@PalmerReport) June 14, 2018
I would warn journalists who are visiting some of these migrant camps for children in America that show migrant kids playing that the Nazis also built Theresienstadt to show the world's press and Red Cross how well Jews were treated in concentration camps. #MigrantCrisis

— Harry Leslie Smith (@Harryslaststand) June 14, 2018
Even government officials began lobbying to relabel the "detention centers." New York Senator Kristen Gillibrand said, "Ripping children from their parents and locking them in tent cities is a new low for this presidency. We should call these what they are—imprisonment camps. And it's happening in our own country. We can't let this become who we are." The concentration camps also caught congressman Beto O'Rourke's attention when he visited the centers and called "arbitrary and unlawful interference in family life" a practice that "runs counter to human rights standards and principles." Nancy Pelosi also spoke out:
The senior content producer for the mayor of Alabama, Edward Bowser, tweeted:
Call it what it really is. Concentration camps. https://t.co/ByZPFLsIi6

— Edward Bowser (@etbowser) June 13, 2018
The separation of children from their families began in April when the "zero-tolerance" policy was first announced by Attorney General Jeff Sessions. Sessions stated, "If you are smuggling a child, then we will prosecute you and that child will be separated from you as required by law. If you don't like that, then don't smuggle children over our border." However, the Houston Chronicle reported this week that border agents in Texas are deceiving immigrant parents, telling them they are going to bathe their children, but taking them away instead. As of May, there were 10,000 migrant children in custody, according to a headcount by the Department of Health and Human Services, and the number is growing rapidly.