Nationwide Protest Against Trump's Family-Separating Immigration Policy Set for June 30
Photo by Mario Tama/Getty
Politics
News
Immigration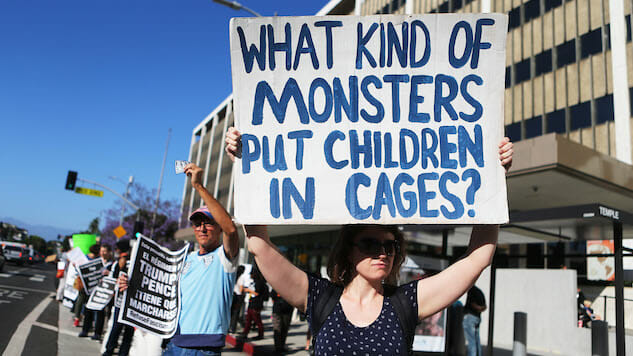 Activists are organizing nationwide protests on June 30 to combat Trump's zero-tolerance policy that is separating immigrant families crossing the U.S.-Mexico border, as Vox points out. The main rally will take place at 11 a.m. local time on June 30 in Lafayette Square in Washington, D.C., with sister marches all across the country.
The Families Belong Together protests are being organized and led by MoveOn and the National Domestic Workers Alliance. Both organizations are partnering with multiple organizations all across the nation to organize the protests and spread the word.
BREAKING: @RepJayapal announces #FamiliesBelongTogether rallies across the nation on 6/30 to protest @realdonaldtrump's cruel & in-humane anti-immigrant policy. RSVP here: https://t.co/py6jgupBVKpic.twitter.com/nhgzGwdjKX

— MoveOn (@MoveOn) June 19, 2018
JUST ANNOUNCED

NATIONAL PROTEST

JUNE 30

THE WHITE HOUSE

And a city near you!

Sign up to host an event here: https://t.co/jEUtcPPAPG#FamiliesBelongTogether

— Families Belong Together (@familiesbelong) June 19, 2018
Democratic congresswoman Pramila Jayapal announced the protest on MSNBC and her website on Monday. On MSNBC, she said, "The end game is really to say, 'This is about Trump.'" Ultimately, these marches are about protesting the inhumane misconduct against these children and revealing that this is Trump's policy, no matter how many times he blames it on the Democrats. Jayapal said, "We see the outrage, and we see that this has to be taken right to the White House, right to Donald Trump, to stop the family separations."
"Families Belong Together" was created on June 14 when cities across the nation called for an end to the zero-tolerance policy. The June 30 protest comes in the midst of nationwide backlash against the policy that continues to separate children from their parents. According to an NPR report from DHS, between May 5 and June 9, about 2,300 families were separated. This number adds to the 10,000 children already in custody, according to a May headcount. These children are experiencing extreme trauma, which could lead to future health problems, and they are being held in cage-like detention centers. The nation's only images of their living conditions is government video and photos.