Mysterious Voting App "Shadow" Raises Questions Amid Iowa Caucus Debacle
Photo by Joe Raedle/Getty
Politics
News
Iowa Caucuses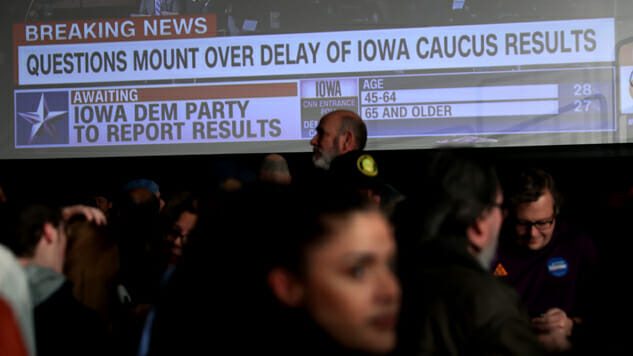 The conversation regarding the Iowa Caucus delays has quickly closed in around the app designated for local Democratic party manager use in inputting voter data. The app, aptly (and questionably) named Shadow, has a lot of unsolved aspects surrounding its creation. Just a cursory glance at their website sets off some alarms. Their section on "the Shadow team" makes no allusions to any specific people, claiming they have done work on both Hillary Clinton and Barack Obama's campaigns.
On the website for Groundbase, they claim they are now part of Shadow. Groundbase is a for-profit tool used "for progressive organizations" founded in 2017 (after the methods in which progressives organize and collect voter data were called into question after Trump's election) by a man named Gerard Niemira, who conspicuously has his Twitter account set to private. His LinkedIn profile, however, alludes to management work for Hillary's campaign from 2015 to 2016.
In January of last year, a nonprofit called Acronym announced via Twitter they had acquired Groundbase. Founded by a former digital producer on Obama's 2012 campaign named Tara McGowan, their about page on their website claims, "In January 2019 we launched Shadow, a tech company focused on enabling organizers to run smarter campaigns." Amid the current controversy, however, Acronym reported via Twitter they were merely investors in Shadow. The triangulation between Groundbase, Shadow and Acronym can be confirmed from an archived version of Acronym's website announcing the partnership.
— Kyle Tharp (@kylewilsontharp) February 4, 2020
Where did the funding come from, though? Well, interestingly enough, the Federal Election Commission's website points out money coming from Pete Buttigieg, Joe Biden and former candidate Kirsten Gillibrand. Buttigieg alone contributed over $40,000. Monday night, right around the time the results of the caucus were predicted to be aggregated (around 8:30 p.m. ET), Buttigieg began to tweet odd messages as if he had already taken the gold in Iowa.
Tonight, Iowa chose a new path. #IowaCaucuses

— Pete Buttigieg (@PeteButtigieg) February 4, 2020
Upon Buttigieg's campaign announcement last January, McGowan tweeted support for the former South Bend mayor:
MAYOR PETE IS RUNNING https://t.co/DNUyILImWM

— Tara McGowan (@taraemcg) January 23, 2019
Biden, who dropped significantly in polls in Iowa, perhaps benefits from the delays the most. His campaign has requested a full investigation, as well as a complete explanation for what exactly went down in Iowa, with the Democratic Party replying in turn that paper validation of results will occur. This might seem noble on the surface, but the Iowa caucus sets the precedent for the primary campaign—this means Biden can move on to New Hampshire without a big loss under his belt, and his outcry could delay the results even further. The Iowa caucus represents 56 DNC delegates out of 4,366. The caucus, however, is often seen as a big first win, given how it sets the precedent for the fight in the primary. If Biden is in a "distant fourth," as Warren's campaign claims, the delay could be beneficial for him.
JUST IN: @JoeBiden campaign raises concerns with @iowademocrats regarding "considerable flaws" in tonight's Caucus reporting system. pic.twitter.com/Khs3Rp2N3O

— Ed O'Keefe (@edokeefe) February 4, 2020
It's a very close race among the top three candidates (Warren, Sanders, Buttigieg) and Biden came a distant fourth

— Joe Rospars (@rospars) February 4, 2020
It's difficult to know what to believe now. With 0% reporting, both Buttigieg and Sanders' campaigns have individually reported their own internal caucus results displaying their respective wins in Iowa. Allegedly, we will receive more info tonight, Tuesday, at 5 p.m. ET, according to the Iowa Democratic Party, who say they plan to release at least 50% of the results.
The Iowa Democratic Party says it plans to release at least 50% of results from caucuses on Tuesday at 4 p.m. CT. Follow @AP for full coverage. https://t.co/8Rn42zbD4W

— AP Politics (@AP_Politics) February 4, 2020