John McCain Attempts to Clean Up Trump's Australia Mess
Photos by Paul Morigi/Getty, Stefan Postles/Getty
Politics
News
John McCain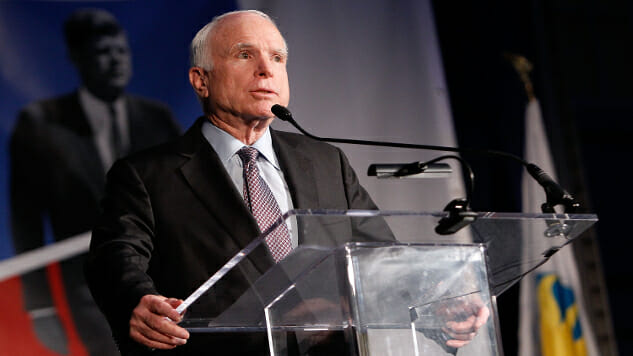 Does one pleasant phone call undo a disastrous chat? That's what Sen. John McCain (R-Ariz.) was probably hoping Thursday morning when he logged some time with Australian Ambassador to the U.S. Joe Hockey.
McCain says he called Ambassador Hockey to express "unwavering support for the U.S.-Australia alliance" and that the U.S. honors "the sacrifice of the Australians who have served and are serving by our side."
The chat between McCain and Hockey comes just days after a phone conversation between President Donald Trump and Australian Prime Minister Malcolm Turnbull became heated after discussion about honoring a U.S. pledge to take 1,250 refugees from an Australian detention center. The Washington Post and others have reported that President Trump said that the deal was "the worst deal ever" and that Australia was looking to export the "next Boston bombers." Trump also bragged about his electoral victory and then ended the phone call when Turnbull tried to turn to more agreeable topics.
Wednesday night, Trump took to Twitter (as he does) to call the deal "dumb," and Thursday morning in Australia, Prime Minister Turnbull rather cryptically said in a press conference, "I stand up for Australia in every forum, public or private."
Australia has fought alongside the U.S. in seven wars and is a trusted enough ally that it shares gathered intelligence back and forth with the U.S. There's no indication that that part of the alliance is endangered by Trump's turbulent phone call with Turnbull, but it clearly worried Sen. McCain enough to reaffirm support.
You can read McCain's full statement below.