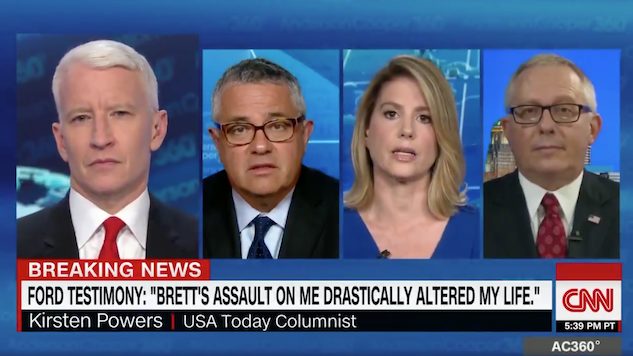 Wednesday night, on Anderson Cooper's AC360, a panel discussed the sexual assault allegations against Supreme Court nominee Brett Kavanaugh. Caputo, a former Trump aide, was discussing one of Kavanaugh's accusers when he said that the woman caused her own assault by repeatedly going to parties where gang-rape occurred, per the Washington Post. Kavanaugh was not accused of rape by his accusers.
Thankfully, USA Today columnist Kirsten Powers was there to call him out. Bravely and calmly, she pointed out that Caputo and Trump were the problem. Powers, who was asked for her input by Cooper, said that when she was growing up in the '80s, women were simply "not believed and everybody sounded like Michael Caputo and Donald Trump." Powers meant to continue, but Caputo continually interrupted her, thanks to Cooper's lackluster moderation.
Caputo, unable to comprehend the possibility of his guilt, dissolved into a grumpy little boy, saying, "You don't call me out on national TV like that," while he shook his head vigorously. In spite of the minimal support from the rest of the panel, Powers went say that women in the '80s were as likely to be believed as the black community when it claimed police brutality. Until there was video, undeniable proof, that entire community's issues were swept away.
"I don't—listen," Caputo said in one of 2018's most ironic verbal stumbles. He went on to selfishly express fear for the men accused of sexual assault, to which the panel responded, "I hope young men who sexually assault young women get their lives ruined. I'm not worried about that."
Caputo's victim blaming represents the toxic ideology that disregards women as victims. Women who come forward about their trauma are somehow, to Caputo, simply wrong to do so. He asks why someone would attend a party where rape has occurred, instead of asking why rape is occurring. Either Caputo doesn't have the intellectual capacity to consider sexual assault is wrong, or he thinks it should be allowed to continue.
Powers puts it best: "if you're going to ask why women didn't come forward, Michael, that's your answer. Just listen to yourself."
Watch the segment in question below.
"Enough… I don't get invited on here to be called out by you like this. This is inappropriate."

Former Trump aide @MichaelRCaputo clashes with @KirstenPowers over her critique of his argument in favor of Brett Kavanaugh https://t.co/T3kk3RZKl1pic.twitter.com/k8A06zh3bq

— Anderson Cooper 360° (@AC360) September 27, 2018