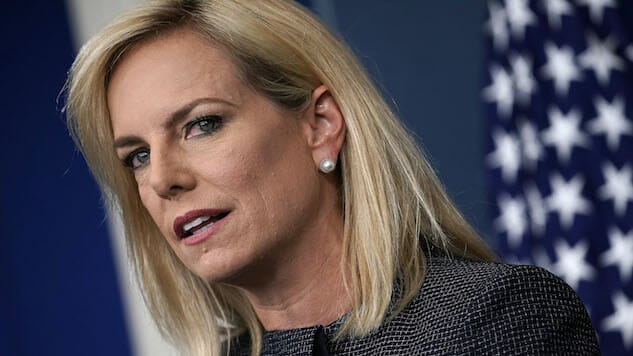 One of the protesters who confronted the Department of Homeland Security Secretary Kirstjen Nielsen at a Mexican restaurant on Monday was an employee of the Department of Justice, reports The Washington Examiner. Allison Hrabar, a paralegal specialist for the DOJ, was one of the protesters shouting "shame" at Nielsen to protest her involvement in the administration's "zero-tolerance," family-separating immigration policy.
The group of protesters were members of the Washington, D.C. chapter of the Democratic Socialists of America, including Hrabar. She defended her decision to protest despite her job in the government, stating that she was exercising her First Amendment Right off the clock. "It feels really good to confront people who are actually responsible, which is what we have a unique opportunity to do in D.C.," she said. Hrabar also called for action across the nation:
A lot of people have been reaching out, either asking how we recognized her, or sending us places that they heard other people like to go. Downtown D.C. is crawling with bureaucrats. I'm sure this will continue to happen in Metro Center, if I happen to be nearby. But these people don't just live in D.C. If you see these people in public, you should remind them that they shouldn't have peace. We aren't the only ones who can do this. Anyone who sees Kirstjen Nielsen at dinner, anyone who sees anyone who works at DHS and ICE at dinner can confront them like this, and that's what we hope this will inspire people to do.
Before Trump signed an executive order ending the family separation policy at the border, two DSA members said they are planning more protests around D.C. and the nation. Those plans include a monthly protest in front of deportation "profiteers'" homes. Following the signing of the executive order, the DSA wasn't satisfied and refused to back down with its protests:
They think it's over, that we'll pipe down and go away.
It's not over, it's just getting started.
Our statement: https://t.co/gH57ADjG0x#AbolishIce#AbolishDHS#NoBanNoWall#amnestynowhttps://t.co/iIX0EsvRnd

— Metro DC DSA (@mdc_dsa) June 20, 2018
A family "kept together" in a detention center staffed by abusers and sadists is not a solution. Demand more. Demand that the arrests end, that the cages be emptied and the people set free, demand the abolishing of ICE and DHS, and nothing less.

— Boston DSA (@Boston_DSA) June 20, 2018
Hrabar said, "When you confront [people with financial] capital—and a lot of people who live in D.C. work for powerful people—it can be kind of scary, but we think it's important to put ourselves on the line." These public protests that single out an individual politician could add pressure and social anxiety to Capitol Hill as the immigration crisis continues.