Michael Cohen Is Being Investigated for "Well Over $20 Million" in Potential Fraud
Photo by Eduardo Munoz Alvarez/Getty
Politics
Features
Michael Cohen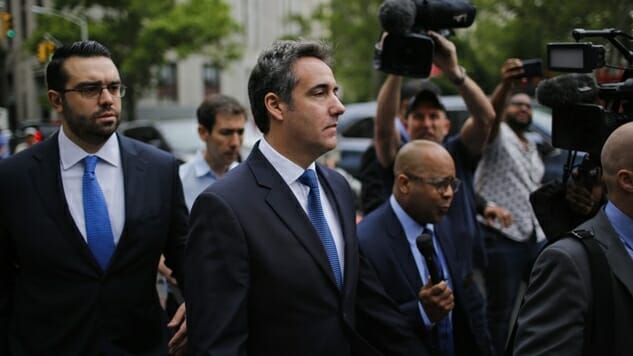 It's no secret that President Trump's personal fixer, Michael Cohen, is in serious legal jeopardy. Now we're starting to learn some of the details of what is being scrutinized by investigators out of the Southern District of New York. Per the New York Times:
Federal authorities investigating whether President Trump's former personal lawyer and fixer, Michael D. Cohen, committed bank and tax fraud have zeroed in on well over $20 million in loans obtained by taxi businesses that he and his family own, according to people familiar with the matter.
Investigators are also examining whether Mr. Cohen violated campaign finance or other laws by helping to arrange financial deals to secure the silence of women who said they had affairs with Mr. Trump. The inquiry has entered the final stage and prosecutors are considering filing charges by the end of August, two of the people said.
Cohen has changed his public tune as of late. Before, he said he was ready to take a bullet for Donald Trump. Now, he says his loyalty is to his family and the constitution. His lawyer, Lanny Davis, said that Cohen has essentially turned a new leaf, and he has expressed an eager desire to tell investigators what he knows. It must be noted that Cohen has not been indicted for any crimes, despite the fact that both he and his lawyer have publicly communicated a desire to work with investigators—the subtext seemingly being in anticipation of some sort of indictment. The Times even notes that it is still possible that Cohen could plead guilty as part of a deal with federal investigators.
Despite the fact that we must adhere to Michael Cohen's constitutional right to remain innocent until proven guilty, there is one aspect of this report that certainly doesn't help his credibility in the public sqaure. This part made me literally laugh out loud: Michael Cohen is "involved" in "a gambling boat in Florida," which practically sounds like a synonym for crimes. I have so many questions.
How is he "involved?" Is Cohen an investor? A financier? A patron? A debtor? What happens on said boat in Florida? Are there alligator fights? Meth head fights? Alligator vs. meth head fights?
All fun aside, this is another serious report about the President of the United States' (former) fixer being implicated in sprawling financial crimes. There are potential campaign finance violations directly involving the president in Cohen's case, and by the end of next week, it's possible that Cohen will have "flipped" in some sense. Given that prosecutors expect to end the case by the end of August, we could be headed into the midterm elections with a president living in constant fear that the man tasked to hide his secrets is now working with the investigation he so desperately wants to paint as a "witch hunt!"
It's also possible that Cohen could plead guilty and protect Trump in the process. Given Cohen's public statements over the last month, that seems unlikely, but if you want to work with an investigation, you don't go on cable news to say you want to work with investigators—you just do it. Cohen has clearly been asking Trump for help in some way, shape or form through the only medium our TV president understands. So far, Trump has seemed to ignore him, but if Cohen or his lawyer were to do another round of TV spots in the wake of this report, it would be safe to assume that that's their way of asking Trump for his final offer. If not, then perhaps Cohen is making good on his threats to work with investigators, and that likely would lead to a new, more unhinged President Trump.
Jacob Weindling is a staff writer for Paste politics. Follow him on Twitter at @Jakeweindling.