Michael Cohen Says He's "Done Being Loyal" to Trump in ABC Interview
Photo by Eduardo Munoz Alvarez/Getty
Politics
News
Michael Cohen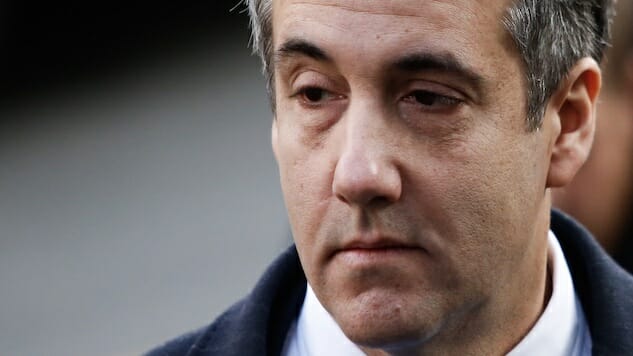 In an interview with ABC's George Stephanopoulos on Friday, former Trump lawyer Michael Cohen confessed he's cutting off ties with the president and is done lying for him. Cohen elaborated on the affairs Trump directed him to cover up and shed more light on his involvement in the 2016 election as part of the Trump campaign. Cohen made hush money payments to Stormy Daniels and Karen McDougal, who both said they had affairs with the president while he was married and, in his recent guilty plea, Cohen admitted he lied about Trump's business dealings with Russia and their progression well into the campaign, per the AP.
Cohen told Stephanopoulos, "I am done with the lying. I am done being loyal to President Trump," further burning the decade-long bridge he had built with the president. Asked about the hush money payments and resulting campaign finance violations, Cohen revealed that Trump verbalized concern about how his affairs "would affect the election" before directing Cohen to proceed with the cover-up. Cohen assured Stephanopoulos that Trump was aware his actions were "wrong" and gave the order anyway. The president would be guilty of the same crime, if true.
Earlier this week in an interview with Fox, Trump said he never gave the order and never had the affairs, and that he "never directed [Cohen] to do anything wrong," per CNN. Cohen totally disputed the president when asked about the comment. He was vehement, though the revelation doesn't come as much of a surprise given Trump's demeanor. Cohen said "nothing at the Trump organization was ever done unless it was run through Mr. Trump. He directed me to make the payments, he directed me to become involved in these matters."
Given Cohen's recent flip, Trump and his cronies have begun gaslighting him because, what else does the man do when backed into a corner? Lately, Trump has called Cohen a liar, weak, and alleged that he only came up with the story to lessen his sentencing. Cohen is confident the truth will prevail. He told Stephanopoulos the facts are out there and that the "people of the United States of America, people of the world, don't believe what he [Trump] is saying. The man doesn't tell the truth. And it is sad that I should take responsibility for his dirty deeds."
Cohen has cooperated thoroughly with special counsel Robert Mueller in the Russia investigation and has lessened his sentence to three years, in spite of campaign finance violations and lying to Congress. His confidence that Americans will come to see the reality of what happened during the 2016 campaign largely comes from that work with Mueller, who's said the former Trump lawyer's testimony was both "credible" and "helpful." Mueller and his investigation are an ever-looming threat to Trump as he nets more and more evidence by the day, an incoming Democratic house is ready to go on the offensive, and the incoming attorney general of New York is prepared to launch a probe into every possible crime related to Trump's 2016 campaign.
Cohen said Trump isn't used to being powerless llike that. "It's not like the Trump Organization where he would bark out orders, and people would blindly follow what he wanted done. There's a system here—he doesn't understand the system," he said. The world is closing in around Trump and he's prepared to go out whining.