Trump Calls the Mueller Probe "Treason," Discusses Pardons in Rambling First Interview Since Investigation Ended
Photo by Pool/Getty
Politics
News
Mueller Report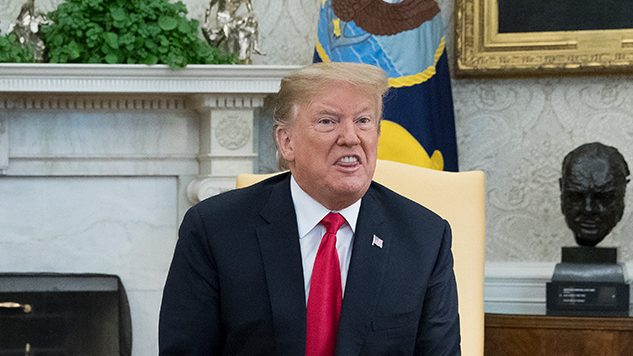 On Wednesday, Donald Trump gave his first one-on-one interview since the Mueller investigation concluded. He spoke over the phone with Sean Hannity for about 45 minutes, denouncing the Mueller probe, calling out "fake news" from CNN and MSNBC, complimenting Attorney General William Barr and heralding his own supposed triumphs. To spare you the grief of watching it, we've picked out some lowlights.
Trump blamed "dirty cops" for the investigation starting in the first place. He called the Mueller probe "a disgrace and an embarrassment to our country"; "an insurance policy" cooked up by the Democrats in case Hillary Clinton lost; an "attempted takeover of our government" by Dems; and, most frighteningly, "treason," saying that those who would dare to investigate a president in such a manner in the future would likely spend the rest of their lives behind bars. Trump said of the investigation, "You're only allowed to do this legally if there's a crime." Never mind the fact that the whole point of an investigation is to see if and how a crime was committed.
The Fox News host rolled a clip of CNN presenters speculating about the outcome of the Mueller probe and predicting it would show coordination between Russia and the Trump presidential campaign, asking Trump how he felt about the montage. As expected, there were cries of "fake news," criticism of both MSNBC and CNN, and glowing words for Fox's "credibility."
The president also heaped praise on Barr, calling him a "great gentleman" and "so incredible." Trump claimed that "[h]ad he been there initially, this all would not have happened."
Hannity, nose as brown as ever, asked Trump if he'd consider pardoning Michael Flynn and George Papadopoulos in the wake of the Mueller report. The president replied, "Many, many people were hurt, incredibly hurt by this whole scam."
He did not rule out pardons, deflecting and saying, "I don't want to talk about pardons now, but I can say it's so sad on so many levels."
Trump claimed that the Mueller report shows "there was no collusion, there was no obstruction." The question of obstruction of justice charges has still been left for Congress to deal with. By no means has Trump been cleared of obstruction. Considering his alleged non-cooperation with the House Committee on Oversight and Reform, it's worth waiting to see how this plays out.
The president also decried House Intelligence Committee Chairman Adam Schiff (D-Calif.), who just recently defended himself against the GOP's criticism of his stance that the Trump campaign coordinated with Russia during the 2016 election. Trump said, "He should be forced out of office. He is a disgrace to our country."
Here are a few throwaway lines on topics unrelated to the investigation:
—On healthcare: "We're going to become the party of healthcare, the party of really good healthcare." And later, "We're going to do great. We're going to have great healthcare."
—On the Mexican-American border wall: "We repaired, I mean, literally, many, many miles. I could give you numbers, but many, many miles."
—On the Green New Deal (or "New Green Deal" to Trump and Hannity, apparently): "It's ridiculous, alright. It's crazy. It'll cost 100 trillion dollars … more money than you have in the world!"
—On the state of our union: "We are stronger now as a country than we've ever been."
In the words of Community's Annie Edison, "I want to rub Purell on my brain."