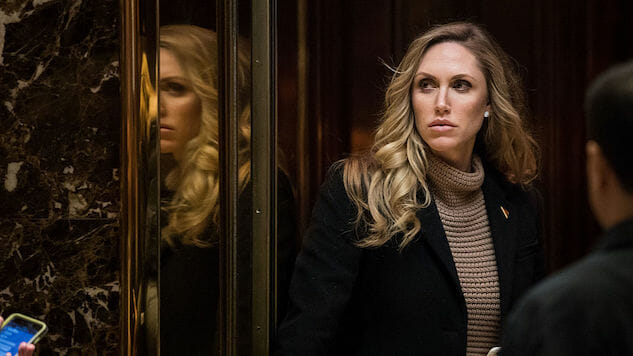 On Thursday, Omarosa Manigault-Newman released a tape of President Trump's daughter-in-law Lara Trump offering her a $15,000 per month job on President Trump's re-election campaign after she was fired from the White House. Lara Trump said the money to pay Omarosa would come "directly from donors, small-dollar donors for the most part." In Manigault-Newman's new tell-all book Unhinged, she claims this job was offered to her in exchange for her silence.
It is important to note that the publicly released tape was four clips hand-selected by Manigault-Newman and cut from the original full conversation. Manigault-Newman played the entire tape for the producers of NBC and this is what they decided to air. The recording reportedly took place just days after Manigault-Newman was fired on Dec. 16. In the tape, Lara Trump, who is an advisor for President Trump's campaign, mentions a New York Times article that came out about Manigault-Newman. She says, "They wrote about you. It sounds a little like, obviously, that there are some things you've got in the back pocket to pull out." We now know that Manigault-Newman did have something in her back pocket.
Lara Trump goes on to allude to Manigault-Newman staying quiet if she takes the job. She says, "Clearly, if you come onboard the campaign, like, we can't have … Everything, everybody positive, right?" The audio then goes on to confirm Manigault-Newman's claims in Unhinged that she was offered $15,000 a month, roughly the same paycheck that numerous other former Trump aides have been paid after departing the White House. In the tape, Lara Trump says, "But we were talking about, like, 15K a month. Um, let me see what that adds up to. Times 12. Yeah. So that's $180,000. Does that sound like, uh, a fair deal for you?"
In an interview with NBC concerning the new tape, Manigault-Newman claims her main goal releasing the recent tapes was to "undergird everything that's in this book, everything you see in quotations can be verified, has been corroborated and is documented."
Later on Thursday, Lara Trump released a statement calling the tape a "fraud" because the negotiations over the position were stretched over multiple weeks. She went on to say, "Woman to woman, I shared a connection with Omarosa as a friend and a campaign sister, and I am absolutely shocked and saddened by her betrayal and violation on a deeply personal level. I hope it's all worth it for you, Omarosa, because some things you just can't put a price on."
Following the release of the newest tape, President Trump took his latest jab against Manigualt-Newman on Twitter.
Thank you for the kind words Omarosa! https://t.co/PMmNG6iIsi

— Donald J. Trump (@realDonaldTrump) August 16, 2018