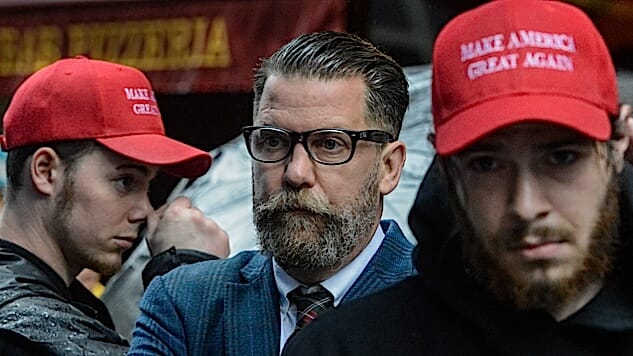 This from the Guardian:
The FBI now classifies the far-right Proud Boys as an "extremist group with ties to white nationalism", according to a document produced by Washington state law enforcement.
The FBI's 2018 designation of the self-confessed "western chauvinist group" as extremist has not been previously made public.
The Proud Boys are a nationalist group founded by Gavin McInnes—himself previously the co-founder of Vice Media—and have earned recent notoriety for conflicts in New York City and Portland, OR.
More from the Washington law enforcement document:
"The FBI has warned local law enforcement agencies that the Proud Boys are actively recruiting in the Pacific north-west", and: "Proud Boys members have contributed to the recent escalation of violence at political rallies held on college campuses, and in cities like Charlottesville, Virginia, Portland, Oregon, and Seattle, Washington."
As The Intercept has written, one of the great challenges in combating groups like the Proud Boys is the prevalence of white supremacy ideology in American law enforcement, and this report came as a result of a Clark count sheriff's department deputy, Erin Willey, who wore a Proud Boys sweatshirt in a photo (and apparently sold the merchandise as well) and was subsequently fired.
The author of the report told the Guardian that he heard the FBI classification in a briefing from the bureau in August, and that the FBI has been warning police forces across the country about the Proud Boys for some time. Willey is not the first Proud Boys member discovered in an American police force—a similar incident happened in Louisiana.