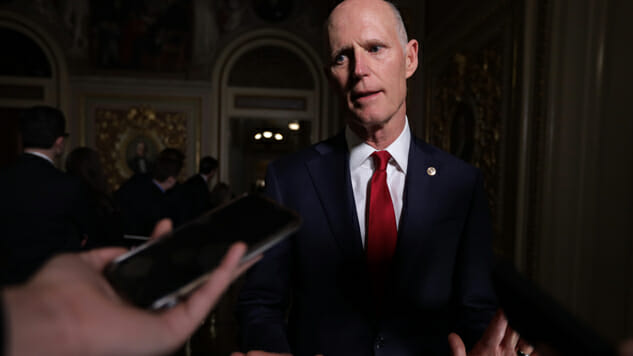 Floridian Republican Senator Rick Scott posted a rather slimy video to his Twitter account on Tuesday. In the video, he opens with, "As you may have heard, I've been taken hostage, along with 99 other people," referring to the ongoing Senatorial Impeachment Trial. "We are being subjected to the cruel and unusual punishment of listening to the rantings of [Democratic Representative] Adam Schiff, a person from a parallel universe."
Scott's video points to a flippancy adopted by the conservatives, a strategy used to undermine concerns and attempts by the left to take action. It also is a smoke-and-mirrors attempt to make the Democrat senators look irrational—Scott's stance is one of drama, but he uses a dismissive tone to relegate the trial as "political theater." He continues, "Oh, and one more thing. You, the tax-payers, you're funding this entire production." It's parasitic, attempting to prey on gullible Americans to turn them against the impeachment. Just a few days ago, Fox News published a poll indicating 50% of Americans want Trump removed from office. This is damage control.
I've been held hostage with 99 other people in the U.S. Capitol. Why? Because the Democrats hate @realDonaldTrump and are trying to cover up @JoeBiden's corruption.

Watch the full story pic.twitter.com/MdFvHl5lb5

— Rick Scott (@ScottforFlorida) January 28, 2020
Of course, Scott got roasted almost immediately. Perhaps the most scathing tweet is from Fred Guttenberg, an activist against gun violence whose daughter was murdered in the 2018 Parkland, Fla., school shooting.
You are one miserable SOB @SenRickScott. Held hostage? No, held hostage is what happened to my daughter when she could not escape the killer in her school. You remember that, don't you? You are not held hostage. You are doing your job. If you do not like your job, resign. https://t.co/KhqAH4htB6

— Fred Guttenberg (@fred_guttenberg) January 29, 2020
In fact, most of the tweets center on the sheer amount of mass shootings (including the Pulse Nightclub shooting and the Stoneman Douglas High School shooting) that have occurred in Florida during Scott's time as senator, pointing to his failings in preventing further shootings from occurring. Scott has been notably lukewarm about discussing gun control.
Rick Scott was Governer of Florida when Pulse Nightclub became a three hour hostage situation and one of the deadliest mass shootings in history. Surely he wouldn't claim he was being held hostage in U.S. Capitol to score political points right? What a scumbag. @ScottforFloridahttps://t.co/mE8fJVUVb5

— NoelCaslerComedy (@CaslerNoel) January 29, 2020
You're being paid by us to sit there & do your job which is to honor the constitution and your oath of office. So stop whining like a spoiled entitled brat and drink your damn milk.

— Nancy Lee Grahn (@NancyLeeGrahn) January 29, 2020
for values of "held hostage" = "doing a job I actively sought, actually spent a lot of money and time to be able to do, part of which is the constitutionally-mandated oversight of the executive branch" https://t.co/xy1DaKpJjP

— Laura Lorson (@prairielaura) January 29, 2020