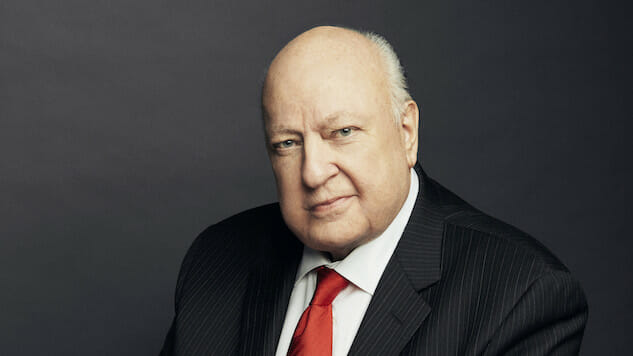 Almost immediately following the announcement that Soundgarden lead singer Chris Cornell had died Wednesday night, Fox News is now reporting the death of Roger Ailes. The controversial former CEO was ousted last year after a sexual harassment scandal. Ailes was 77.
Ailes' death was announced in a statement by his wife that was first obtained by Drudge Report and quickly reported on by Fox News.
Breaking News: Former Fox News chairman and CEO Roger Ailes has died, his family announced. pic.twitter.com/AksPdNSZaI

— Fox News (@FoxNews) May 18, 2017
Elizabeth Ailes' statement reads:
I am profoundly sad and heartbroken to report that my husband, Roger Ailes, passed away this morning. Roger was a loving husband to me, to his son Zachary, and a loyal friend to many. He was also a patriot, profoundly grateful to live in a country that gave him so much opportunity to work hard, to rise—and to give back. During a career that stretched over more than five decades, his work in entertainment, in politics, and in news affected the lives of many millions. And so even as we mourn his death, we celebrate his life …
Ailes stepped down on July 21 last year amidst a sexual harassment lawsuit filed by former Fox anchor Gretchen Carlson. The lawsuit—and Ailes' subsequent stepping down—triggered several other women to step forward. The following in-house investigation by Fox News has already claimed Bill O' Reilly's job and prompted a forced vacation for Jesse Waters. Ailes denied any wrong-doing, but leapt at the chance to retire early with a multi-million dollar severance package.
Rupert Murdoch hired Ailes back in 1996 with the intention to start a conservative cable news outlet. The resulting Fox News eventually became the highest-rated television news network in America, eventually unseating CNN with a staggering 90-million household reach.
Unfortunately, much of Ailes' accomplishments have been tarnished by scandal which—according to a recent 21st Century Fox quarterly—have cost the network almost $45 million in sexual harassment settlements just for dealing with Ailes.
Constant sexual harassment allegations—and perceived mishandling of Trump news coverage—have recently caused Fox News's ratings to slide into third place amongst news networks behind CNN and MSNBC.