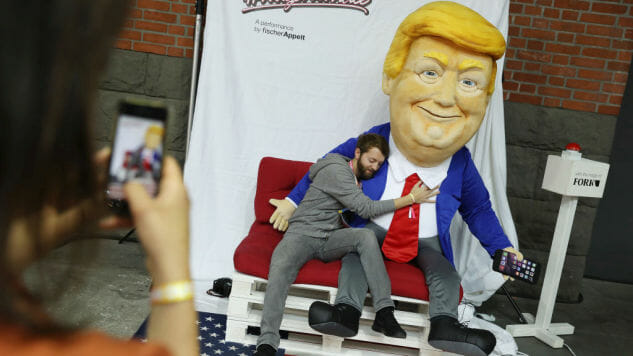 Rose McGowan got temporarily suspended from Twitter. Since the Weinstein news broke, McGowan has been a constant presence on the site, calling out powerful men for sexual harassment. The Times noted that
The actress Rose McGowan said in an Instagram post overnight that her Twitter account had been temporarily locked following a series of posts about Harvey Weinstein's misconduct, including toward her. "TWITTER HAS SUSPENDED ME. THERE ARE POWERFUL FORCES AT WORK. BE MY VOICE," Ms. McGowan wrote on her Instagram page, shortly after midnight Eastern time on Thursday. She included a snapshot of a message from Twitter saying she would only be able to send direct messages from her account unless she deleted tweets that violated Twitter rules. The screenshot announced a temporary freeze that prevented her from tweeting, retweeting or liking for 12 hours. Unlike a full suspension, this measure leaves her account visible.
Twitter responded:
The Tweet was removed and her account has been unlocked. We will be clearer about these policies and decisions in the future. 2/3

— Twitter Safety (@TwitterSafety) October 12, 2017
Twitter is proud to empower and support the voices on our platform, especially those that speak truth to power. We stand with the brave women and men who use Twitter to share their stories, and will work hard every day to improve our processes to protect those voices. 3/3

— Twitter Safety (@TwitterSafety) October 12, 2017
As other commenters pointed out, this was, not to put too fine a point on it, bullshit. Trump threatened to bomb another country on Twitter, and that was just fine.
You attempted to silence a woman for speaking out against sexual assault while Nazis and white supremacists roam free without consequence.

— Jordan (@jordansdiamonds) October 12, 2017

In a larger sense, McGowan's temporary ban makes sense. This is a mirror universe where good is bad, and night is day. We live in the Upside Down. The righteous are punished, and the wicked will never face justice. Twitter is the Kingdom of Trump. Someone fighting against sexual predation, like McGowan, gets temporarily removed from the service. An actual sexual predator, like the President of the United States, is safe from all harm. This is how Jack Dorsey's company works.
The McGowan ban dovetails perfectly with the news that DeAndre Harris, the young African-American man who got beaten up in Charlottesville, was just charged by the state of Virginia. This is the timeline we're all trapped in. According to Yahoo News:
McGowan on Tuesday accused Ben Affleck of lying about being unaware about Weinstein's sexual harassment, and the actress posted a tweet telling him to "f— off." McGowan also posted several tweets encouraging her followers to sign a petition to dissolve the board of the Weinstein Company, which she alleges had knowledge of Weinstein's behavior.
Twitter has become a Very Important Service for our world, old chums. It's invaluable for news, for business—for practically anyone whose business depends on up-to-the-minute awareness.
Most of us who use the service, however, resent it. It's an empire of swine. To quote Mashable, ""Twitter's rules about what does and does not constitute an inappropriate tweet are opaque, subjective, and often unevenly applied." That's putting it lightly. As Buzzfeed's Charlie Warzel wrote in 2016, Twitter is "A Honeypot for Assholes."
"Twitter has not just tolerated abuse and hate speech, it's virtually been optimized to accommodate it," Warzel wrote. Like Eminem, they could stop the slurs at any time they wanted, but they won't. Twitter in Germany is required by law to search out hate speech. We know they have the technology. What they lack is the will. Warzel noted that:
… harassment on Twitter is rampant — so much so that it has become a primary destination for trolls and hate groups. … Today, Twitter is a well-known hunting ground for women and people of color, who are targeted by neo-Nazis, racists, misogynists, and trolls, often just for showing up. Just this summer, actor Leslie Jones was driven off Twitter after a barrage of racist comments and death threats, only to return after a personal reassurance from Dorsey himself. Last week, Normani Kordei of the pop group Fifth Harmony also stepped away from the service after suffering years of "horrific and racially charged" tweets. Despite its integral role in popular culture and in social justice initiatives from the Arab Spring to Black Lives Matter, Twitter is as infamous today for being as toxic as it is famous for being revolutionary. And unless you're a celebrity — or, as it turns out, the president of the United States of America — good luck getting help.
Twitter will never drop the double standard. They live on levels of hypocrisy that would make Mitch McConnell blush. As the number-one enabler of President Trump and friend to Nazis everywhere, the Executive Suite has a lot to answer for. You have to wonder: is this what Dorsey wanted, when he was a kid? To help make a man like Donald Trump President?
This is all speculation, but I wonder: does Anthony Noto, the chief financial officer, wake up every morning and say to his reflection, "Another day of enabling the crooked cross!" I have no way of knowing what's going on in their heads. But does General Counsel Vijaya Gadde, (head of Twitter police) rub her hands together at the prospect of banning harmless folks and protecting the racists? Keith Coleman handles Twitter's core. How strange it must be, to know your program might be used to start World War III with Korea. I'm curious: Does that matter at all to him?
The price of a soul is apparently $17.84 in overnight trading. Classy guys.

— sarah kunst (@sarahkunst) October 4, 2017
Kayvon Beykpour used to be CEO of Periscope. Does he ever think about online harassment? Twitter is practically Donald Trump's body man. Does that bother him? Does it bother Leslie Berland, the guardian of Twitter's public rep? When they're talking over lunch, do they dream up innovative ways to protect the Milos of the world? Ed Ho and Matt Derella—did their colleges have a course on promoting Baked Alaska? Omid Kordestani is chairman. Worth about $1.9 billion. Realistically speaking, how much more money does protecting Trump get Twitter?
Here's co-founder Biz Stone's rebuttal:
Y'all pile on us. You really think the issue doesn't weigh on us? And you're so dismissive of the Trust and Safety team. We're all people.

— Biz Stone (@biz) October 1, 2017
I doubt they care. You know why? Because none of them will act. Biz, it's entirely possible that stones have feelings, too. But I have no way of knowing that, because they can't demonstrate it.
People wonder why it's so hard for women to come forward with their stories and then #RoseMcGowan gets suspended from @Twitter#ROSEARMY

— Julia Elizabeth (@julaelizabeth) October 12, 2017
Harassment is a profitable business for Twitter dot com. Noto himself said to Business Insider:
"The president's use of Twitter has broadened the awareness of how the platform can be used," Twitter CFO Anthony Noto said during the company's fourth-quarter earnings call with investors. "It shows the power of Twitter."
And it shows the ethics of Twitter.
It's easier to imagine a Trump impeachment than Twitter ever giving a damn. But it makes you wonder about the people behind the blue checkmark. What was the benefit of all that learning and skill, if you're powerless to make any difference? All those manifestos and retreats, and this is what you've created: a system to help Trump and his friends, and to threaten Rose McGowan. Well done, thou good and faithful servant! It's totally cool that the Twitter brain trust is making a less just, less fair world online. Keep up the good work. RT if you agree.