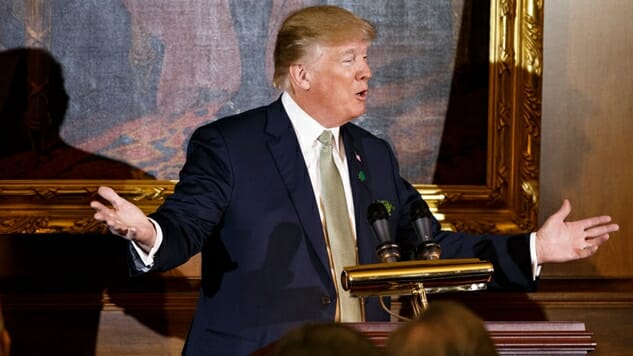 Shortly after Robert Mueller was appointed, Trump told the New York Times that the special counsel digging into his finances would cross a red line saying "I think that's a violation. Look, this is about Russia." Well, this is still about Russia, but it's also involving the Trump Organization now. Per the New York Times:
The special counsel, Robert S. Mueller III, has subpoenaed the Trump Organization to turn over documents, including some related to Russia, according to two people briefed on the matter. The order is the first known time that the special counsel demanded documents directly related to President Trump 's businesses, bringing the investigation closer to the president.
The breadth of the subpoena was not clear, nor was it clear why Mr. Mueller issued it instead of simply asking for the documents from the company, an umbrella organization that oversees Mr. Trump's business ventures. In the subpoena, delivered in recent weeks, Mr. Mueller ordered the Trump Organization to hand over all documents related to Russia and other topics he is investigating, the people said.
Given how little is known about this subpoena(s?), and the lack of clarity in this investigation, it would be irresponsible to speculate on yet another opaque development in this ever-escalating saga. The only thing that we can be certain of is that the special counsel is nowhere near done digging into what happened in the 2016 election, and according to two people briefed on the matter (meaning that defense attorneys being presented with the case are likely the source on this story, and most Trump-Russia stories we do hear of), Robert Mueller is now legally compelling the umbrella organization used to oversee all of Trump's wealth to reveal what it knows about the shenanigans surrounding Russia and the Trump camp in 2016.
Jacob Weindling is a staff writer for Paste politics. Follow him on Twitter at @Jakeweindling.