EPA Head Scott Pruitt Tried to Buy a Used Mattress from a Trump Hotel
Photo by Alex Edelman/Getty
Politics
News
Scott Pruitt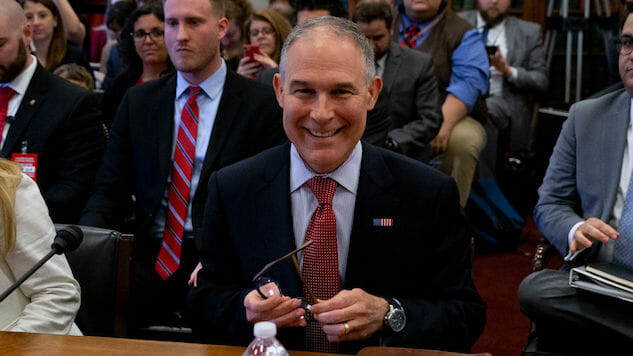 Scott Pruitt assigned one of his senior Environmental Protection Agency aides to perform personal and frankly weird tasks for him, including purchasing a used mattress from the Trump International Hotel. The House Oversight Committee is now looking into Pruitt's spending and management decisions as the head of the EPA.
Millan Hupp is Pruitt's senior EPA aide in charge of his scheduling. She was interviewed by the Oversight Committee on Monday, revealing all of the strange tasks Pruitt assigned her such as apartment hunting, arranging his family's California Rose Bowl vacation and of course, calling a Trump hotel to inquire about purchasing a used mattress.
When asked about the mattress in the interview, Hupp stated:
As I remember, the administrator had spoken with someone at the Trump Hotel who had indicated that there could be a mattress that he could purchase, an old mattress that he could purchase. But that's the extent of the conversation that I can—that I can remember.
However, she couldn't remember if the purchase was completed for Pruitt to actually receive the mattress. While Trump-branded mattresses and bedding are for sale, they do not sell used ones to government official cheapskates. All of this mattress and apartment shopping had to be completed on Hupp's lunch breaks, of course. Pruitt wouldn't want to sacrifice prime work hours when he has been known to "misuse the public office for personal gain."
Maybe Pruitt simply wanted a cheap mattress with Trump's name on it, which is still extremely odd, but House Democrats aren't letting this gross personal request slide. After multiple personal tasks were detailed by Hupp, the Democrats are now calling for the committee to use a subpoena and look into Hupp's communications.