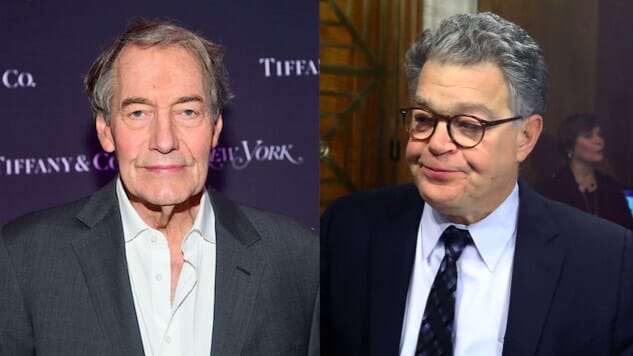 Never before has there been such a high volume of famous men accused of sexual misconduct in such a short stretch of time. Think about that: not once in human history have we seen this many men make headlines for egregious sexual behavior in the workplace. Sure, there have been scandals before, but the current wave of allegations is unprecedented. And when you deal with something so widespread, reactions tend to run the gamut from intelligent and compassionate to ill-considered and unhelpful.
Al Franken and Charlie Rose are two of the most recent figures hit with allegations of past misconduct. Leeann Tweeden and Lindsay Menz both came forward with details of non-consensual groping at the hands of Franken. Eight women came forward with stories of sexual harassment at the hands of Rose. Both of these men were beloved figures, known as much for their liberal politics as their genial, humorous natures—Franken was a celebrated comedian and Saturday Night Live writer before he became a popular senator, and Rose was an award-winning journalist with a legacy of intellectually high-minded programming.
And yet the responses from the friends of these two men have been completely different.
Al Franken was accused first. Radio host and former Playboy model Leeann Tweeden produced a photo that clearly shows Franken groping her while she slept, and though responses in the media were varied, many centered on calls for his immediate resignation. Now, the women who worked with Franken at NBC on SNL have put out a letter of support—not for Franken's victims, but for Franken himself.
Thirty-six women signed the letter, which stated that Franken was a "dedicated family man" and an "honorable public servant." They emphasize the importance of his apology, then move on to what is clearly meant as the centerpiece of the message:
That is why we are moved to quickly and directly affirm that after years of working with him, we would like to acknowledge that not one of us ever experienced any inappropriate behavior; and mention our sincere appreciation that he treated each of us with the utmost respect and regard.
Yup, that's the meat of the letter. It essentially boils down to these women saying, "well, he never harassed us." The statement is certainly well-intentioned, as the women likely see it as supporting their friend during a trying time. But this kind of sentiment is completely unhelpful to the eventual goal of changing the way our culture views allegations of sexual harassment—it's a sentiment that implicitly erases the harasser's victims from the conversation.
And the women of SNL are far from alone in their reaction. Just in the past week, we've seen Lena Dunham and Kellyanne Conway leap to the defense of accused predators Murray Miller and Roy Moore, respectively. Both of these women are merely adding to lists of PR missteps dating back years, but the women of NBC who rallied to Franken's defense are no different than. Just like Dunham, and just like Conway, they made the decision to defend the alleged perpetrator of these crimes, rather than stand with the victims.
There is, of course, a second way to react.
Yesterday, The Washington Post released a report with the accounts of eight different women, all claiming that award-winning journalist and television host Charlie Rose had sexually harassed them. The very next morning, Rose's co-hosts Gayle King and Norah O'Donnell had to go on air and discuss the accusations while Rose's seat remained empty beside them. Here's how that played out:
Rose had worked with King and O'Donnell for more than five years. He had been part of the CBS team for much longer. King and O'Donnell, like most of CBS, had nothing but positive memories with Rose. Yet that didn't stop them from expressing a clear message of support to the victims. Said King: "This is not the man I know, but I'm also clearly on the side of the women who have been very hurt and very damaged by this."
This response stands in clear opposition to the 36 women expressing support for Franken. It acknowledges that just because someone is your friend, it doesn't mean they aren't a victimizer, too. Finding out your friend is a sexual harasser is no easy thing to reconcile, but it can't be done by drowning out their victims and focusing on your own comparatively positive experience.
This wave of allegations against powerful, famous men is likely going to get worse before it gets better. And as respected, beloved figures continue to fall from grace, there is one thing we all need to remember: we are not so perfect in our judgment as to never admire someone who has done horrible, reprehensible things. And just because we admired them, it doesn't mean we shouldn't reprimand them for their deeds.
There are two ways to react when your friend is accused of sexual harassment: you can stand with the harasser, or you can stand with the victims. You can focus on your own, positive experience with the harasser, or you can focus on bringing an end to the culture that allows and encourages their reprehensible behavior. It may not be an easy choice, but it may be one you'll have to make soon.
---
Eric McAdams is an editorial intern for
Paste
and a podcaster in his spare time. You can see his bad tweets @EdaciouslyYours and you can hear his podcasts on the Major Casts Network.