Sheldon Adelson Cuts $30 Million Check to House Republicans, Received $670 Million in Tax Breaks from GOP Bill
Photo by Ethan Miller/Getty
Politics
Features
Sheldon Adelson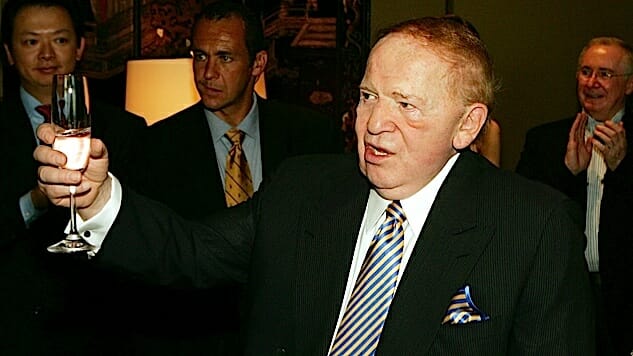 Boy, money in politics sure is bad. Our latest example comes from Sheldon Adelson, extremely rich human, virulent pro-Israel activist, and CEO of the Las Vegas Sands Corporation (read: casino mogul). At last check, Forbes had him as the 19th-richest man in the world.
Because he loves tax breaks and Israel, Adelson is a natural fit for the Republican party, and he spends and spends and spends. Like many true believers, he's also terrified of a Democratic takeover in the midterm elections. Because of that, he just cut a $30 million check to Paul Ryan and the House GOP in a last-ditch attempt to stem the momentum of the blue wave. Ryan even paid him an in-person visit to kiss the ring and beg his case:
The long-sought donation was sealed last week when, according to two senior Republicans, House Speaker Paul Ryan flew to Las Vegas to meet with the billionaire at his Venetian Hotel. Also at the meeting with Adelson was his wife, Miriam; Norm Coleman, the former Minnesota senator who chairs the Republican Jewish Coalition; Corry Bliss, who oversees the super PAC; and Jake Kastan, Ryan's No. 2 political aide. They laid out a case to Adelson about how crucial it is to protect the House.
But check this part—Ryan isn't actually allowed to directly solicit seven-figure donations, so he couldn't directly ask Adelson for the money. As the New York Times' Shane Goldmacher noted, this is patently absurd:
So Paul Ryan flew across the country to secure a $30 million check from Sheldon Adelson but then stepped out of the room for a couple minutes to avoid technically soliciting the money? Via @JakeSherman@politicoalexhttps://t.co/32ts2H87qtpic.twitter.com/2O43vxV9sL

— Shane Goldmacher (@ShaneGoldmacher) May 10, 2018
Good thing we have rules, right? I would hate for a system that allowed for direct solicitation between our most corrupt political figure and a casino boss without the former having to step into a hallway for a second.
Of course, Adelson has quite the financial incentive to bankroll the GOP. Bloomberg's Steve Dennis even put a number on the incentive, all of which came Adelson's way as a result of the GOP tax bill:
Sheldon Adelson's company recorded a $670 million income tax windfall from the GOP tax law in the first quarter. https://t.co/kuUWPx7YVf

— Steven Dennis (@StevenTDennis) May 10, 2018
That's $670 million in THE FIRST QUARTER. He's going to be netting two billion from these crooks in one year at this pace. I mean, if anything the GOP is getting the short end of this stick. Shouldn't they be charging him more?
Given the stakes, I'm always surprised we don't see more money in politics, not less. A billion or two a year when stakes are hundreds of billions a year.

— Steven Dennis (@StevenTDennis) May 10, 2018
People are mad, including Bernie Sanders…
Democracy means one person, one vote. It does not mean billionaires like Sheldon Adelson buying elections. Our job:

-Overturn Citizens United
-Move toward public funding of elections
-End voter suppressionhttps://t.co/dg9j3PjHC1

— Bernie Sanders (@SenSanders) May 10, 2018
…but as of now, this is a reality in American political life. Money is king, and at least to the GOP, nothing else matters. And just for an extra bit of trivia, Adelson's donation is a drop in the bucket compared to what the Koch brothers are going to spend.