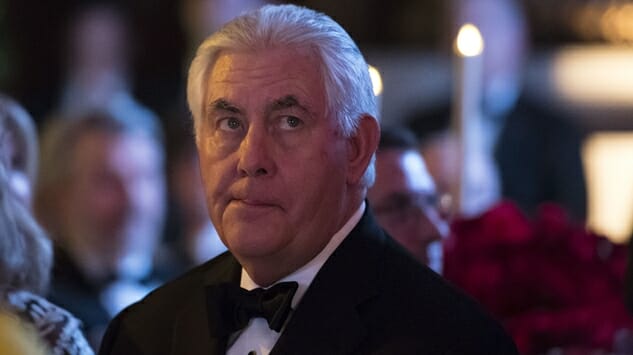 Holy crap.
Josh Rogin at The Washington Post just broke this unprecedented story. Per WaPo:
"It's the single biggest simultaneous departure of institutional memory that anyone can remember, and that's incredibly difficult to replicate," said David Wade, who served as State Department chief of staff under Secretary of State John Kerry. "Department expertise in security, management, administrative and consular positions in particular are very difficult to replicate and particularly difficult to find in the private sector."
Several senior foreign service officers in the State Department's regional bureaus have also left their posts or resigned since the election. But the emptying of leadership in the management bureaus is more disruptive because those offices need to be led by people who know the department and have experience running its complicated bureaucracies. There's no easy way to replace that via the private sector, said Wade.
"Diplomatic security, consular affairs, there's just not a corollary that exists outside the department, and you at least can afford a learning curve in these areas where issues can quickly become matters of life and death," he said. "The muscle memory is critical. These retirements are a big loss. They leave a void. These are very difficult people to replace."
This is massive, and it is a perfect example of the folly of the moronic trope that America should be run like a business. Dollars may run the economy, but knowledge is the true global currency—especially in the realm of government. We can always print more money and finagle with interest rates to manipulate our wallets, but the facts of the matter are much more difficult to hack, and we just lost some of our best people. No matter how you slice this, it is a terrible horrible, no good, very bad day in the State Department. We have lost a vat of knowledge which can only be refilled by the sands of time.
The breaking point in this saga seemed to come yesterday when Patrick Kennedy, the undersecretary for management for the last nine years, walked out the door as Tillerson was searching for his replacement, per The Washington Post:
Then suddenly on Wednesday afternoon, Kennedy and three of his top officials resigned unexpectedly, four State Department officials confirmed. Assistant Secretary of State for Administration Joyce Anne Barr, Assistant Secretary of State for Consular Affairs Michele Bond and Ambassador Gentry O. Smith, director of the Office of Foreign Missions, followed him out the door. All are career foreign service officers who have served under both Republican and Democratic administrations.
In addition, Assistant Secretary of State for Diplomatic Security Gregory Starr retired Jan. 20, and the director of the Bureau of Overseas Building Operations, Lydia Muniz, departed the same day. That amounts to a near-complete housecleaning of all the senior officials that deal with managing the State Department, its overseas posts and its people.
This is clearly a clash of visions for the State Department. There is always some turnover when a new administration comes in, but the senior teams almost always stay on through the transition, simply because they possess a commodity that isn't easily replicable: understanding of the most complex international order in the history of mankind. This isn't part of #draintheswamp, that issue is more endemic to Congress. Basically, a bunch of these guys and girls just walked out of the most powerful institution created to navigate the laser tripwire system of the globe.
Given Donald Trump's public statements, it seems like he's fine with this arrangement, as his idea of nuance would be to drive a garbage truck filled with explosives through that hallway (on lease from the Russian mob). We need to be more selective with our freakouts over the actions of this administration, given that batshit crazy has been the only thing on the Trump Grill menu for well over a year, but this is worth worrying about.
Sadly, there are some good things about an oil executive being Secretary of State—as companies like Exxon are de facto nation-states due to the amount of land they control combined with their need for beefed up security. So there is a decent chance that Tillerson has a few aces up his sleeve/on his payroll who could step in and provide the unique skill set needed to navigate this complex maze, but there's no way to sugarcoat it: this mass exodus is incredibly unnerving.
Jacob Weindling is Paste's business and media editor, as well as a staff writer for politics. Follow him on Twitter at @Jakeweindling.
UPDATE: "Officials" tell CNN that these employees were fired:
Breaking: Four top @StateDept Mgmt officials all fired by Trump admin, part of effort to "clean house" – officials tell @eliselabottcnn

— Jim Sciutto (@jimsciutto) January 26, 2017
Welcome to the minefield of journalism in the age of Trump. The word "official" is supposed to connote seniority and legitimacy, but now that all these "officials" work for Trump, that is cast into doubt (if it wasn't already before). It could be that these people were fired, but then my question for President Trump is why didn't he say this when Kennedy walked out the door yesterday? They were clearly trying to replace him. It's hard to not see this unfolding like this scene from Waiting: