Top Tillerson Aide Fired For Voicing Contradictions in White House's Account of Tillerson's Dismissal
Photo by Chris Kleponis-Pool/Getty
Politics
News
State Department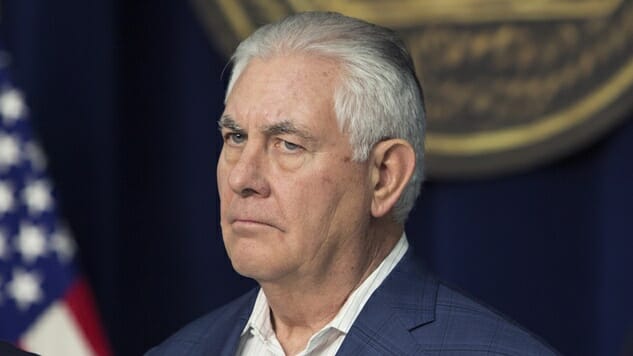 One of Secretary of State Rex Tillerson's top aides has been fired mere hours after Tillerson himself was dismissed by President Trump. According to the Associated Press, two U.S. officials have confirmed Trump's termination of Under Secretary of State for Public Diplomacy and Public Affairs Steve Goldstein (mouthful). The move was made after Goldstein released a statement in his own name contradicting the White House's account of details pertaining to Tillerson's firing Tuesday morning.
Goldstein's statement said that Tillerson was "unaware of the reason" for his firing and that he learned of his dismissal on Tuesday morning through Trump's tweet announcing the decision and naming CIA Director Mike Pompeo as his nominee to replace Tillerson at the State Department. The president, who made the decision to remove Tillerson "by myself", said that he and Tillerson had been "talking about this for a long time." However, Goldstein's statement refuted that claim, stating that "the Secretary had every intention of staying, because of critical progress made in national security."
Tilllerson and Trump had been at odds over their opinions on the Iran nuclear deal and the handling of diplomatic relations with North Korea, with Trump saying the two "felt a little bit differently, so we were not really thinking the same." Secretary-designate Pompeo, who has been criticized in the past for statements about Islamic leadership and has no diplomatic experience, was chosen by Trump because the two have a "very, very similar thought process."
According to NBC News, Tillerson said late Monday night that the recent poisoning of an ex-Russian spy and his daughter in the U.K. appeared to have "clearly" come from Russia, though whether it was done with the knowledge of the Russian government was not yet known. Within hours of linking Russia to the attack, Tillerson was ousted by President Trump. The White House stated that Tillerson had been informed of the president's decision last Friday, but Goldstein's dispute of that claim and the close proximity to Tillerson's firing to his Russia remarks fuel speculation that his comments on Monday contributed to his termination.
State Department spokesperson Heather Nauert is expected to replace Goldstein on an interim basis. Goldstein's swift firing after refuting the Trump administration's rhetoric further reinforces the erratic nature of the White House under Trump's tenure and stands as a cause for concern moving forward.