Supreme Court Blocks Order Designed to End Gerrymandering in North Carolina
Photo by Olivier Douliery/Getty Images
Politics
News
Supreme Court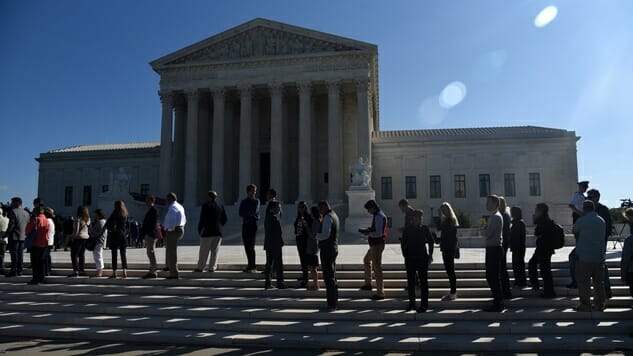 The controversial North Carolina congressional map that was struck down by federal judges last week was given extended life on Thursday thanks to the U.S. Supreme Court. In an expected move, the Supreme Court temporarily blocked the court order requiring North Carolina lawmakers to revise the state's congressional voting map. The decision likely means that the map heavily favoring Republican candidates will be used in midterm elections later this year.
Justices Ruth Bader Ginsburg and Sonia Sotomayor filed dissents to the ruling.
A trial court of three federal judges struck down the current map on Jan. 10, stating that it violated 14th Amendments by "unjustifiably discriminating against voters based on their previous political expression and affiliation." The ruling also stated that the map was composed "with the intent of discriminating against voters who favored non-Republican candidates." The GOP-favoring legislature was ordered to submit a remedial redistricting plan by Jan 24.
Speaking to CNN, former Justice Department employee Justin Levitt criticized the Supreme Court's decision, stating, "That sort of delay, in a case in which the legislature admitted to seeking maximum partisan advantage, makes it even more important for the Supreme Court to lay down clear rules for addressing the epidemic of partisan gerrymandering going forward."
While the Supreme Court has ruled racial gerrymandering can violate the Constitution, it has never ruled a voting map as an unconstitutional partisan gerrymander. The ruling comes as partisan gerrymandering cases from Maryland and Wisconsin are also under consideration by the top court.
The national attitude toward the GOP might be souring thanks to missteps by the current administration and an inability to pass federal legislation despite holding majorities in both the Senate and the House. Voting maps such as North Carolina's can still provide unfair advantages even as the party's reputation continues to decline. According to the New York Times, the current voting map led to Republican victories in 77 percent of congressional districts despite Republican candidates only receiving 53 percent of the statewide vote.